KING CITY, Ore. -- Oregon State Police Trooper Nic Cederberg, critically injured in a Christmas night shootout, has finally been released from the hospital and allowed to go home.
His wife, Hayley Shelton, made the joyful announcement Friday evening on Facebook:
"WE'RE HOME!! Finally!! After 48 long days in the hospital, we both got to see home for the first time today!! It was so surreal walking through our front door together and seeing all of our Christmas presents re-wrapped in Valentine's Day paper and really realizing how much time has actually passed. We are different people than we were when we both left home for our shifts on Christmas, and we both agree we will be better from these events... We are now living life with a newfound appreciation for every single moment, as tomorrow is never promised."
In mid-January, Cederberg took another large step in his recovery by walking for the first time, according to his brother. Jeff Cederberg made the announcement on a GoFundMe page for his brother.
"He was only able to cover about six to ten feet before taking a short break, but it was much needed progress for him and for us," Jeff Cederberg wrote.
Jeff Cederberg shared video of his brother taking his first steps on the GoFundMe page.
More than $94,000 has been raised for Trooper Cederberg as he continues to recover from the Christmas night shootout. The homicide suspect involved was shot and killed.
Cederberg was shot 12 times, according to his brother, at a distance no greater than 12 feet. Five of those rounds were stopped by Cederberg's bullet-proof vest. One bullet will be lodged in Cederberg's lower spine for the rest of his life, his brother said.
More: Ex-wife of murder suspect: 'It was so surreal. So out of character'
At about 10:15 p.m. on Christmas, police were dispatched to a home in King City after receiving reports of gunshots.
When they arrived, police found a woman dead at the home, according to the Washington County Sheriff's Office.
The suspect, 30-year-old James Tylka, was seen driving away. The chase went through Highway 99W in Sherwood and ended on Southwest Gimm Lane with an exchange of gunfire. Six officers from four different police agencies fired their weapons, according to the sheriff's office.
Tylka was killed and Cederberg, 32, was critically wounded. The Washington County Major Crimes Teams is investigating both shootings.
The homicide victim was Tylka's wife, Katelynn Tylka-Armand, according to her sister, Megan Armand.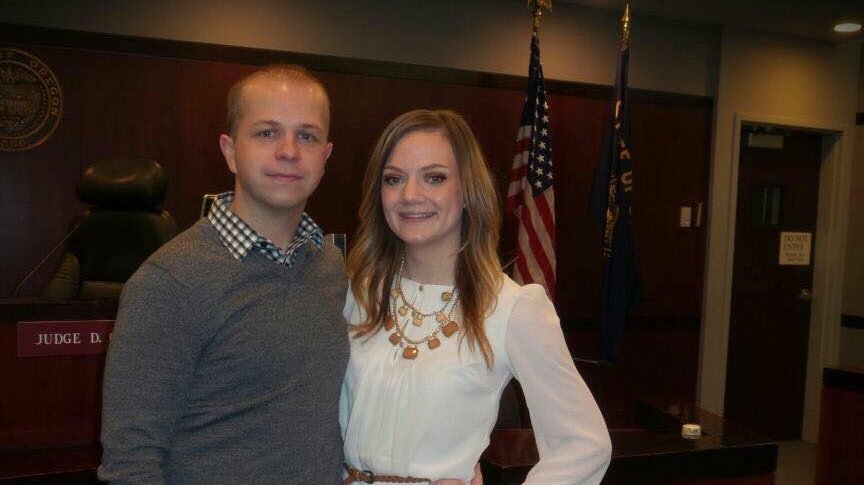 Family members said the couple was separated and going through a divorce. They had an 11-month-old daughter together.
More: Family, friends mourn woman killed Christmas night
According to investigators, Katelynn dropped their daughter off at her husband's home on Christmas night. Tylka's 8-year-old son from a previous marriage was already in the house.
Tylka left the house a short time later and killed Katelynn, investigators said. The children did not witness the shooting.
"My heart is broken from the loss of my only sister. Our thoughts and prayers are also with the wounded OSP officer and his family," said Katelynn's sister, Megan Armand, in a statement.
Cederberg is a 7-year veteran of OSP. He is assigned to the patrol division at the North Plains Worksite. He is a U.S. Army veteran.
To send well wishes to Trooper Cederberg and his family, state police say you can email OSP.social@state.or.us or send mail to:
Oregon State Police
Attention: Trooper Cederberg to
3565 Trelstad Ave SE
Salem, Or 97317
OSP set up a donation page for people who want to contribute to Cederberg's recovery.
Suspect was former Beaverton cadet
James Tylka was an unpaid Beaverton police cadet from 2004 to 2006, according to police spokesman Mike Rowe. The cadet program was voluntary for young people interested in law enforcement.
Tylka was under 21 at the time. Rowe did not know why Tylka left the cadet program and, as the program has since been discontinued, records are not available.
Tylka worked as an account executive for Sprint, according to his Facebook page. Less than an hour before the first shooting, he changed his profile picture to one of him and his wife, and his cover photo to one of his two children.
Tylka also had a son with his previous wife, Sabrina Starks. She filed for sole custody in September and said she was worried her son was in "immediate danger." She said Tylka was "irrational, impulsive, aggressive, and constantly threatening me."
"That's just because he kept spiraling and spiraling and wasn't getting help. I feel like he didn't know what to do," said Starks about her former husband's possible depression.
She said her 7-year-old son is now without his dad and step mom, and he'll need a lot of counseling. That's why a GoFundMe account has been set up for him: https://www.gofundme.com/brynnsbigbrother