Several Hazelwood West High School students were suspended after they walked out in support of their teachers Monday. The teachers voted to approve a new contract with the school district Tuesday evening.
On Tuesday morning, students contacted 5 On Your Side, saying they had been suspended for five days. Also, high school seniors who participated in the walkout said they will not be allowed to attend this weekend's graduation ceremony.
Hazelwood West High School Student Victoria Okaro-Ezeufo said the protest peaceful.
"It's freedom of speech and freedom of assembly and the teachers teach us that in school," she said.
Victoria's mother Kayrisa Ezeufo said the district called parents on Sunday, warning them there could be consequences for such a protest. But, Ezeufo said she did not think the punishment would be so severe, especially since her daughter has always been a good student. Even still, she supports her daughter's actions.
"There were hundreds of students who walked out, from what I've seen from the video," Ezeufo said. "There is no way Hazelwood West is going to identify all of those hundreds of students. So, you cannot make an example of some and not to have punished all. Nobody should have been punished. That many students, you should listen."
Diane Livingston, the president of the Hazelwood NEA Teacher's Union, said negotiations have not been going well. She said teachers voted down a new contract by a two-to-one margin that the school district proposed before spring break.
Despite that, the NEA Teacher's Union voted Tuesday to accept that same contract, which the union said mandates longer hours and doesn't include a pay raise. The union president said 374 voted to accept under protest, 93 voted to accept, 15 voted no.
Livingston said it's not uncommon to have teachers leaving the district at the end of the year, but this year they already had about 100 teachers submit their resignations.
One of the students who walked out of class, Ishmaiah Moore, said his teachers have been really supportive of him.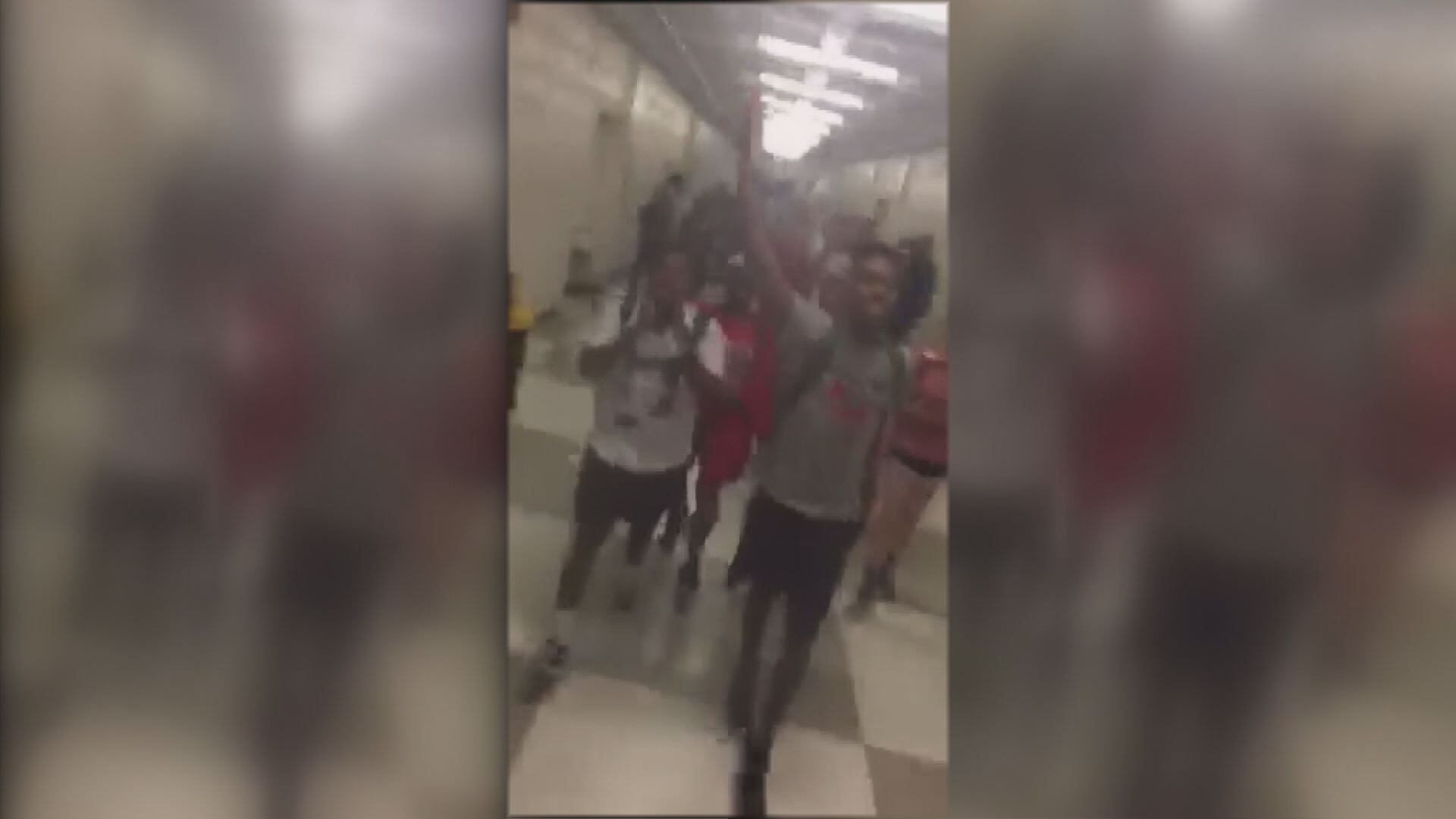 "We heard our teachers complaining and some of our teachers mention they're applying to other school districts," he said.
Livingston said she's worried about the kind of teachers that the district is losing. She said some of the teachers have 20 to 30 years of experience and special certifications.
Several families reached out to us today, claiming students were suspended after the walkout, some for five days.
A district spokesman won't say how many students, or for how long, but confirms several students were suspended. The district released the following statement:
"We received an anonymous tip from a student that students were planning a walkout out on the 15th of May in support of teachers not receiving a raise or contract. In light of this tip, the District took proactive measures to avoid this from occurring. On Sunday, May 14, all Hazelwood high school principals sent an autodial reminder message to parents and guardians about the importance of their student staying in class and in school. The message also reminded parents of the consequences that students would face for violating District policies. It also included examples of those consequences. During the walkout, staff and administrators encouraged students to return to class. The majority of our students complied and did not walk out. However, some students decided to walkout in protest anyway.

Student safety and supervision cannot be guaranteed when students leave class or campus without permission.
While the Hazelwood School District respects students' voices and their First Amendment rights, we do not condone disruptive behavior and the violation of Board policies, such as cutting class. Disruption of instructional time will not be allowed regardless of the reason. Students were disciplined according to the Student-Parent Handbook and Behavior Guide.
The Hazelwood School District values its teachers and the service that they provide. However, the District cannot comment on the particulars of an ongoing contract negotiation. We are deeply saddened that students were brought into this matter, and as a result, the learning environment was impacted."
The ACLU of Missouri also weighed in on the issue:
"Our schools should demonstrate the American values of free speech to the leaders of tomorrow. We should encourage young people to participate in democracy – not punish them for thoughtfully and peacefully expressing their First Amendment rights as the students at Hazelwood West High School did," said Jeffrey Mittman, executive director of the ACLU of Missouri. "Nearly 50 years ago, the U.S. Supreme Court ruled in Tinker v. Des Moines that students do not, 'shed their constitutional rights to freedom of speech or expression at the schoolhouse gate."