In Troy Illinois, some folks have kindness down to a fine art.
Diana Bauer is teaching a painting class at the Fountains of Troy senior living center.
"I'm really pleased with their progress," she tells us.
Today, her students are having a brush with Christmas ornaments.
"Even people my own age will do art for therapy and I feel this is kind of their escape," says Nicholas Scheibel, the Executive Director at the Fountains of Troy.
If you've been to a charity auction in town or a VFW hall you've probably seen Diana Bauer's work. She gives away many of her paintings.
"Because it's not yours to keep," she explains. "You should share what you enjoy with somebody else."
Her art career was a blank canvas until her daughter went away to college, though she loved to paint as a teenager.
"And then I just graduated from high school and went on with life," she says.
But now she's sharing her passion with people like 93 year old Charlie Brown and 99 year old Clarence Adelhardt.
"She's got everything," Adelhardt explains. "She knows everything."
Adelhart and Brown are both World War Two veterans and both avoided this class for more than a year.
"I just didn't think I had any kind of talent," Brown reasoned. "And I didn't want to come out and make a big mess out of it."
His second painting was of a bald eagle and it looks like it was done by someone with years of experience. You're never too old find your true colors.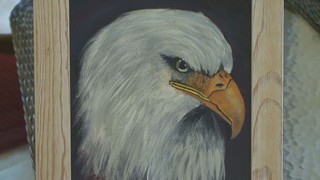 "I guess I do have a talent for it," he laughs.
There's an old adage that time is money but apparently that's not one that Diana Bauer believes in. She spends about 12 hours a month teaching this class for free.
"She, she's just an amazing person," Scheibel tells us.
When sharing your passion becomes your purpose, one woman proves life can be suitable for framing.
"I can't say enough good about her," Brown adds.