The Trump administration kicked off what it's calling "Made in America" week with a showcase at the White House featuring home-grown items from each state.
The White House posted a list of the featured products online. They are:
Alabama
Bucket trucks by Altec
Alaska
Bowls by Alaska Bowl Company
Arizona
Golf clubs by PING Golf
Arkansas
Conveyer belt by Hytrol
California
Wine by The California Wine Institute
Colorado
Neon signs by Gordon Signs
Connecticut
Model helicopters by Sikorsky
Delaware
NASA space suit by ILC Dover LP
Florida
Tumblers by Tervis
Georgia
Food by Chick Fil A
Hawaii
Rum by Koloa Rum Co.
Idaho
Engineered wood floors by Boise Cascade Company
Illinois
Farm equipment by Caterpillar
It's not every day you see a 966M wheel loader on the South Lawn of the White House. #MadeInAmerica https://t.co/rXeHN4vByV pic.twitter.com/eQkvp644qf

— Caterpillar Inc. (@CaterpillarInc) July 17, 2017
Indiana
Brooms by Broomcorn Johnnys
Iowa
Body armor, dummies by RMA Armament
Kansas
Lawnmower by Grasshopper Company
Kentucky
Apparel by Campbellsville Apparel
Louisiana
Baseball bats by Marucci Sports
Maine
Yacht by Hinckley Yachts
Maryland
Crab pots by Heath Crab Pots
Massachusetts
Horseshoes by St. Pierre Manufacturing
Michigan
Fabric by Milton Manufacturing
Minnesota
Wool blankets by Faribault Woolen Mill
Mississippi
Forklift by Taylor Machine Works
Missouri
Door hinges by Beehler Corporation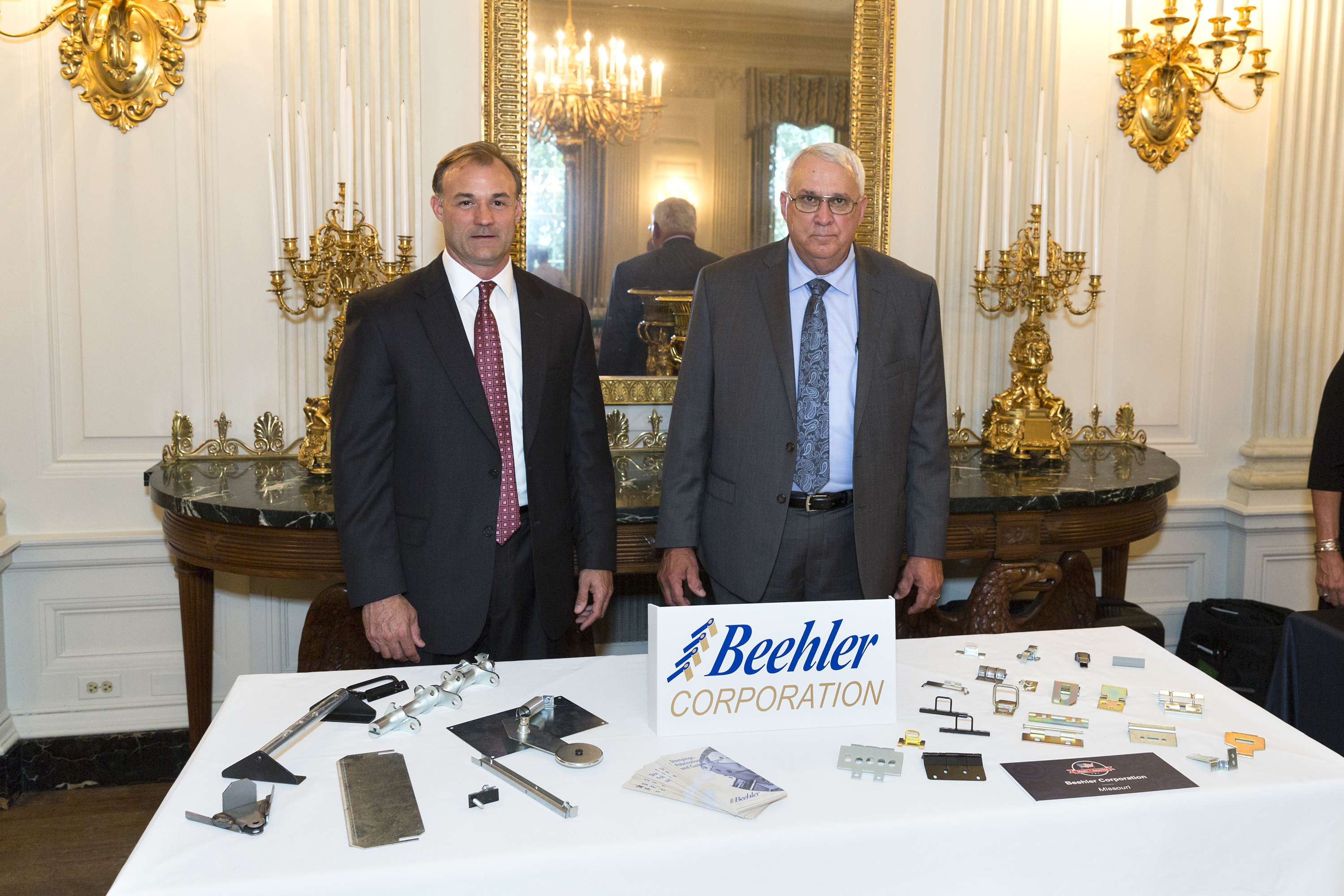 Montana
Fishing gear by Simms Fishing
Nebraska
Beef by Greater Omaha Packing
Nevada
Candy by Kimmie Candy
New Hampshire
Doughnuts by Cider Belly Doughnuts
New Jersey
Soup by Campbells Soup
New Mexico
Plastic by Desert plastics
New York
Piano by Steinway
North Carolina
Soda by Cheerwine
North Dakota
Military outerwear by Dakota Outerwear Co.
Ohio
Shovels, rakes, hoes, etc. by Bully Tools
Oklahoma
Trencher/excavator by DitchWitch
Oregon
Sights and scopes by Leupold and Stevens
Pennsylvania
Wheel barrows by Ames
Rhode Island
Beer by Narragansett Brewing Company
South Carolina
Cushions by Casual Cushion Company
South Dakota
Shotgun chaps by K Bar J Leather
Tennessee
Guitars by Gibson Guitars
Texas
Cowboy hats by Stetson Hats
Utah
Flags by Colonial Flag Company
Vermont
Maple syrup by Dubie Family Maple
Virginia
Flags by National Capital Flag Company
Washington
Water bottles by Liberty Bottleworks
West Virginia
Iconic fiesta line of china by Homer Laughlin China Company
Wisconsin
Two firetrucks by Pierce Manufacturing
Wyoming
Model aircraft by Aviat Aircraft