It's a life-saving technology for the smallest of patients.
Pediatricians at SSM Health Cardinal Glennon Children's Hospital are using telemedicine to consult small or rural hospitals on tough cases.
Many community hospitals aren't equipped to handle high-risk cases. As part of a partnership with Cardinal Glennon, those hospitals can "dial in" to St. Louis to consult a specialist.
The technology works like video conferencing, and allows a doctor at Cardinal Glennon to see inside the room of a community hospital. With the click of a mouse, the doctor can zoom in to get a closer look at the patient or monitors. The health care providers can talk back and forth, and each see other as they work together.
For one family from Perryville, Missouri — the technology was life-saving.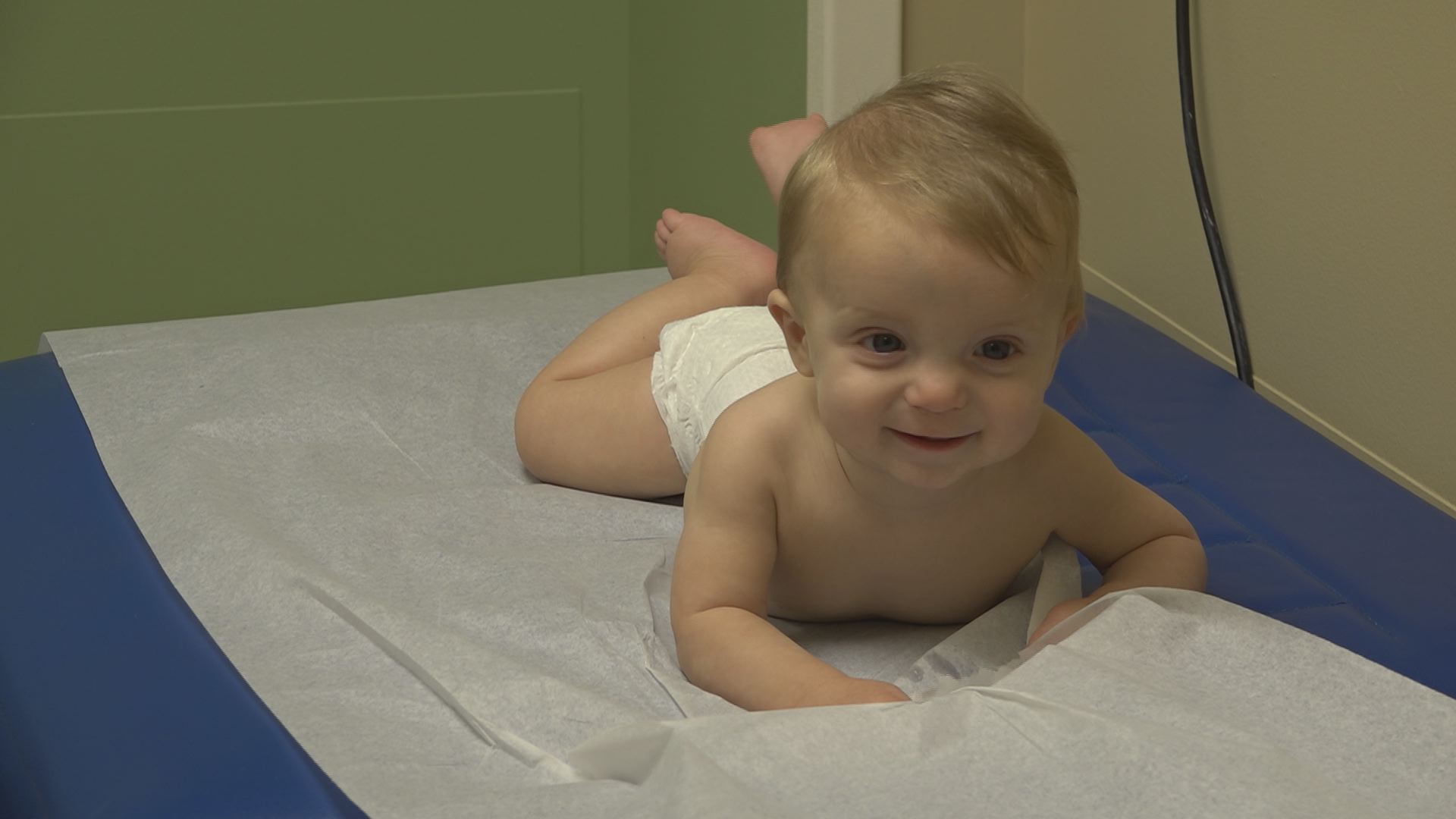 Baby William Stephenson was born in April with his umbilical cord wrapped around his neck and body. His mother, Desirae Bollinger, delivered at Ste. Genevieve County Memorial Hospital. Hours after the birth, she said William went into shock and stopped breathing.
"[The doctors] really weren't sure what was going on, but they… were looking for a room in a NICU (Neonatal Intensive Care Unit) somewhere," she said.
The weather that night prevented a helicopter from flying, but Cardinal Glennon sent a ground transport to bring William to St. Louis. During the wait, doctors in Ste. Genevieve dialed into telemedicine as doctors in St. Louis guided them through stabilizing the baby.
Cardinal Glennon Dr. Ayoob Ali was part of William's case.
"We can see babies really close, and with the help of [the] pediatrician, we can make an assessment about what's going on," he said.
During a demonstration Thursday, Dr. Ali dialed into Ste. Genevieve again. On the other end of the line, Ste. Genevieve Dr. Tony Lam gave a tour of his hospital room. Dr. Lam was also involved in William's case.
"That baby would not have been alive today without this technology and Dr. Ali's help," he said.
Dr. Ali said, in many cases, the patient is never transported to his hospital. In those cases, he simply provides guidance to doctors. He calls it "empowering" community physicians, who have the skills and training to handle a case -- but still appreciate the additional help. It also allows a patient to receive care closer to home.
"It's just basically like looking over your shoulder in certain situations to help out and make sure that the babies are stabilized and in good condition," Dr. Ali said.
Doctors weren't sure how long William wasn't getting oxygen after his birth, and they worried about complications with his health.
During a check-up Thursday afternoon, physical therapists and pediatricians examined the baby and gave a clean bill of health. He still has neurological testing to complete, but his parents are optimistic.
"And what they did, I never would have thought, it would have saved his life," said William's father, Kenny.
Cardinal Glennon now uses telemedicine in their NICU and their Emergency Room. The hospital has partnered with about 20 community hospitals in the bi-state region.