ST. LOUIS — Students gathered around cable news network stages set up on Mudd Field on the Washington University campus Sunday afternoon, as buzz builds heading into the evening presidential debate.
The topic: How much the Friday release of a 2005 video showing Donald Trump making lewd comments about sexual assault would influence the match-up between the nominees for president.
Students and community members agreed the release of the video was sure to increase viewership for the town hall style debate, and they expect it will change the conversation between the candidates.
"It seems like it's going to be a gruesome debate about who is more an enabler of sexual assault," said Max Foley, a Washington University senior who plans to vote for Democratic nominee Hillary Clinton.
The Washington University in St. Louis campus took on a festival atmosphere by mid-Sunday afternoon, with pop music playing in the quad that forms the heart of the private research university campus. The debate gets under way at 9 p.m. ET and is considered make or break for the Trump campaign at this point, a fact not lost on those gathered on campus Sunday.
"This is stardom for us," said junior Devin Patel.
Blue Clinton-Kaine signs outnumber those for Trump here. Confrontation has been minimal, but selfies are frequent. One student could be heard on the phone asking someone to record every cable news channel so she could later look for herself in the background.
Student Ted Sorota ate an ice cream cone while holding his "Trump isn't family at Olive Garden" sign. The restaurant chain prides itself on being inclusive, but even it would draw the line at accepting Trump, he argued.
Other signs included "Blacks for Trump," "I paid more for this poster than Trump's paid in taxes" and "Out of meal points."
Ethan Hatcher, who came to St. Louis from Indianapolis for the debate, held a sign for Libertarian candidate Gary Johnson. He said he wanted voters to know there is an alternative to Trump and Clinton.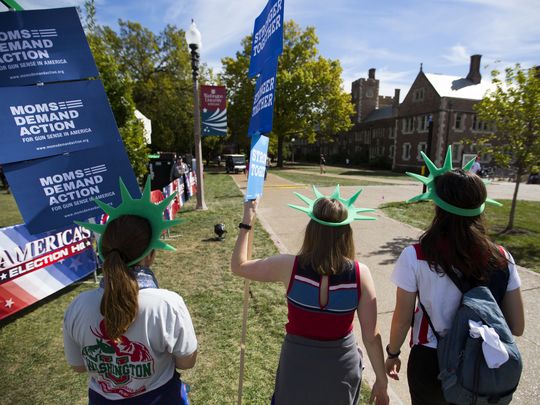 Student Eliza Antonowich, a Clinton supporter, said was "pretty disgusted" by Trump's remarks in the video. Friend and fellow freshman Sara Braun, who also plans to vote for Clinton, said she believes the video is disqualifying.
"I don't think he views women as equals at all," Braun said.
Junior Nick McMillan still supports Trump, despite the revelation.
"He definitely messed up," McMillan said. "But things get said, and people change. I don't think you can hold comments made a decade ago against someone, especially when they've apologized."
McMillan said his support of Trump is largely rooted in his distrust of Clinton.
"She's just had so many scandals involving her, from Benghazi to the email scandal," he said.
While everyone expects Trump's comments to be a topic of conversation in the debate, not not everyone wants them to be.
Julius Ndangam, of Lee's Summit, Missouri, walked around campus late Sunday morning with his son. They'd traveled across the state for the son's soccer tournament.
"The idea of addressing the things on the tapes — that's tabloid stuff," Ndangam said. "That shouldn't come up in a national debate."
Ndangam, a Cameroon native who moved to the United States in 1989, said he plans to vote for Clinton because of her positions on the economy and immigration.
Junior Travis Parr said he generally leans Republican, but is undecided on which presidential candidate he will support. He said he hopes Clinton and Trump will elaborate on their economic policies in the debate.
"I feel like I know more about their mistakes than their goals for the presidency," Parr said.
Nathaniel Thomas, a Washington University senior, said he plans to vote for Clinton but hopes Trump will press her on certain issues. Thomas, who supported Vermont Senator Bernie Sanders in the Democratic primary, said he wants Clinton to detail and justify her ties to Wall Street.
"I'd like to hear more of her explanations," Thomas said.
Ari Moses, a Washington University senior, described the campus as energized. He said he was looking forward to the debate's town hall format, in which members of the public ask questions of the candidates.
"I think tonight's going to be more personal," Moses said. "It's going to show who really knows their stuff."