By Jack Besser, from Cardsblog.com
Among articles analyzing these incredible Wild Card races in both the American and National Leagues, you will find few pundits that are brave enough to post their thoughts on the MLB Awards, namely Ken Rosenthal. It is like opening Pandora's Box, with Twitter mentions being flooded by distraught fans who are flabbergasted that their favorite player was not included on the list - that his network is so biased against team X. This hate is real, apparently Buster Olney hates all 30 teams.
So, I'm just going to stick what I know best and pick awards winners for the Cardinals. I hope by only writing about one, and only one team, I will be safe from this hatred. The Cardinals' Rookie of the Year, Cy Young, and Most Valuable Player are all clear cut, let's break it down. I present, the Cardsblog Awards Ceremony:
Rookie of the Year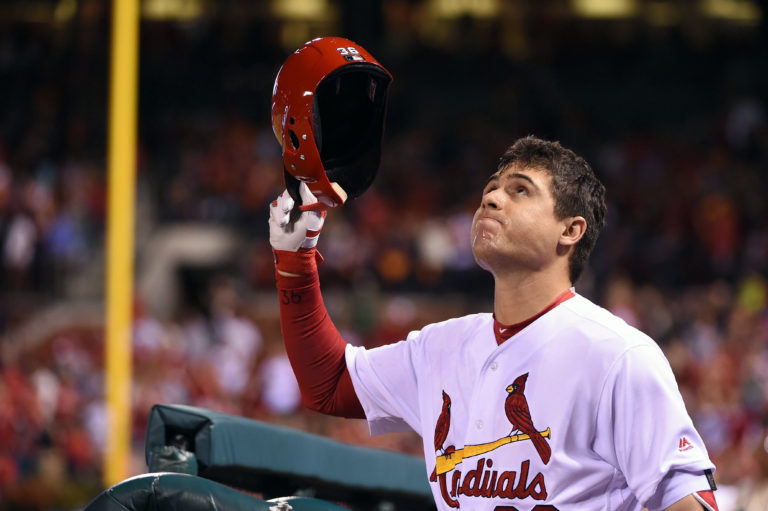 Aledmys Diaz
Seung-hwan Oh
Alex Reyes
With a .301 AVG and 17 HR in only 392 ABs, Diaz has given the Cardinals something to be excited about on the left side of the infield. If it weren't for a HBP that broke his hand, Diaz would have been an even greater impact player. Besides providing the Cardinals with their best moment of the season, Diaz has proven a character and maturity that a team looks for in a young player.
His road to the majors has been tumultuous, leaving behind his family in order to escape Cuba and come to America. He has earned every second of time he spends on the baseball field, adding to his franchise-player caliber personality. And with his 3.3 WAR in only 108 games, he's performing like a franchise-player on the field too.
Oh has been great for the Cardinals this year as well, but I don't feel like relievers can be considered as seriously for Rookie of the Year (or MVP, Zach Britton). He only has 18 saves, he just hasn't been closing that long. With this dominant season, however, he has shown the Cardinals have a dominant arm to hold down the back end of the Pen.
Alex Reyes just hasn't been in the MLB long enough. He'll probably lose his "rookie" tag, since he is very close to 50 innings pitched, but he sure has given the Cardinals something to be excited about in the rotation next year.
Cy Young
Carlos Martinez
Seung-hwan Oh
Martinez has undoubtedly been the ace of the Cardinals this year. In his second year in a row with an ERA close 3.00, he has consistently dominated lineups en route to a 15-9 record. If anything, this year has been a slight regression from 2015. Before his start tonight, he was down 20 strikeouts despite throwing 10 more innings, with 6 more walks. All this says is that the best is still to come from this young flamethrower. At 25 years old, he has the potential to be the ace that teaches Alex Reyes how to pitch in the big leagues. The two have the potential to be one of the best 1-2 tandems in baseball.
I don't think that I'm alone in the idea that nobody else deserves to be considered for the team Cy Young. The rest of the rotation has a combined ERA well over 4.00. Without Martinez, there is no chance the Cardinals would be in contention today. Reyes was not considered due to his lack of starts.
Most Valuable Player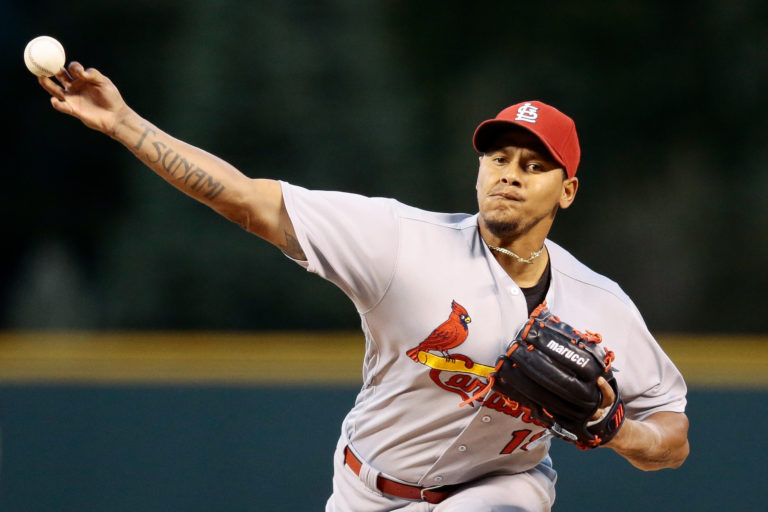 Carlos Martinez
Yadier Molina
Aledmys Diaz
Seung-hwan Oh
It is a sweep for Martinez! Martinez has put the team on his back this year. Yes, Molina has caught fire for the playoff chase, carrying the lineup through its biggest games. Oh has been the fire extinguisher to the explosion that was the back end of the bullpen. But when I think of the one player that this Cardinals' team could not live without, it would be Carlos Martinez.
Cardinals fans have always known. Everywhere you go in St. Louis, Yadier Molina's name or face can be found. When you're looking for Cardinals apparel, the first suggestion one usually says is "Molina". When you go into a store, there is often some tribute to the great catcher.
Without Martinez's saving grace every 5 days, the year could have quickly become unbearable. He will not get consideration for the MLB Cy Young, his ERA simply does not compete with the likes of Hendricks, Syndergaard, Fernandez, etc. That does not change the effect he's had on this team though, spinning gems that reinvigorated the often unmotivated Cardinals' team. His team-leading 5.5 game WAR says it all. It is good for 16th out of all MLB pitchers, but he trails just by about half a win. He's been the Cardinals' savior.
This is not to disparage Molina's performance this year. He has an average above .300, and is still showing decent power, leading the team in doubles. His defense has faltered immensely this year, which is why I do not give him the MVP. However, his clubhouse effect is immeasurable and hugely important. He is the face of the Cardinals, and has performed like that. He just has not been the game changer that Martinez has been.
If it weren't for his injury, it would have been a much harder decision to push Diaz down to 3rd in Team MVP. He's been fantastic on and off the field, but a player cannot be the Most Valuable Player if he only plays in 108 games. It is unfortunate that he was injured, but hopefully in 2017 will be a full season for him, and he will be able to prove he deserves this coveted Cardsblog MVP award.
Oh was considered for all 3 awards. However, I feel like that is more because of the bullpen implosion than his performance. His ~2.00 ERA is impressive, as are his 102 Ks in 78.2 innings. Yet, he's mostly been a general reliever this year, with just 18 saves in 22 chances, good for just a 81.8% success rate. That is far from the 90+% rate that the iconic closers of baseball hold - Britton, Familia, Kimbrel. Of course, Oh hasn't had that many opportunities, but that's part of the point. He just hasn't done enough yet to be considered team MVP. He has been the bright spot of the bullpen, but not the best player on the team.
Ever since the Cardinals lost Albert Pujols to one of the biggest free agent contracts in the history of Major League Baseball following their 2011 championship season, they have been a team without a superstar.