By Tyler Brandt, from Cardsblog.com
In 2015, the Mets were not even supposed to keep Sean Gilmartin. The 25 year-old rookie was a rule 5 draft pick from the Twins. With rule 5 picks, the player must stay on the 25-man roster the entire season or be offered back to the original club. Most expected Gilmartin to head back to Minnesota early in the season.
Of course, Gilmartin didn't go back to Minnesota. Instead, he pitched the entire season out of the Mets bullpen. The left-hander pitched well enough to stay on the roster and kept his FIP down at 2.75. He got a little lucky on fly balls (xFIP of 3.82), but he maintained solid strikeout and walk ratios. He was not great in either category, but good enough in both to be a reliable relief option.
At the start of 2016, Gilmartin found himself in AAA. The move puzzled me at the time. Gilmartin pitched well the season before, and was 26 years old. Why not keep him in the bullpen going forward?
Perhaps the Mets wanted to turn him into a starter; he was a starter throughout the minors. Gilmartin threw 107.1 innings in AAA last season, almost all of which came as a starter. But Gilmartin never recaptured the same success he had in 2015.
Gilmartin pitched briefly with the big league club in 2016, but struck out just 5.6 batters per nine innings and walked more than 3.5. Perhaps over a full year things would have been different, but in those 17.2 innings, he was a different pitcher. Now the Cardinals are trying to help him regain his 2015 form after claiming him off waivers.
Cardinals have a tough, but doable task
Gilmartin's ceiling may be relatively low, but the Cardinals can get more out of him than the Mets did after 2015. The first thing they have to do is give up on the idea of Gilmartin becoming a starter. Gilmartin continued to pitch as a starter in the minors in 2016 and 2017, despite only making two starts in the major leagues. Gilmartin isn't a big strikeout pitcher, and he has good but not great control. Given that description, he probably needs to stay in the bullpen.
Once there, Gilmartin will need to regain the lost movement on his slider. When he was at his best in 2015, Gilmartin had an extra 1.5 inches of horizontal break on his slider. In a perhaps related note, he also threw his slider more often that season than in any other.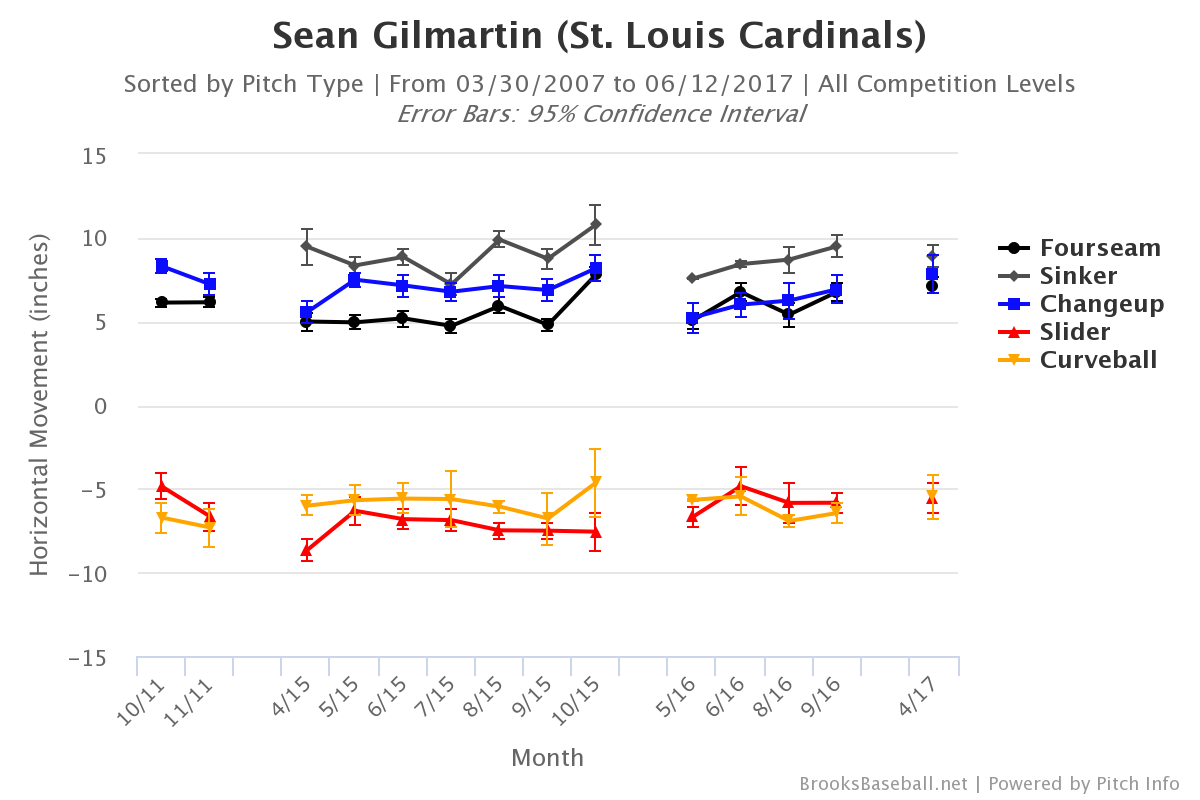 If the slider really is the key to success for Gilmartin, then the Cardinals may be in luck. The Cardinals as a team don't throw the pitch often, but those that throw it are effective with the pitch.
According to PITCHf/x, Cardinals pitchers have thrown the fifth most effective sliders of all teams (in terms of pitch value per 100 pitches). Maybe that means nothing, but the team still has many of the coaches that helped the current staff develop their pitches.
In the end, time will tell if the Cardinals can get more from Gilmartin and his slider. What's important now is that the Cardinals see an area that they can improve. Gilmartin isn't an effective pitcher today, but he isn't far off, and he has been in the past. The Cardinals have a plan to turn the left-hander into a reliable bullpen piece.
Albert Pujols made his professional debut in 2001, two years after getting selected 402 nd in the 1999 draft. He immediately exceeded all expectations by winning the National League Rookie of the Year. Over the next 11 years with the Cardinals, Pujols proceeded to build quite the impressive résumé.
How far away is Gilmartin from his 2015 season?
You won't find traces of Gilmartin's 2015 season by looking at his major league stats in 2016 and '17. The Cardinals can hope that a permanent move to the bullpen might get him closer, and it probably will. The biggest difference that I see is just that slider.
Gilmartin's control numbers have diminished, too, but I think his role as a starter influenced that. I believe the same for his slight decrease in strikeout rate. The changes there aren't so large that they become concerns. The concern is with home runs.
Gilmartin does not get many ground balls, so he has to be wary of the long ball. The pitch that hurts him the most in that regard is his four-seam fastball. When Gilmartin used his slider less, he used his fastball a lot more. A better slider can lead to a decrease in homers simply because of the decrease in fastball usage.
Ultimately, Gilmartin may just be a few tweaks away on one pitch from being an effective pitcher. Pitcher adjustments are never easy, especially since Gilmartin is not that young anymore. Nevertheless, the Cardinals picked a good player to take a flier on. The move may pay bigger dividends than expected down the stretch.
Can he do anything now?
I have focused on what can happen if Gilmartin improves his slider. However, Gilmartin still brings something to the table right now. The Cardinals are still searching for a reliable left-handed reliever with Brett Cecil struggling and Kevin Siegrist falling apart. Gilmartin hasn't thrown enough pitches in the majors to make his lefty/righty splits worth looking at, but his minors numbers give us an idea.
Lefties had a tough time against Gilmartin in the minors, and he showed better control against them. Right-handed batters both walked more often and hit the ball harder. That's all somewhat expected of course. The real takeaway is that lefties won't have it easy against Gilmartin.
At AAA, Gilmartin walked less than one batter every five innings versus lefties. His home run problem was also manageable against same-side hitters. He only gave up 2 homers last year to lefties while getting 108 outs against them.
Even without improvements, Gilmartin can provide a good option against lefties out of the bullpen. With improvements, he can be borderline setup material. The Cardinals gave up nothing to get Gilmartin, but they may call his name late in September.
While the Cardinals have struggled this season, they are still in the top half of the National League. Some players have been performing to get them there. Based solely off Wins Above Replacement, Carlos Martinez leads the pitching rotation at 2.3, while Jedd Gyorko leads the offense at 1.5.