Stay seated on the Michael Wacha comeback trail, ladies and gentlemen.
The genuine bite of spring training activity is the reality that split squad games, double-A talent and overstuffed rosters are hiding a very key detail: these games don't matter and there shouldn't be much hope taken away from them.
Sure, get a rise out of Magneuris Sierra spraying hits all over the field or the dual-faceted ability of Jordan Schafer, but use a few grains of salt with the regular players making strides. That includes comeback types like Wacha.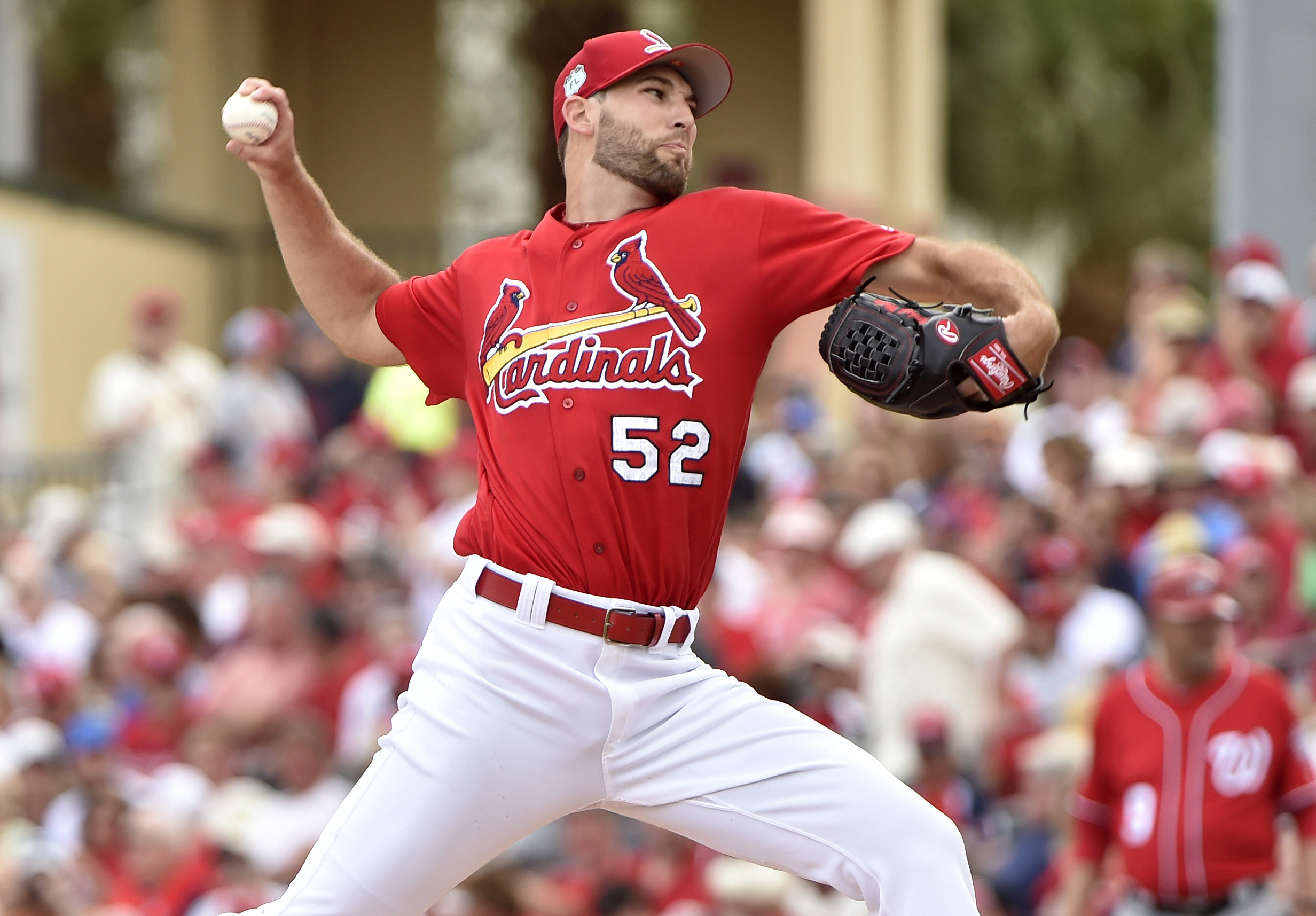 In a spring where health has been the hardest stat to achieve and players have gone down every week, seeing Wacha recapture some finish on all of his pitches and give the Cardinals a nice surprise in the first two weeks of games is a pleasant sight for team needing to make waves. Just remember it can run out at any time, because Wacha's shoulder is literally a reoccurring nightmare.
The stress reaction in his right shoulder prohibits his body from giving the Cardinals a full season of action. The 2015 and 2016 seasons have proved that. Each of the past two seasons, Wacha has either been shut down in late August or September or beaten to a pulp on the mound. The changeup becomes exposed and the fastball gets too flat, leaving the curveball to take on too much responsibility.

Related
Cards' lefty Schafer to have elbow surgery
Wacha had the stuff rolling on Monday, needing just 59 pitches to go five innings, striking out four batters. The two earned runs were the first he had allowed this spring, and everything was working. Wacha's cutter even made an appearance, and helped strike out a hitter. The Cardinals staff has been excellent this spring, and Wacha has been the most impressive. Without Carlos Martinez around to dominate, it's like the rest of the kids in school are having their chance to be at the front of the class. Wacha is taking full advantage, and that is why it is important to temper expectations.
Photos: Cardinals starter Michael Wacha
Photos: Cardinals starter Michael Wacha
Oct 30, 2013; Boston, MA, USA; (EDITORS NOTE: multiple exposure) St. Louis Cardinals starting pitcher Michael Wacha throws a pitch against the Boston Red Sox in the first inningduring game six of the MLB baseball World Series at Fenway Park. Mandatory Credit: Robert Deutsch-USA TODAY Sports
Oct 30, 2013; Boston, MA, USA; (EDITORS NOTE: multiple exposure) St. Louis Cardinals starting pitcher Michael Wacha throws a pitch against the Boston Red Sox in the first inningduring game six of the MLB baseball World Series at Fenway Park. Mandatory Credit: Robert Deutsch-USA TODAY Sports
Wacha is the gunslinger with only a certain amount of bullets in his gun, before he runs out and becomes very hittable. He's Wolverine near the end of Logan(spoiler alert) where he takes all of the green serum, gets a huge rush, and then comes crashing down afterwards. Let's look at some numbers from the past two seasons on Michael Wacha:
2015 first half: 2.93 ERA, 10-3 record, 3.58 strikeout to walk ratio
2015 second half: 4.01 ERA, 7-4 record, 1.97 strikeout to walk ratio
In 2016, the picture became quite clear.
First half: 4.36 ERA, 5-7 record, 2.58 K/BB ratio (18 starts)
Second half: 7.44 ERA, 2-0 record, 2.33 K/BB ratio (6 starts)
Granted, the starts were more lopsided last year, but the stats would have been even worse if Wacha had stayed in the rotation. I don't mean to be the heel of a golden launch to spring, but this is supposed to set up you for a return to Earth effect at some point. When will that be? Let's hope closer to midseason. What difference should we see in his shoulder from last season to this season? You'll have to grasp at straws to find a true answer.
Via the wonderful site Brooks Baseball, one can see that towards the end of 2016, Wacha was becoming less reliant on his curveball due to the stress it was more than likely causing to his shoulder. Additionally, his fastball usage slipped below 50 percent with his changeup launching upwards to 34 percent. Toward the end of a season, Wacha's four-pitch arsenal will be relegated to two due to his shoulder condition. Expecting this to change is futile.
Fangraphs has Wacha going 8-8 with a 4.04 earned run average this season, and that includes 23 starts and 108 strikeouts to 42 walks. Those projections exist as the high ceiling of Wacha's output this season, and there are past seasons to back those presumptions up. The number of starts is optimistic, and a 4.00 ERA is very hopeful for Wacha in 2017.
Here's what I'd like to see from Wacha in 2017, and it's remained consistent since the beginning of the year. I want him to be the everyman that this team will need with all the injuries and up/down nature of this roster. The infield is stuffed, the outfield is thin and the bullpen could be great if a few things fall in place.
Wacha can give the Cards a solid two months in the rotation, then switch it up and keep his arm fresh. If the Cards need more from Wacha, the end result won't be favorable for the player or team.
Michael Wacha will be 26 on July 1, and he isn't what he used to be, but that's OK. The 2013 Wacha who took down the Pirates and Dodgers exists as a folk tale these days in St. Louis. Something to savor and now hold close to the chest for too long. The Cardinals still have to find a way to get the most out of Wacha without damaging his shoulder before the midway point of the season and without hurting the team's chances of winning games in August and September.
Manager Mike Matheny's biggest weakness is sticking with ailing players for too long due to their seniority with the clubhouse. It's something he can't shake, and his usage of Wacha this season will be another test.
With Wacha, finding the right dosage in 2017 will be key for the Cardinals. For fans, keep your expectations tempered for the moment. No one truly knows what Wacha has to offer in the future.