By Neel Kale, from Cardsblog.com
Before you dismiss this article as clickbait, according to Nick Cafardo's Sunday column the Cardinals are "on the radar" for signing Jose Bautista. Of course, the Cardinals are probably on the radar of any outfielder with two legs and and two arms at this point, but regardless we should take a look at this rumor as if it is 100% serious. So, would Jose Bautista be a good pick up for the Cardinals?
The bad
I'm going to lead with the bad news because there is a lot of it. For starters, Bautista may not be good anymore. The thing he does best is hit for power, but even that has started to fail him recently. He posted a slash line of .234/.366/.452 with 22 home runs this season. 22 home runs is definitely above average, but he's one year removed from an All-Star season where he hit 40 home runs.
Some will say that Bautista's 2016 decline was due to his shoulder injury, and while that may be true, Bautista is going to be 36 years old, so there's no guarantee he'll come back stronger than ever. Bautista was a late bloomer, with his first All-Star season coming at 29, but that doesn't mean he'll continue to age well.
Do Bautista's heat maps reflect an aging slugger? Let's look at the heat maps from 2010 and 2016 to see if theres a trend we can pick up on.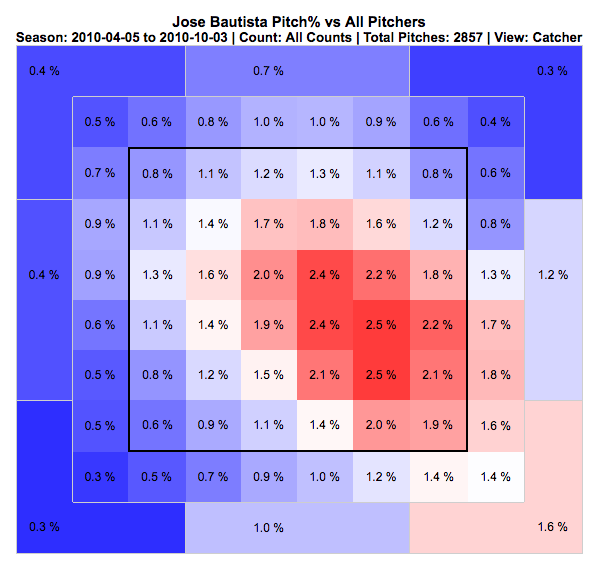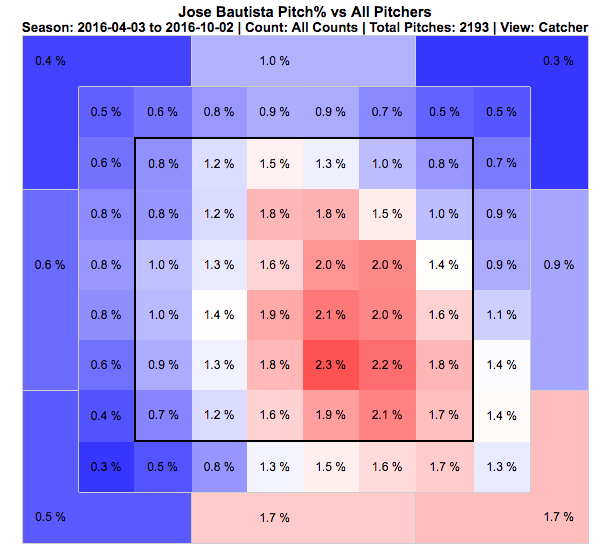 (Reminder: these are from the catcher's perspective) As you can see, Bautista's ability to expand beyond the outsider corner has severely diminished since 2010. It may not be a drastic change, but it's enough to question whether he can truly get back to form. Bautista is definitely past his prime at this point, and hoping for a recovery may be a pipe dream. We may have already seen the last of power hitting, bat flipping Jose Bautista.
Secondly, Bautista solves exactly none of the problems the Cardinals need to solve this offseason. Mozeliak has reiterated over and over that the Cardinals need to improve their outfield defense. Bautista barely even qualifies as an outfielder. He's definitely most comfortable playing DH, and when he has played outfield the returns have been really bad.
These are all good players. Granted, this year's free agent class is on the older side, with the premier power bats Céspedes at 31, Bautista at 36, Trumbo at 30, and Encarnación at 33. However, with their hefty price tags, even the more youthful free agents seem less attractive.
He can't throw, run or field properly, which are all really important when playing in the outfield. The only thing Bautista does exceptionally well is hit for power. The thing is, the Cardinals are already really good at hitting home runs. If the Cardinals actually want to improve on the weaknesses of the outfield, Bautista may be one of the worst options for doing so.
The Good
For starters, dingers are very good. Bautista is an incredibly fun player to watch when he's on. If he does manage to muster a comeback, there aren't a lot of players who can do what he does. He's only one year removed from hitting .250/.377/.536 with an OPS+ of 145 and 40 bombs. If the Cardinals could guarantee three quarters of that type of production it would be worth considering.
Plus, as everyone has said a million times this offseason, the market is very weak. The Cardinals' options for improving the outfield won't be simple. It's possible that Jose Bautista could be one of the best options for improving the outfield. He's hit one of the most memorable post season home runs of all time, been an All-Star five times and is apparently a good clubhouse guy. Still, is that enough to outweigh his potential decline and abysmal defense?
Conclusion
Unfortunately, a Bautista signing doesn't make much sense for the Cardinals right now. What they need is a high average, defense first outfielder, and Bautista is the exact opposite of that. Plus he's prohibitively expensive and even if he was to have a bounce-back year, it would probably be only the first year of a multiyear contract.
He may be money when he's on, but it would be best for the Cardinals to stay away form him this year. If you're suddenly panicking about the prospect of an aging Bautista floundering around in the outfield, don't worry. Mozeliak knows the Cardinals' weakness better than anybody, so I don't think this rumor is likely to come true.
Finally, the biggest problem with Jose Bautista is the cash. Bautista may have reduced his value with a poor season, but that doesn't mean he will come cheap. There are not a lot of viable free agent options, and some American league team that can put him at DH would be willing to spend a lot of cash for a few extra dingers.
Bautista is probably going to get around the 50 million dollar range, and he'll cost the Cardinals a draft pick. Not only that, but he's going to be 36 years old and seeking a multiyear deal. The Cardinals like to hold on to their draft picks, so giving up one for Bautista and shelling out this much cash does not make much sense.
In a perfect world, the Cardinals would just pick up Yoenis Cespedes with a multi-year nine figure deal and all would be happily ever after. However, the odds of the Cardinals spending that big in the free agent market sits relatively low.