By Neel Kale, from Cardsblog.com
The ZiPS projections are out! Oh, you don't know what those are because you're not a huge baseball nerd? Fair enough. The ZiPS projections are yearly projections that use player data from previous years to project the performance of teams in the upcoming season.
It's all thanks to FanGraphs, an excellent baseball site that I highly recommend. Always keep in mind that ZiPS projections shouldn't be taken too seriously. They aren't meant to be the One Truth, but they're fun to look at and make wild conjectures about. Today we will be looking at the ZiPS projection for the Cardinals on defense.
One of the biggest goals of the offseason was for the Cardinals to upgrade their defense. Heck, we've reiterated it over and over and over again on Cardsblog, not to mention countless other fans tweeting and yelling and sending letters by carrier pigeon.
Defense matters, especially for teams that are planning to go deep into the playoffs. Mozeliak pinky promised us that he would improve the outfield defense this offseason (more than once!). Did he complete his quest? To answer that, we have to start with some context.
The defense in 2016
The Cardinals didn't grade out as a horrible team on the defensive side of the ball last year, but they also weren't great. Of the 10 teams who made the playoffs, only 3 had a defensive Z-score (a combination of UZR and DRS) below zero.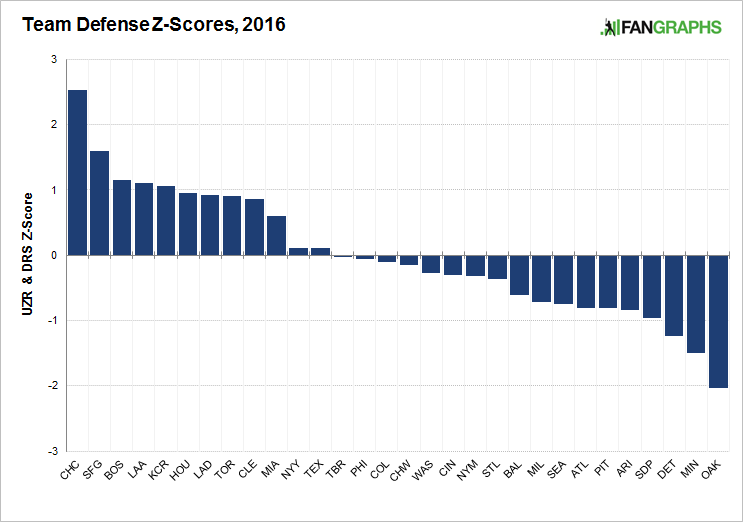 Of those three teams, two were the wildcard teams eliminated in the first round, and the other was the Washington Nationals. This is not company the Cardinals would like to be in. Even if the Cardinals did make the playoffs, only Baltimore had a worse defensive Z-score than than the Redbirds.
Needless to say, the Cardinals had a multitude of defensive liabilities all over the field. It wasn't so much an Oakland A's situation where they have multiple bad defenders dragging their grade down, it was more that they had mediocrity all over the diamond. Matt Carpenter struggles to play positive defense, especially with all of his switching around. Jedd Gyorko got extended innings at second which is not ideal.
In the outfield, Randal Grichuk and Stephen Piscotty were both subpar, as they were too young to get an established footing. The Cardinals defense wasn't bad because of a couple of players, it was a holistic problem. Multiple players playing mediocre defense at multiple positions all added up to a murky defensive picture at best and a season ending performance at worst.
The defense for 2017
First up, the folks over at MLBTradeRumors.com broke the news quickly, as they always do. The extension talks between the club and Carlos Martinez came as a result of his upcoming first arbitration hearing. Martinez was pushing for a $4.25 million salary for the upcoming season, while the Cardinals submitted $3.9 million.
If you look at the graph for ZiPS projections for 2017, the Cardinals look awfully stagnant. In fact, they are stagnant. The Cardinals have the least change from their 2016 Z-score to their 2017 projected Z-score.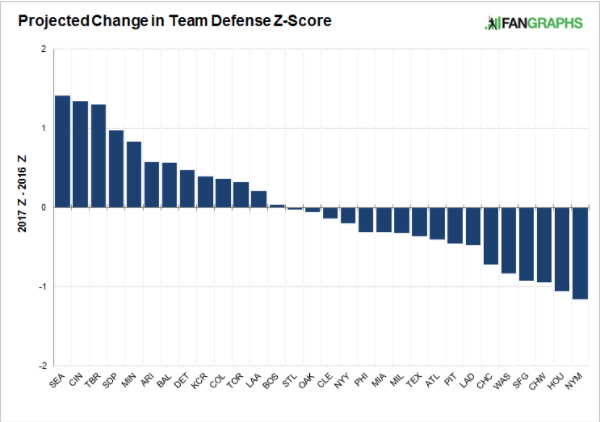 That tiny bar in the middle? That's the Cards.
This is actually a little puzzling because the Cardinals defense is different this year. Jhonny Peralta, historically an okay defender, is coming back to third. Aledmys Diaz, Grichuk and Piscotty are all young enough to improve, and they replaced ye old Matt Holliday with Dexter Fowler.
Yet, ZiPS projects the Cardinals to be the most stagnant team in baseball on the defensive side of the ball. Why is this?
My guess would be the way the projections work do not account for the types of changes the Cardinals are making. Seattle, the biggest difference in the positive direction, have made big position changes going into 2017. The Mariners replaced Nori Aoki, Seth Smith and Ketel Marte with Jarrod Dyson, Mitch Haniger and Jean Segura, all above average defensive players.
Does that ring any bells? If it isn't, I am appalled by your lack of cultural woke-ness. He has the same name as Michael Scott, bossman at Dunder Mifflin Paper Company. However, we should not be very surprised by this revelation. The two head-honchos have a lot more in common than we think.
Those are the kind of changes that ZiPS sees. The Cards, on the other hand, only swapped out one bad defensive player for another average defensive player. Even if you consider the young guns improvement and Diaz's return, there isn't a lot to really move the needle on defense math-wise.
Of course, there is a more obvious option. Maybe, just maybe, the Cardinals aren't going to improve on defense. Again, ZiPS isn't always 100% accurate, but the Cardinals made very few substantial moves this offseason. Carpenter and Peralta are only getting older, and there's no guarantee that Grichuk and Piscotty will improve. It's not completely out of the realm of possibility for the Cardinals to be just as bad, if not worse this upcoming season.
Conclusion
Although it's true that ZiPS may not be projected the Cardinals to the highest degree of accuracy, it is disappointing there is no visible improvement going into 2017. Of course, nobody expected Fowler to save the defense and suddenly turn the Cards outfield into perennial gold glovers, but it is a little alarming that something that was touted as such a high priority this offseason was barely even changed by the most generous of metrics.
Maybe the risk on defensive replacements in the outfield were to risky or not available, but the Cardinal's defense won't be particularly reliable heading into 2017. All we have left to do is wait and see and hope the math is wrong.
A couple weeks ago, Brett Butz over at KangarooCourtSTL.com argued that the St. Louis Cardinals should buck convention this season and implement a six-man starting rotation. His reasoning appears to be fairly straightforward. Most importantly, the Cardinals should have seven capable major league options in Mike Leake, Lance Lynn, Carlos Martinez, Alex Reyes, Michael Wacha, Adam Wainwright and Luke Weaver.