After following our St. Louis Blues to Toronto (Air Canada Centre) and Montreal (Centre Bell) this past weekend, I feel rather strongly about an open border to our north. Oh Canada, here are a few reasons why I enjoyed my trip.
The People
From the waitress at the local poutine diner to the security guard in the basement of the Centre Bell, Canadians are generally nice people. Yeah, yeah, yeah. I know — that's the classic Canadian stereotype.
But it's true. Canadians are nice. And their national pride is part of their hospitality. From what I experienced, every Canadian wants you to enjoy your time in Canada. They're easy to talk to, and appreciate when you start a conversation. Being in a city filled with happy, nice people makes you happy.
Not every Canadian is shiny and happy, but there are more than enough of them to keep the stereotype accurate. My reasoning for why they're so nice: people are generally nice to nice people. When they greet you with a smile, you can't help but smile back. It's contagious.
Here's one example:

Leafs fans bought my dad beers all night. Saw he was a Blues fan sitting alone & they became best friends.
Dad: "I love Canada" #bluesbuzz
— Blues Buzz (@bluesbuzzblog)
February 10, 2017
The Food and Beer
Poutine is a dish that originated in the province of Quebec. We tried it in Montreal. It is a bowl of french fries and cheese curds, topped with light brown gravy and — sometimes — a variety of meats. Poutine is a great comfort food to indulge in after escaping the frosty, windy weather. It's a perfect dish for when you wake up and think, "I'd like to have a heart attack today."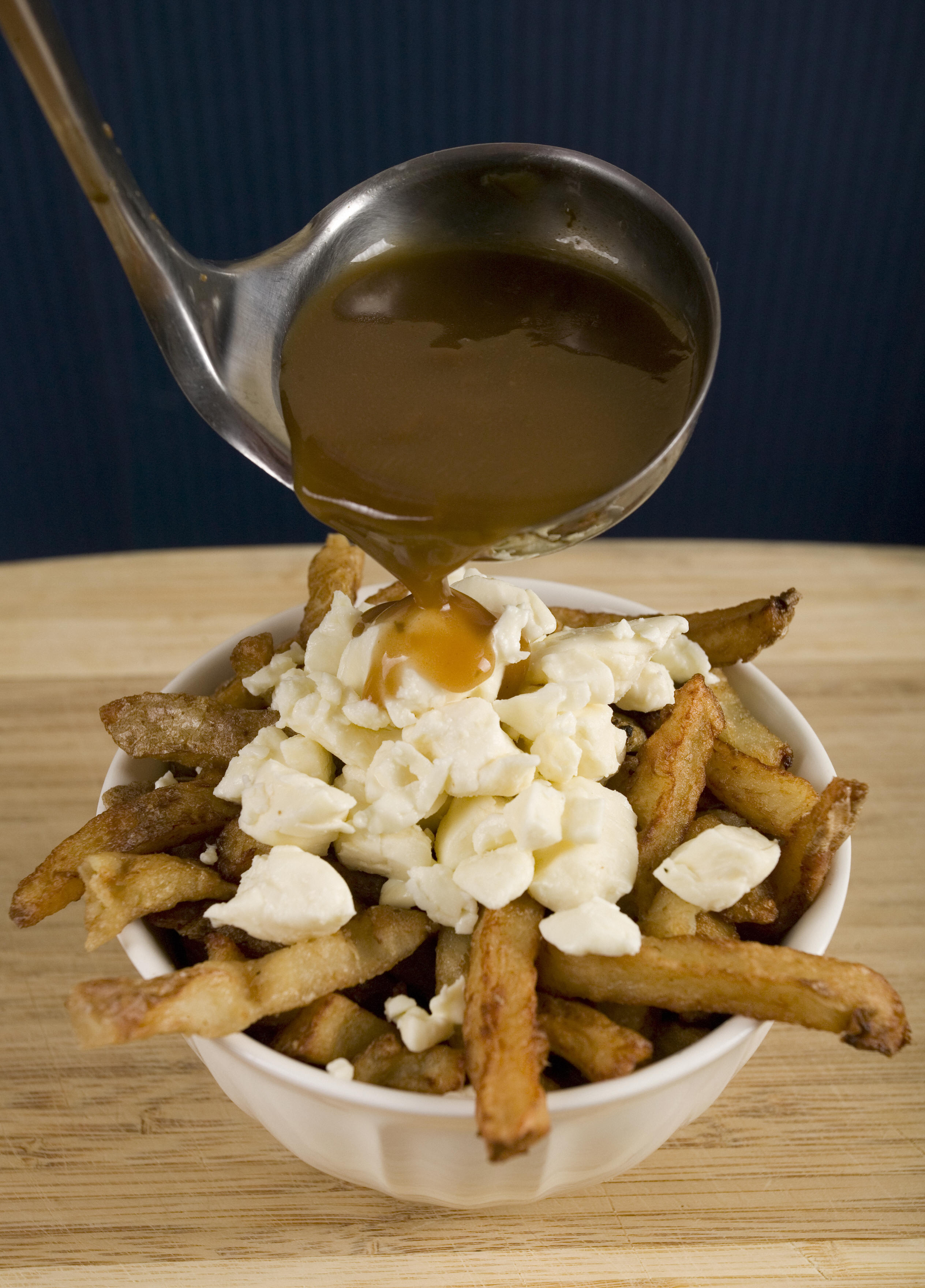 And for those of you (like me) who thought hot dogs are uniquely American, a Centre Bell hot dog is uniquely awesome.
The beer? I'll save that for your own experience in Canada. Good luck finding a Budweiser.
The Music Selection
While this isn't a serious reason to visit Canada, it was one of the many reasons I loved my trip. The music played throughout Canada could have been straight off my Spotify playlists. I noticed this early-on, and I noted some songs I heard throughout our stay.
Air Canada Centre (Maple Leafs Ice Arena):
"Lose Yourself" — Eminem
"All the Above" — T-Pain
"Can't Stop" — Red Hot Chili Peppers
"Intergalactic" — Beastie Boys
"This Girl" — Kungs
"Let It Rock" — Kevin Rudolf
Oh, and "Good Old Hockey Game":
Key West One (Our hotel in Toronto where we had drinks after the Blues' OT win):
"So Fresh, So Clean" — Outkast
"King Kunta" — Kendrick Lamar
"Over" — Drake
St. Lawrence Market (Restaurant in Toronto):
"Losing My Religion" — R.E.M.
"Pinch Me" — Barenaked Ladies
"Under Pressure" — Queen
"Fight for your right" — Beastie Boys
Dunn's Famous (First restaurant we dined at in Montreal)
"Ramble On" — Led Zeppelin
"Baba O'Riley" — The Who
"Refugee" — Tom Petty and The Heartbreakers
At the ticket booth inside of the Centre Bell:
"Californication" — Red Hot Chili Peppers
(We were in there for one song)
Mister Steers (Old-fashioned diner)
"Get Jiggy With it" — Will Smith
Centre Bell (Canadiens' Ice Arena)
"Remember the Name" — Fort Minor
"Crazy Train" — Ozzy Osbourne
"Jump" — Kris Kross
"Heartbeat" — Claptone (I had to Shazam this song)
"Sympathy for the Devil" — The Rolling Stones
If you and I have a similar taste in music, you'll understand how cool it was to hear these songs. The trip was filled with little things that made each different and memorable. This was the biggest little thing of the trip for me. Oh, and their national anthem is so good.
The Language/Culture
Almost everybody in Montreal speaks French and English. When you go to a restaurant or bar, they'll speak French initially, then nonchalantly switch to English when they read your facial expression of "I have no idea what you just said." The coolest thing about it is they'll switch between French and English in the middle of a sentence. At the Canadiens-Blues game, they announced everything in French and then English, including the three stars.
More On Canada
I'm working on my trip recap article/video and my notes on the Air Canada Centre and Centre Bell. Follow @KSDKSports and @bluesbuzzblog on Twitter so you don't miss any of our material!
That was a perfect weekend in the Great North (and the hockey was perfect too, 3-0). Let's keep that border open, eh?