The warmer weather may feel nice, and you may find yourself daydreaming of Cardinals Baseball, or trips to Ted Drewes. But a combination of warmer temperatures, low humidity, and gusty winds has elevated the fire danger for much of Missouri.
The National Weather Service issued a Red Flag Warning today from 11 a.m. to 6 p.m. for the St. Louis metro and areas west all the way through eastern Kansas.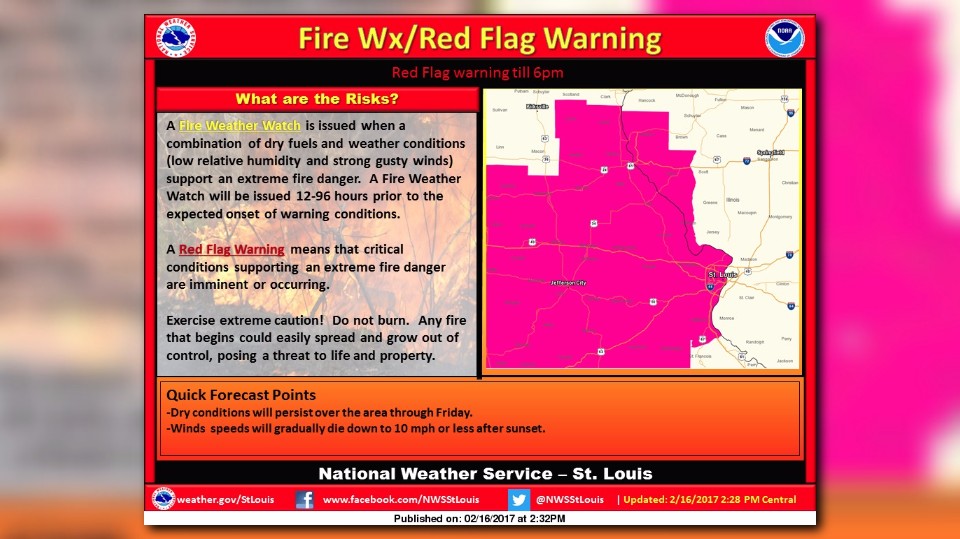 St. Louis has been dry for the past few months. Since December 1, less than three inches of rain has fallen at the official reporting station at Lambert International Airport. That leaves the city almost 3.5 inches below normal so far this winter season.
With the dry ground, and humidity being low today, a spark from machinery, or a carelessly discarded cigarette butt could easily ignite a fire. Winds blowing 10-20 mph, and gusting up to 30 mph would fan flames creating more trouble for those trying to contain fires.
Enjoy the taste of spring, but stay alert to the increased fire danger today.