ST. LOUIS — It is my belief that great biscuits make life better.
I'm not talking about the flattened excuses formerly known as biscuit mix that you pick up in the middle of the night at Hardee's after drinking like a fish for 12 hours. This also doesn't include the rolled-up canister you purchase at the store and place in the oven. Those are what I like to call "content biscuits." You settle for those.
I'm talking about the biscuits at Russell's on Macklind, the premier brunch spot in the Macklind District, located in the heart of South City. They aren't messing around and neither should you.
Full-Blown Disclaimer: I'd fight your mother for a full platter of these babies, and so would you.
My dad put it best when he joked with our waitress a couple of weeks ago. She asked if we were ready to order our entrees, and my dad simply said: "You could have told us the kitchen was out of everything except for biscuits, and we would have been happy."
He's not lying. When it comes to food, cigars or fixing things, my dad is Obi-Wan Kenobi if he were built like an NFL linebacker. He drinks and he knows things. But these biscuits are a no brainer for just about anyone.
Russell's, a local restaurant chain owned and ran by Russell Ping (other spots include Fenton and Chesterfield), does offer other delights. The Breakfast Flatbread is a full table delight. The steak and eggs are never a bad choice. The biscuits and gravy are delicious and filling. The Sunrise on Sourdough isn't a bad check down piece if the Maple Glazed Chicken sounds overwhelming. There are about 17 different sweet pastries to decide upon.
But the biscuits are in an ivory tower of naughty all by themselves. You eat them and instantly forget about the fact that you haven't washed your hair in three days and that your home looks more like a bomb shelter than a warm and fuzzy place. The cares of others cease to exist after the first bite. All the adulting troubles and child-related sports horrors are deleted from your brain PC. It's biscuit time, and nothing else matters. When you go through a breakup, you'll tell the other person, "We'll always have the biscuits at Russell's on Macklind." Ruby's Flowers are sold outside and quite honestly, a French painter should be right next to her painting a portrait of these biscuits.
Now, there's a preferred method on how to consume these things. You don't just charge into this appetizer like a bull who has lived on nothing but kale and unseasoned chicken breast for a month; diabolical measures are required here.
The platter, which includes 5-6 biscuits, arrives at the table. Once your eyes light up and your legs lose feeling in their lower quarters, you establish a plan. Grab the one that has the darkest brown crispy edge to it. These are the special ones. The first one you grab is the one to rip apart like a child opening the first gift on Christmas morning.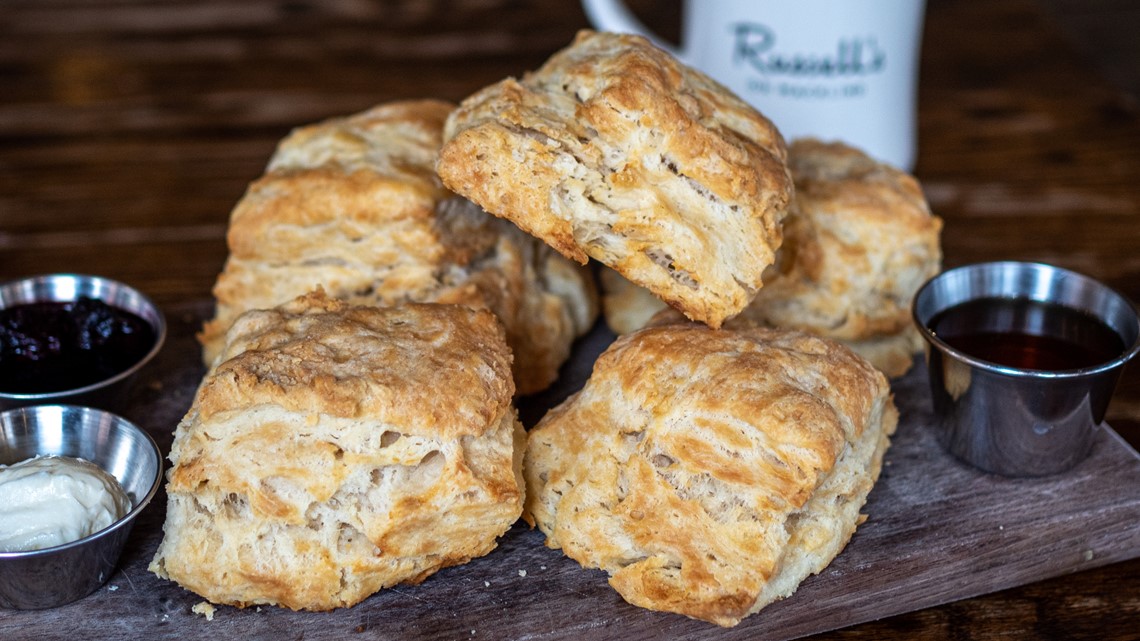 Sure, there are three spreading options on the platter: blackberry preserves, honey, and butter. Those are for the second and third biscuits. The first one you just get acquainted with.
Tear it into 3-4 pieces and go at it. Down a couple of bites, lock eyes with a stranger, and wink at them like you know something they don't. Secret intel to pleasuretown, perhaps? It doesn't matter.
Now for biscuit No. 2, you get a trusted knife and slice it right down the middle. Pick up the spoon and push the middle of one of the slices in with the bottom of the utensil. This is where you'll pour the good fixin's into once this first part of the operation is finished. Once the crater is created, you get the honey first and pour some into the space. Afterward, the preserves are spread atop that. Finally, get some butter and cover the preserves.
The first bite should confirm the secret of life, even if just for a fleeting moment. It's almost better than a drug. Better than certain words that can't be written on a news website, but you get it (I'm winking at you).
People rave all day about bacon and how great it is. I'd take these biscuits over bacon any day of the week and especially on Sunday.
My wife often gets mad when they run out of the Savory Croissant, an appetizer with tasty ingredients stuffed inside the French pastry. I would only get mad if they ran out of biscuits. There'd be man tears, soft puddles of despair across my face like I just watched "Hoosiers" or "Platoon."
They are the best biscuits of all time. I've been around, so you can trust me.
Thanks for eating and remember what I said about the spoon and the honey.
5400 Murdoch Ave, St. Louis, MO 63109
Closed Mondays and Tuesdays
Wednesday: 4–9 p.m.
Thursday: 4–9 p.m.
Friday: 4–10 p.m.
Saturday: 8 a.m.–3 p.m.; 4–10 p.m.
Sunday
8 a.m.–3 p.m.
WHAT'S COOKIN' IN THE LOU?