ST. LOUIS — Fans of St. Louis-style frozen pizza could soon get rewarded for chowing down on Lucia's Pizza. The pizza maker is launching its Golden Slice Giveaway on Wednesday.
The contest will allow customers who purchase the frozen pizza at St. Louis-area Schnucks and Dierbergs stores the chance to win prizes like a trip to Italy, free pizza for a year, pizza stones, pizza cutters, concert and sports tickets or Lucia's merchandise.
According to Lucia's, 217 frozen pizzas will contain the Golden Slice game piece. When the QR code on the Golden Slice is scanned, it will take you to a website where you'll enter the authentication code on the game piece to learn what prize you've won.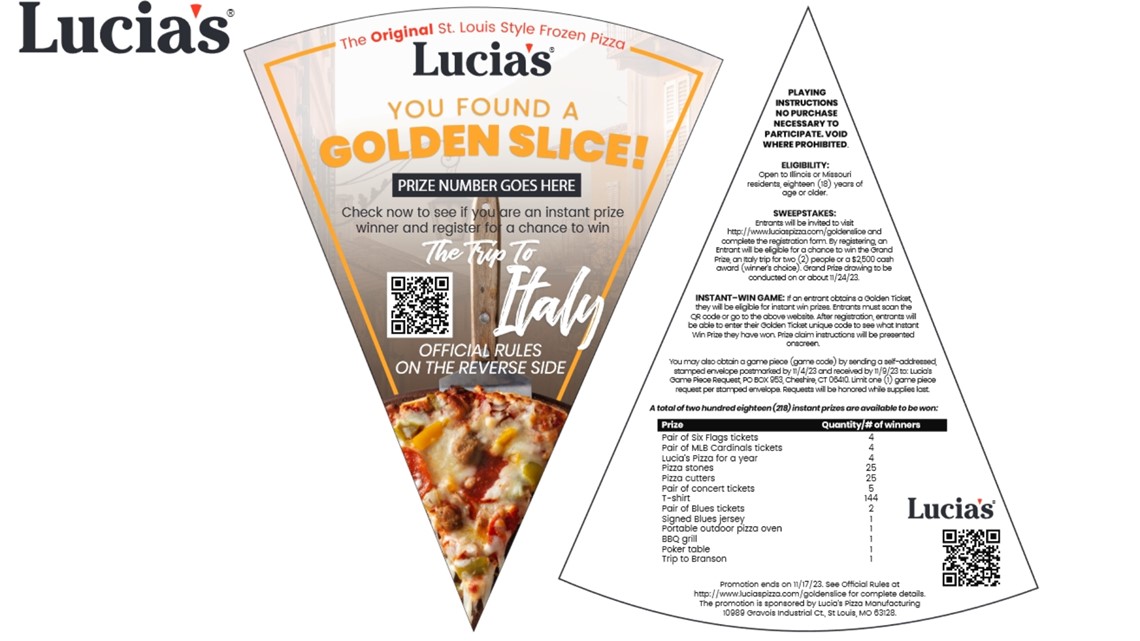 Winners can pick up their prize at Lucia's headquarters in Fenton or choose to have the prize dropped off.
"We have always wanted to do a 'Golden Ticket' type of promotion and the time seemed right with our new branding, packaging and marketing campaign," Lucia's President Scott Ashby said in a statement. "Since our launch in 1981, we have sold more than 50 million pizzas, and now we are excited to take the brand to the next level. As competition in the frozen pizza category continues to increase, we want to ensure we are staying ahead of the other local and national brands, and rewarding our customers for their continued support and feedback. So thank you!"
The Golden Slice Giveaway will last until all Golden Slice game pieces are found, or until Nov. 17.
There's no purchase necessary to enter Lucia's random drawing for a trip to Italy. Click here and enter your name, email address and phone number for a chance to win. The sweepstakes closes on Dec. 31.
Lucia's Pizza, formerly Mama Lucia's Pizza, was founded by Lucia Tumminello back in 1981 and became popular in The Hill neighborhood before expanding into the frozen pizza aisle. The brand claims to have been the first St. Louis-style frozen pizza available at grocery stores.
To watch 5 On Your Side broadcasts or reports 24/7, 5 On Your Side is always streaming on 5+. Download for free on Roku or Amazon Fire TV.