Remembering when Wayne Gretzky came to St. Louis
In 1996, the Blues set the hockey world on fire with a trade for "The Great One." It didn't end in a Stanley Cup, but Gretzky-mania left a mark on St. Louis.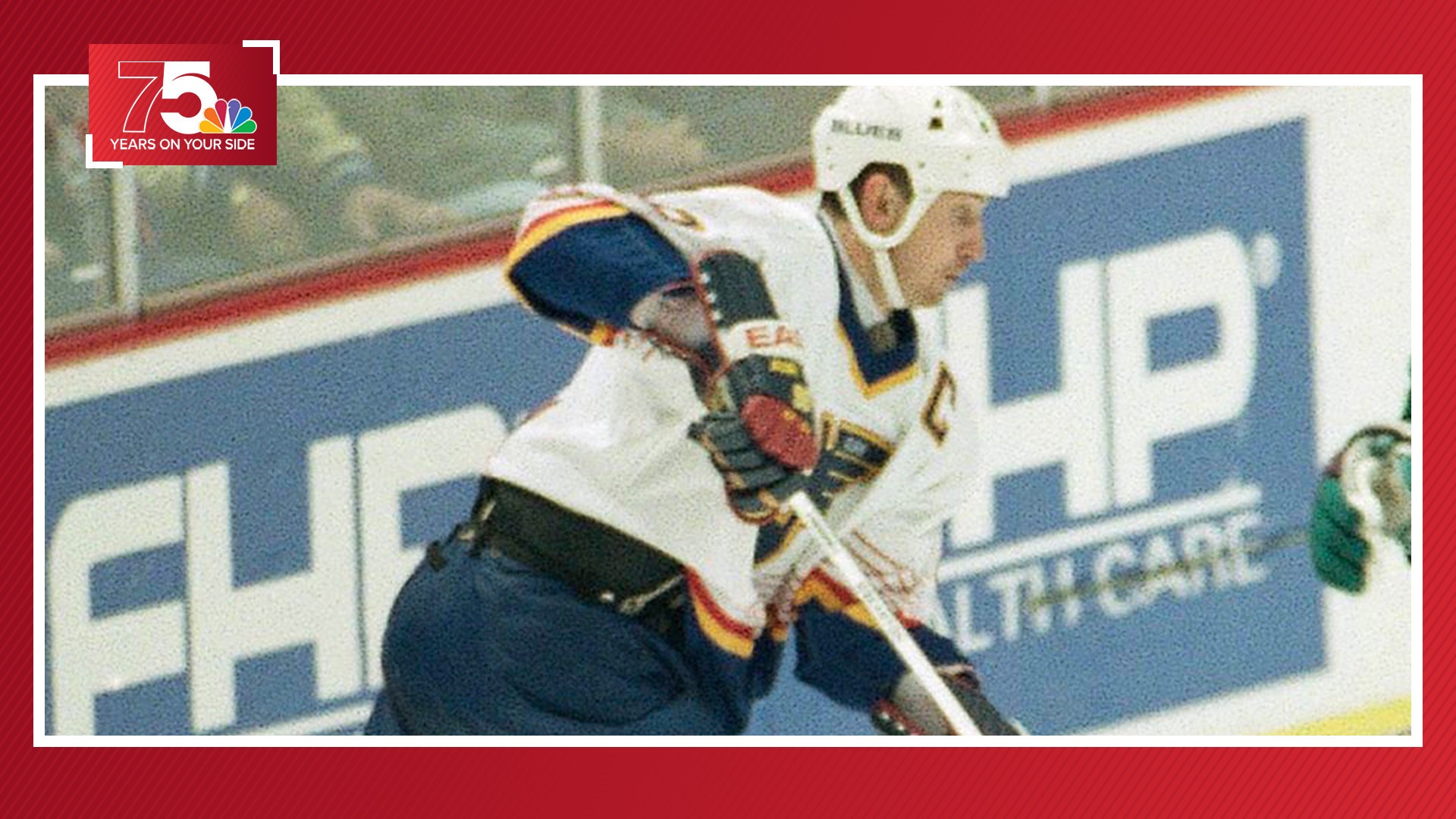 It took 52 years for the St. Louis Blues to win a Stanley Cup. But that doesn't mean they weren't interesting along the way.
One of the biggest splashes in Blues history came in the final months of the 1995-1996 season. The team made a deal for one of the greatest athletes of all-time, and set off a frenzy in St. Louis.
The trade
:
Blues make a blockbuster
It was Feb. 27, 1996. The Blues were 26-24-11.
To supplement their roster ahead of the playoffs, they looked to add the greatest player in hockey history, Wayne Gretzky from the Los Angeles Kings.
Gretzky was already a legend by 1996. He's the all-time leader in goals and assists in the history of the NHL, with many more mind-bending records as well.
The Blues got the deal done by sending a fifth round pick in 1996, a first round pick in 1997, Craig Johnson, Patrice Tardif and Roman Vopat to the Kings for "The Great One."
5 On Your Side's Frank Cusumano was there as the trade drama unfolded, and became official, as pictured in the photo below.
"I'm thrilled that this organization would step forward and want me to be a part of it," Gretzky told Cusumano once the trade was finalized.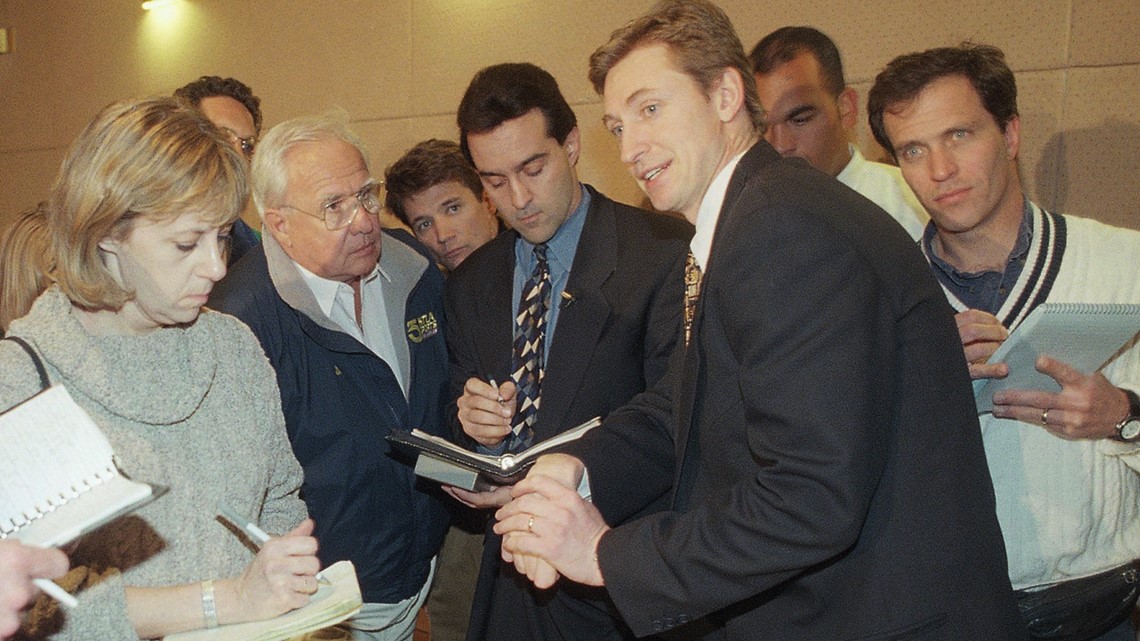 Cusumano's journey took him to Vancouver next, for Gretzky's first game as a Blue.
Ahead of his debut, more than 2,000 people showed up at the practice rink in Vancouver.
"You'd think we got Wayne Gretzky or something," Blues forward Brett Hull said walking into practice as our cameras were rolling.
In typical Gretzky fashion, he scored in his first game with the Blues on a breakaway against the Canucks.
The 1996 heartbreak
:
Gretzky's presence can't bring Blues first Cup
Gretzky, 35 at the time, played in just 18 games for the Blues at the end of the 1995-1996 regular season.
He scored eight goals and notched 13 assists.
Then, the playoffs came calling.
The Blues were dealt their first blow when future Hall of Fame goaltender Grant Fuhr was knocked out of the playoffs due to injury in the opening round against the Toronto Maple Leafs.
In the second round, the Blues took the Detroit Red Wings to double overtime in Game 7, but saw their dreams dashed on a game-winning goal from Steve Yzerman.
Gretzky scored just two goals but tallied 14 assists in his 13 playoff games with the Blues that season.
The roster loaded with future Hall of Famers like Gretzky, Hull, Fuhr, Al MacInnis and Chris Pronger fell short of bringing St. Louis its first Stanley Cup in one of the most deflating defeats in franchise history.
The aftermath
:
Gretzky's time in St. Louis ends as quickly as it began
The Blues had put together a contract offer for Gretzky to stay in St. Louis beyond the 1995-1996 season. However, the team eventually pulled it off the table.
Gretzky and Blues head coach Mike Keenan had not seen eye-to-eye, so Gretzky's time in St. Louis didn't go any further than those 79 days in the spring of 1996.
He signed with the New York Rangers in the offseason.
Altogether, Gretzky played just 31 of his 1,487 career games as a St. Louis Blue.
However, he has remained a popular figure around town, and has even moved back to St. Louis recently with his area-native wife, Janet, to be closer to her mother.
"I really just love living in St. Louis," Gretzky said when accepting his Musial Award for lifetime achievement alongside his wife in 2021.
And you can still be sure to see a few Blues "Gretzky 99" jerseys in the crowd at Enterprise Center whenever you go to a game.
5 at 75
:
Anniversary celebration
We are continuing to remember the biggest moments in St. Louis history over the last 75 years as 5 On Your Side celebrates its 75th anniversary in 2022. Take a walk back in time with some of the biggest stories from each decade:
Be sure to learn more about our banner show at locations throughout the Bi-state.
Find complete 5 On Your Side anniversary coverage, stories and videos at ksdk.com/75.