Up high and down below, Merferd sees it all
<p>Maybe you've seen him around. Merferd isn't shy, nor is he extroverted. He isn't where you'd expect him to be, but he's also right where you want to see him. Merferd does not know the feeling of sleep or rest; instead, he soaks in what it means to be alive, to live together.</p>
Hanging from the railing in a vacant apartment complex off Interstate 70 sits a trail of cartoon figures. They dangle onto each other, hand-in-hand, welcoming strangers, residents and all those who are willing to give them attention to St. Louis. But, with a closer look, they're more similar to each other than they are different, sharing the same persona.
Maybe you've seen him around. Merferd, as he's named, has called a number of places home for decades; junior high, high school, seminary books and papers, plywood, brick walls, cars, shirts, billboards and now trees. Merferd isn't shy, nor is he extroverted. He isn't where you'd expect him to be, but he's also right where you want to see him. Merferd does not know the feeling of sleep or rest; instead, he soaks in what it means to be alive, to live together.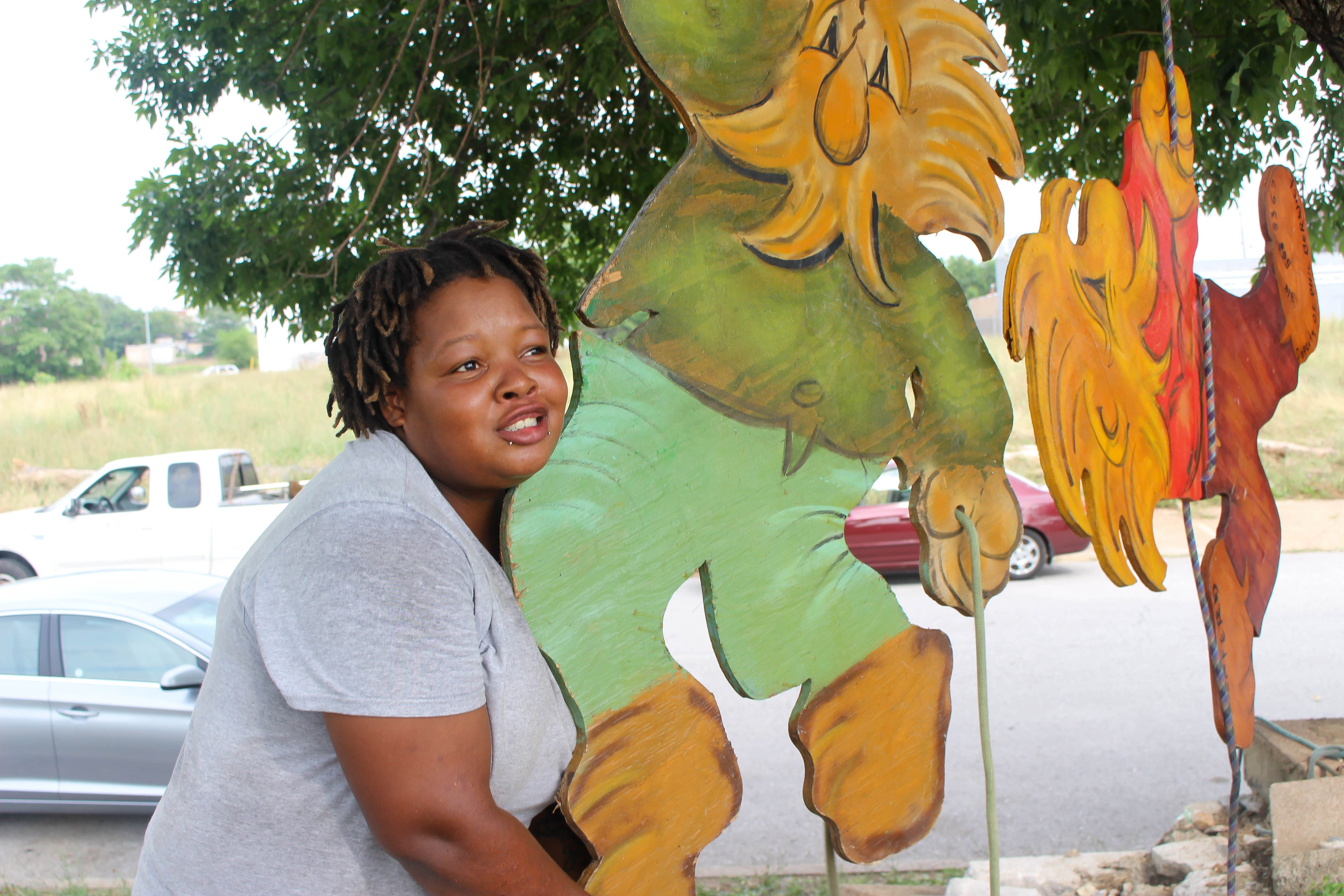 "That's Merferd," said Jessica with exclamation. "It's symbolism. It's symbolism. This is symbolism."
Merferd, as she so excitedly called for, is the creation of Wendell Phillips 'Phil' Berwick.
Jessica, or 'Jay Jay', works with Berwick at a lot just blocks from downtown St. Louis. Along with others, Jessica was out amid the dangerous heat one afternoon to do more than just glimpse at Merferd up, close and personal -- here helping Berwick inject three important Ash trees to preserve the camp's most important shade trees, and protect her small homeless community who spend plenty of time under the sun.
Berwick, with some help from his friends, is battling in retaliation to the City of St. Louis' decision to remove 14,000 ash trees. As the City stated, a large number of ash trees are infected with the Emerald Ash Borer, a tiny but destructive beetle which slowly kills the tree. Officials said the result would become a public risk as the ash trees could become brittle, break and fall, but Berwick disagrees with the assessment. In his time spent curing the affected ash trees, the Emerald Ash Borer disease is treatable, regardless if the tree has been infected in earlier stages.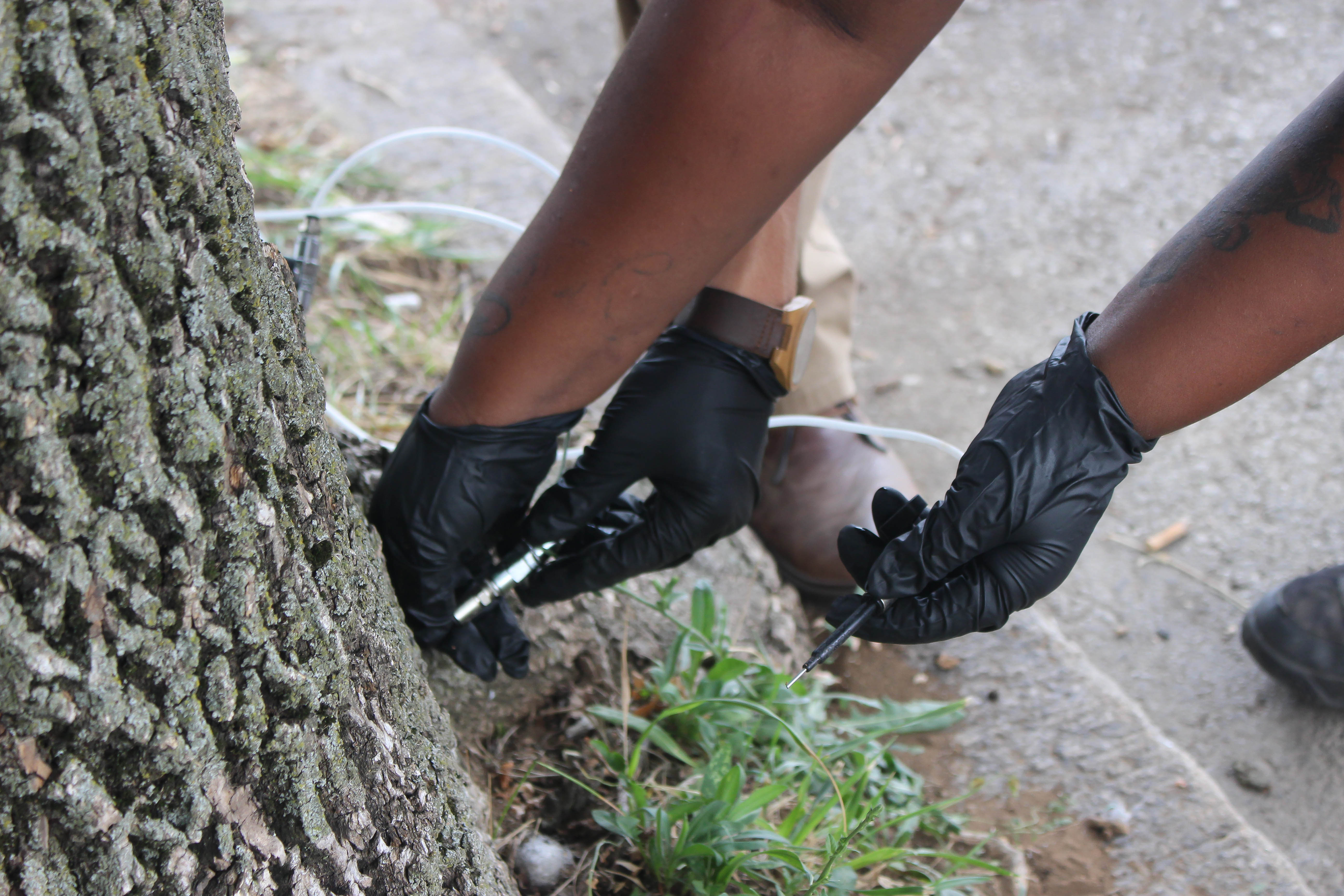 And he would know. An arborist, Berwick founded Living Tree Care in 1991. He found success assisting in the treatment of the Dutch elm tree disease threat throughout Chicago in the 1970s and 1980s. Phil helped implement a number of tree care ordinances and disease control measures, which eventually led to his work in the St. Louis area.
Berwick, with his sweat-stained tank top, has tools in both of his hands as he prepares a day to cater to both of his passions: Merferd, and saving ash trees. A group of others join him in the effort, despite the blistering heat, and spend the afternoon sharing watermelon and hamburgers, interaction, stories, and community. But despite all this, there's one thing more that sits at the front of the class, crown atop its head: shade. Shade to protect the homeless. Shade to give a place of rest. Shade to feel at home.
The real threat, Berwick said, isn't the ash tree nor is it the Emerald Ash Borer, it's the threat of the city attempting to take an 'easy way out,' while the streets of St. Louis get scorched with summertime heat for an entire generation, including a lack of shade for those who desperately need it. Without them, there's more at risk than just a smaller number of trees.
"When you cut down [trees] ... especially with global warming and things ... trees that were able to get established decades ago, it's worth keeping them," said Berwick.
Hope in all the odd places
"I was in the boys' first Home [Economics] class in 1972... and a roommate asked me, 'What do you call that guy Berwick? You're always drawing [him].'"
That was the moment 'Merferd' first came out of Berwick's mouth. He did not plan on calling his creation Merferd, or any name, really; it was a spur-of-the-moment decision based on a then-three-year-old artistic personality. As he later said it, "[Merferd] was the reason I got straight C's in high school."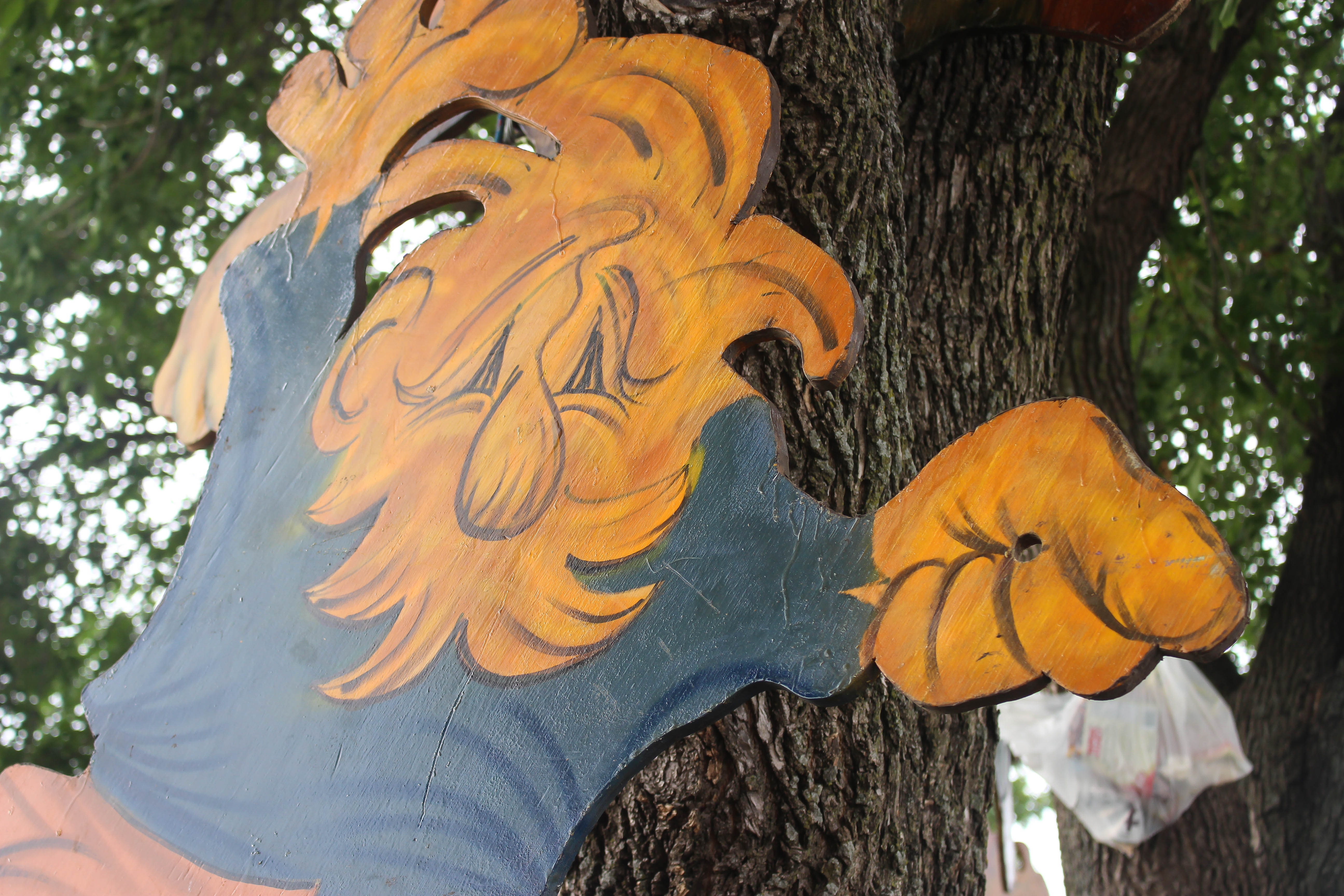 Merferd sat alone as an independent creation for the better part of a half of a century, with varying uses and appearances throughout its lifespan, until the unrest in Ferguson broke out in 2014. The riots, violence and media attention brought Berwick to the troubled St. Louis County city once he and his daughters began to paint some of the plywood boarded up from the buildings that were either busted up, or in fear of being busted up.
"Merferd [went] on like five or six [pieces of plywood] in Ferguson, two or three in Jennings [and Dellwood]," said Berwick. "When there wasn't anymore plywood to paint, I was like a kid that didn't want to home go home from camp. I was like, 'I'm gonna start finding more butt-ugly plywood buildings to paint.'"
Berwick stayed true to his word, beginning work in various blighted areas around the St. Louis area. With his brushes and his paint, he moved from north St. Louis to south St. Louis, and then to wherever called his name. In a relatively short amount of time, his ongoing art project took a turn of posterity with a sudden and unintentional grasp of notice from the surrounding communities.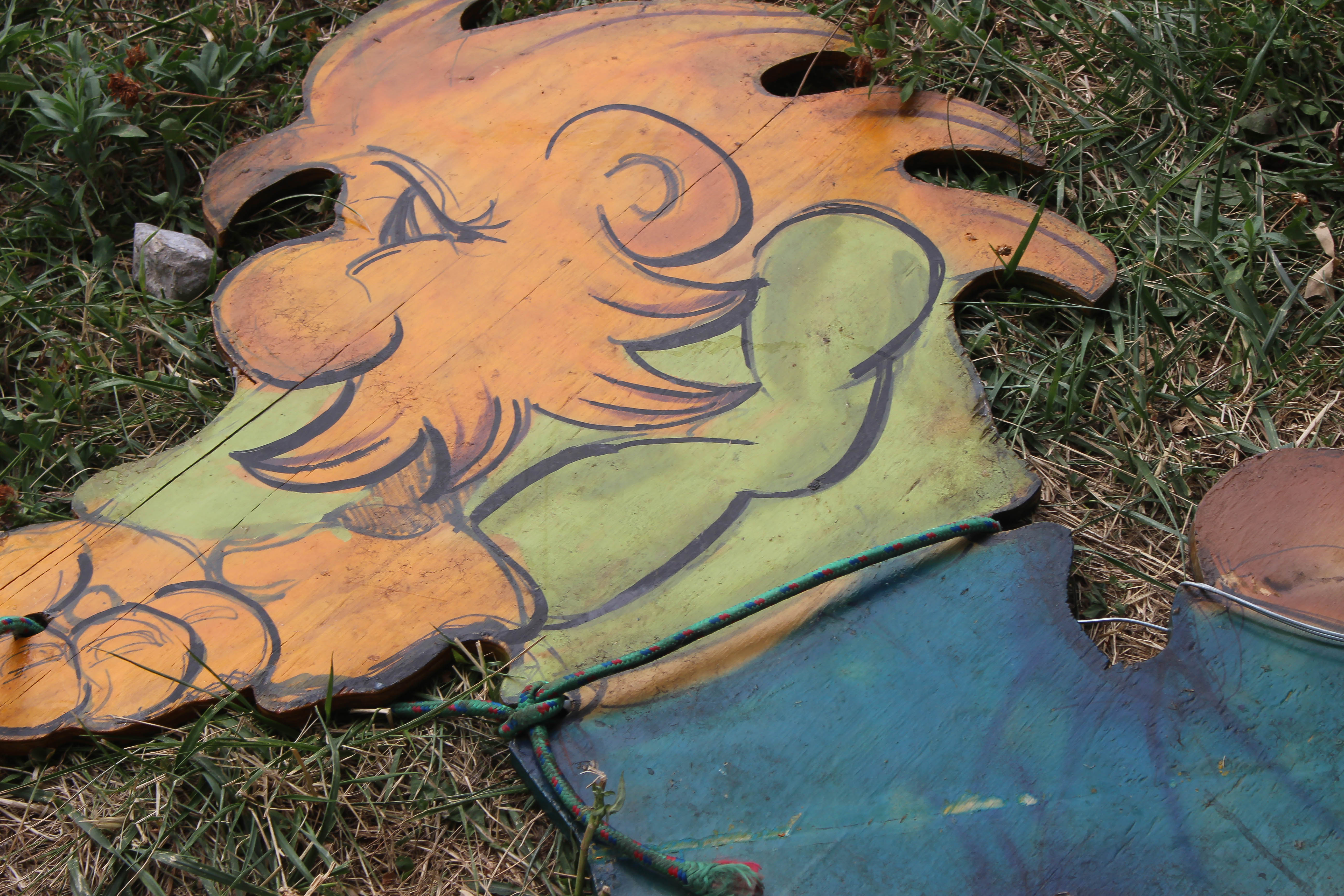 "People would come by and go, 'Man, did you do that? That's tight,'" Berwick laughed. "'That's tight.'"
Sometimes he would cover up large, vulgar symbols sitting alongside walls, other times he would remove the stain some walls did not want to have plastered on their faces. Before he knew it, Merferd's newfound fame extended beyond eye-soar board-ups, it struck a chord with the people who were weary and unwilling to spot the same graffiti tags; they needed something eye-grabbing.
"Someone told me, 'You don't realize how big Merferd is,' and I say, 'Yeah, I see how many likes he has on Facebook.' She said, 'No, you don't know how big he is.'"
Local media began outreach to Berwick for his insight on the rage that was Merferd, but his attention focused on the community was not to please his public image, but rather to bring people closer in places they least expected it.
"By not having [Merferd] in a studio, but out in the streets ... with people who just don't go into art studio(s), or people who don't go onto social media, [they] see Merferd and see them hanging and swinging in the breeze," said Berwick.
Bringing everyone together
Two years after Merferd's began their walk down a hall of fame of sorts, Berwick found trouble in the way his work was being attacked. Their local popularity had already been well-known, but a mark on their chest left Merferd's looking for a sense of independence.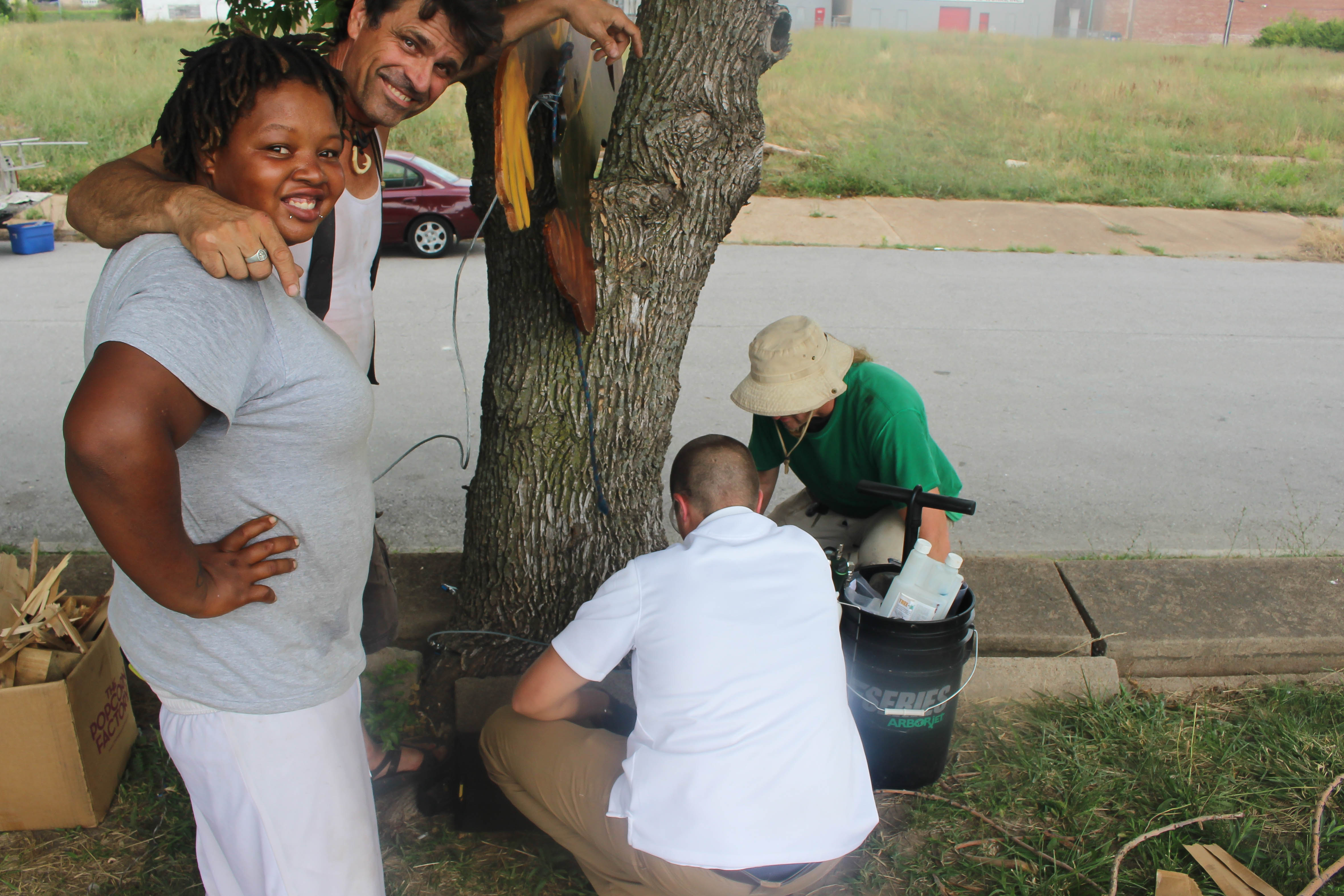 "I'm in my garage one day and I'm looking at a worn and weathered Merferd, becausse many years ago when I had tree crews... we put Living Tree Care across Merferd's chest [as their contractor sign.] One of my guys said, 'Phil, take take Living Tree Care off Merferd and let Merferd be Merferd.'"
'What a novel idea,' thought Berwick. He had never been pleased with the look his company logo had across Merferd's chest, but it had never crossed his mind to separate the two into different entities. Still, a wave of negativity struck his own. Twenty-five Merferd's had been either wronged, removed, buffed, tagged or destroyed over the course of a summer, and he was looking for ways to not only protect Merferd, but give them a better sight to see the Gateway City.
PHOTOS | Merferd around St. Louis
Merferd around St. Louis
"So I'm looking at these wooden Merferd's ... and all my [25] paintings are wiped out, [and] I'm like, 'There it is! That's what I'll do! I'll hang them from the areas where haters can't get to them.'
With their new homes came new friends. 'Treetoons' became not only his newest creation but a friend to the most friendly. Their names, Treetoons, stemmed from the stems themselves. As Berwick stated, the Treetoons were so much more than hanging pieces of art, they were caricatures of the talking trees he draws; the Treetoons morphed from Berwick.
"[Merferd] needed a sidekick, and voila, a talking tree," exclaimed Berwick. "I know how trees think, because I've been in them for 40 years."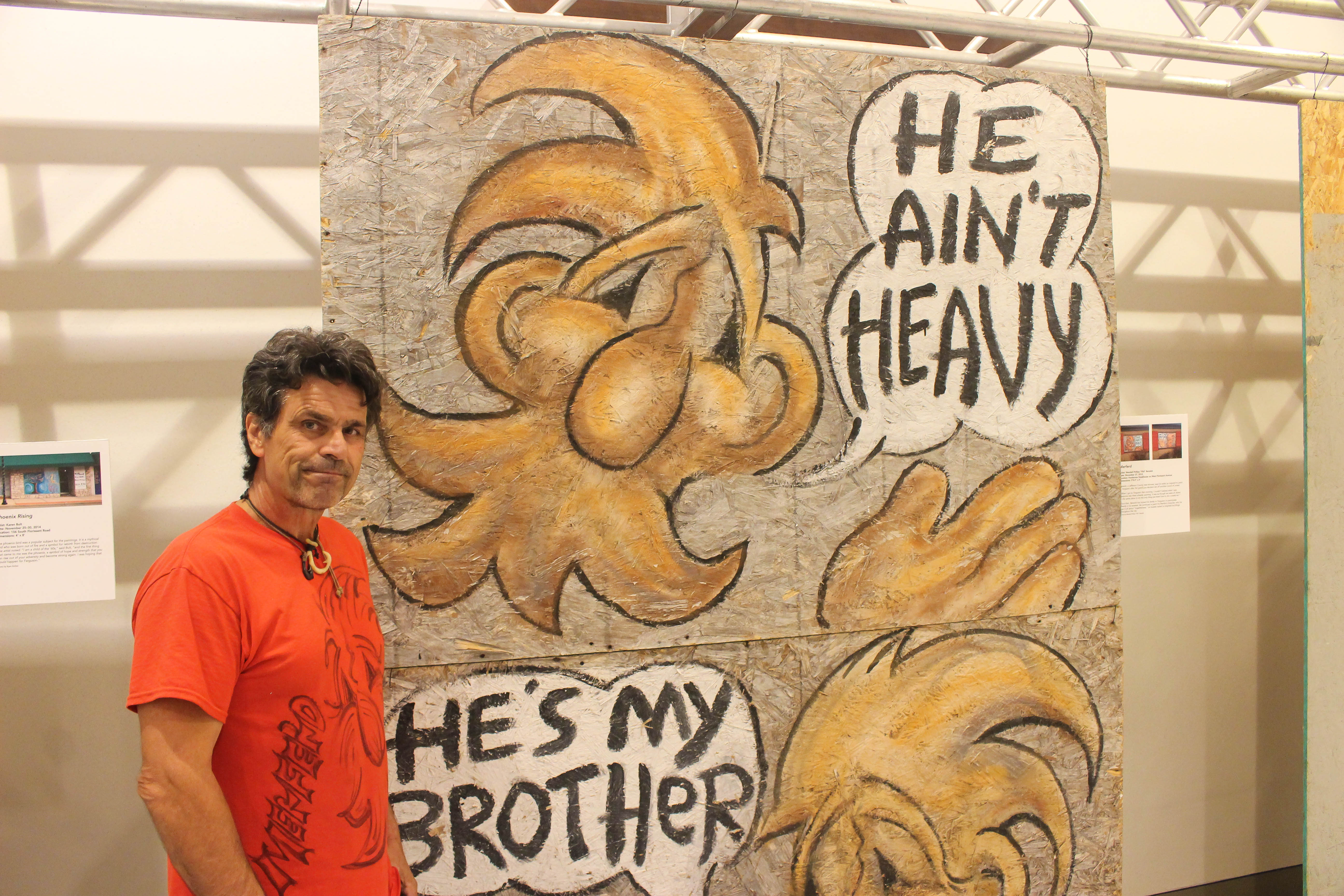 Berwick wants the Treetoons to extend beyond a pleasant sight, although that is, and will always be, one of the pulls of working on Merferd. Still, their trajectory isn't just going to be sitting high and above where those up to no good can reach them, it's going to be in the future of the environment, in St. Louis and around the world.
"This is where the Treetoons are going to come into fruition for the next few years ... crying out, 'Save the trees. Treat the trees. It's worth it,'" added Berwick. "The Treetoons are all of us; the Treetoons are the shtick."
"Two-sided is a day, an eight-to-ten hour day," said Berwick of the time it takes to create Merferd's. "One-sided is about ... a three-to-five hour day."
The average Merferd sells for a hefty price, depending on what you describe as 'hefty.' A custom, one-sided Merferd runs for about $300, and a double-sided one sells for around $500. More than not, people are willing to pay the price Berwick suggests, but others are happy to go the extra mile to get their hands on their favorite work of art. Still, Berwick is hesitant to let his Merferd's go, although his 'Where on Earth is Merf' contest brings buyers and those interested together.
As Berwick explained the process, Robert, a fan of Merferd, pulled up to the site, ready to pickup his custom-made Merferd for a party. His wife initially wouldn't let him pay more than $350 for the Merferd, but the two bartered and agreed to a slightly higher price -- and Robert was fine with the outcome. The two posed with Berwick's work, and Robert went on his way.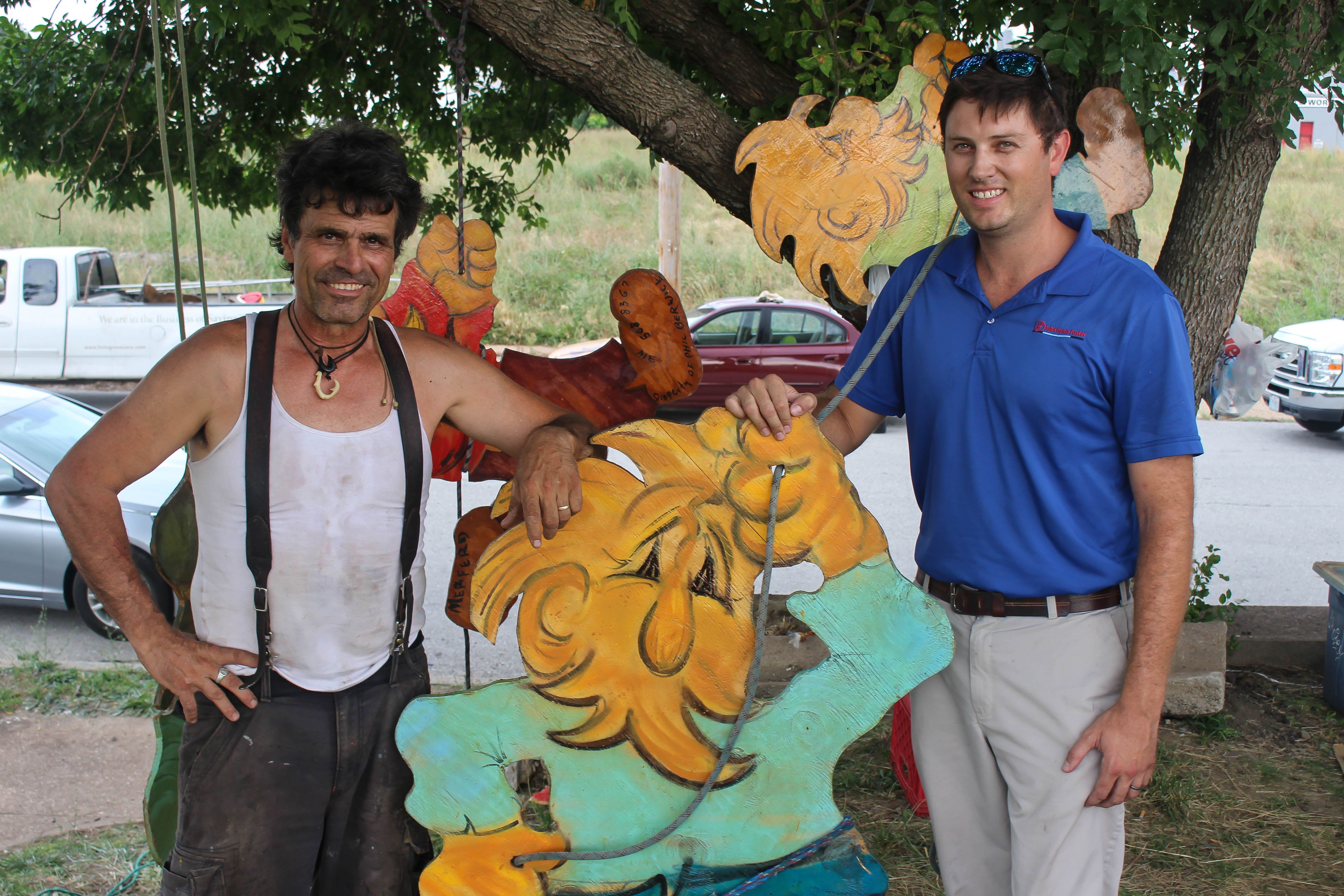 Berwick also recalled a story of a couple who, just days prior, helped in the celebration of their relationship, highlighted by none other than Merferd himself.
"A gal asked me months ago if I could draw a Merferd for her guy. We agreed on a price ... [and] I said, 'Where would you like it? How about I come in an hour early before you come in there [to pick him up from work]," said Berwick. "'How about I sit down ... order a beer, I throw my canvas down and finish his illustration?'
"So, I went into [his workplace] last Friday, and I hadn't barely sat down with my canvas before he goes, 'You're the Merferd man!"
The boyfriend, ecstatic and starstruck, switched between serving customers and chatting with his art-based idol. He was happy, but mostly surprised at the fact Berwick was working on a new canvas right in front of his eyes. What was fun for Berwick, however, left the boyfriend astutely unaware of what was unfolding.
"So, his girlfriend comes in ... and we texted each other and I said, 'Now, you don't know me.' He had already texted her, he said, 'The Merferd dude is here!'
Berwick had asked the woman to send some information on her boyfriend to better help personalize his canvas, and one of the lines of sent to him stood out more than the rest. It was a saying, 'A life well lived is a story worth repeating' -- a saying that left a good impression with Berwick.
"He's standing there locked into the piece as I finish, and I start to write [his saying], and I'd already lightly written it, so I could paint it. And he's watching this saying ...he's saying, 'No, no, no.' He gets choked up, she's crying ... and she told me later she's never seen him cry."
On top of personalized, hand-drawn paper or canvas', Berwick also specializes on a special kind of surface, one that is found most everywhere, whether or not you own one.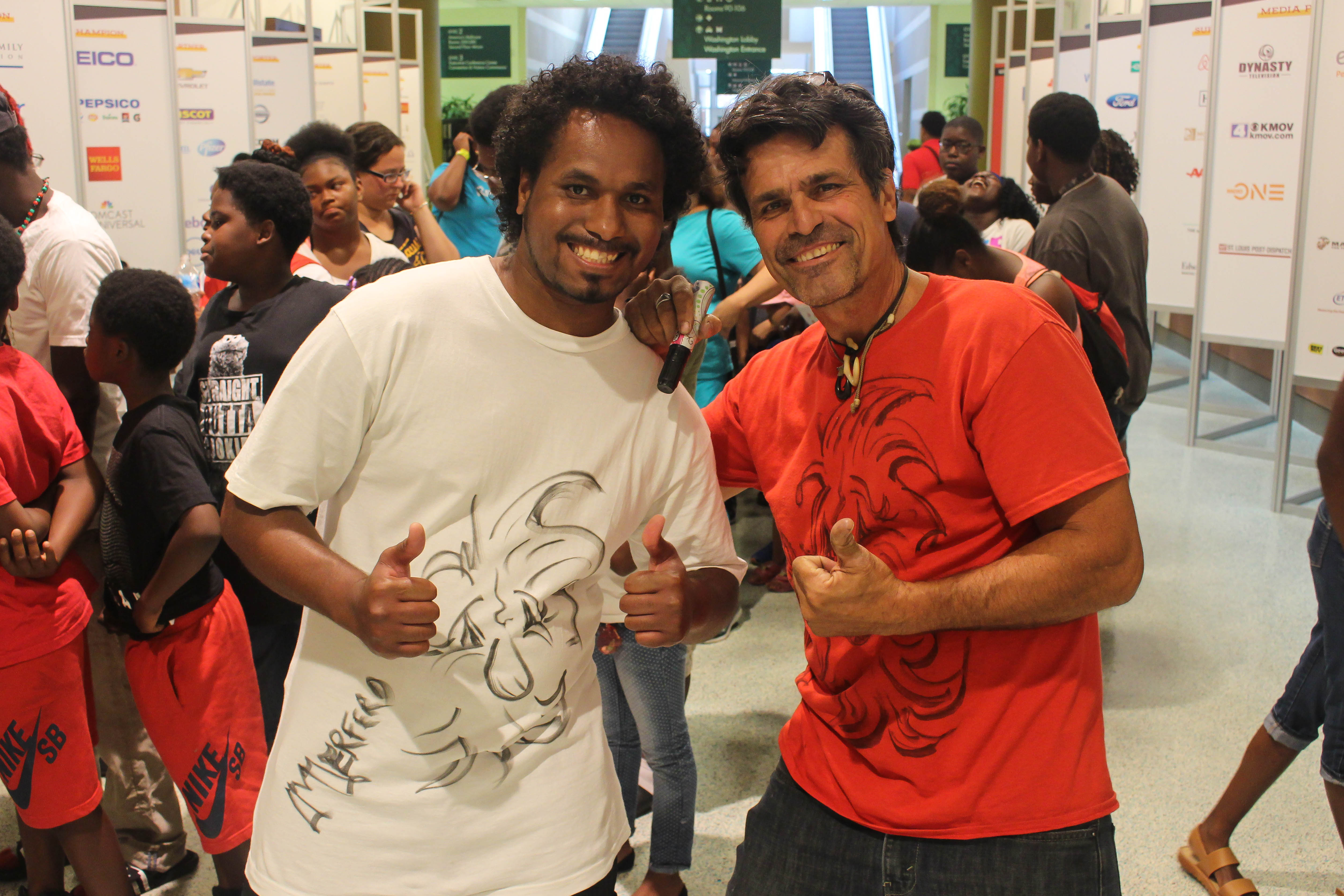 "If I'm standing in line and there's a guy with a white T-shirt, I'm like, 'Dude, can I do Merferd on your shirt?' And they'll be like, 'Who?'" joked Berwick. "Sometimes they're like, 'Yeah, man! Do me! Do me!' So, you never know. Some are like, 'No, no.'" Others, like Antonio at an event at The Dome at America's Center, were ecstatic to have a personalized Merferd drawn on his blank-white tee. He was all smiles, just like Berwick was.
The money received for the Merferd's, Berwick said, goes to purchasing more tree-saving chemicals, rather than creating more Treetoon-based caricatures for the time being.
While Berwick was beginning his time working on plywoods in Ferguson and the surrounding area several years ago, another St. Louis local also found her passion through the acts of the community.
'What can I do to help?' is the recurring thought Carol Klein asked herself throughout the process of Ferguson's national spotlight. "I went up to Ferguson after the fires ... and literally saw [the community coming together] ... and went, 'This is remarkable. I've gotta tell the story somehow.'"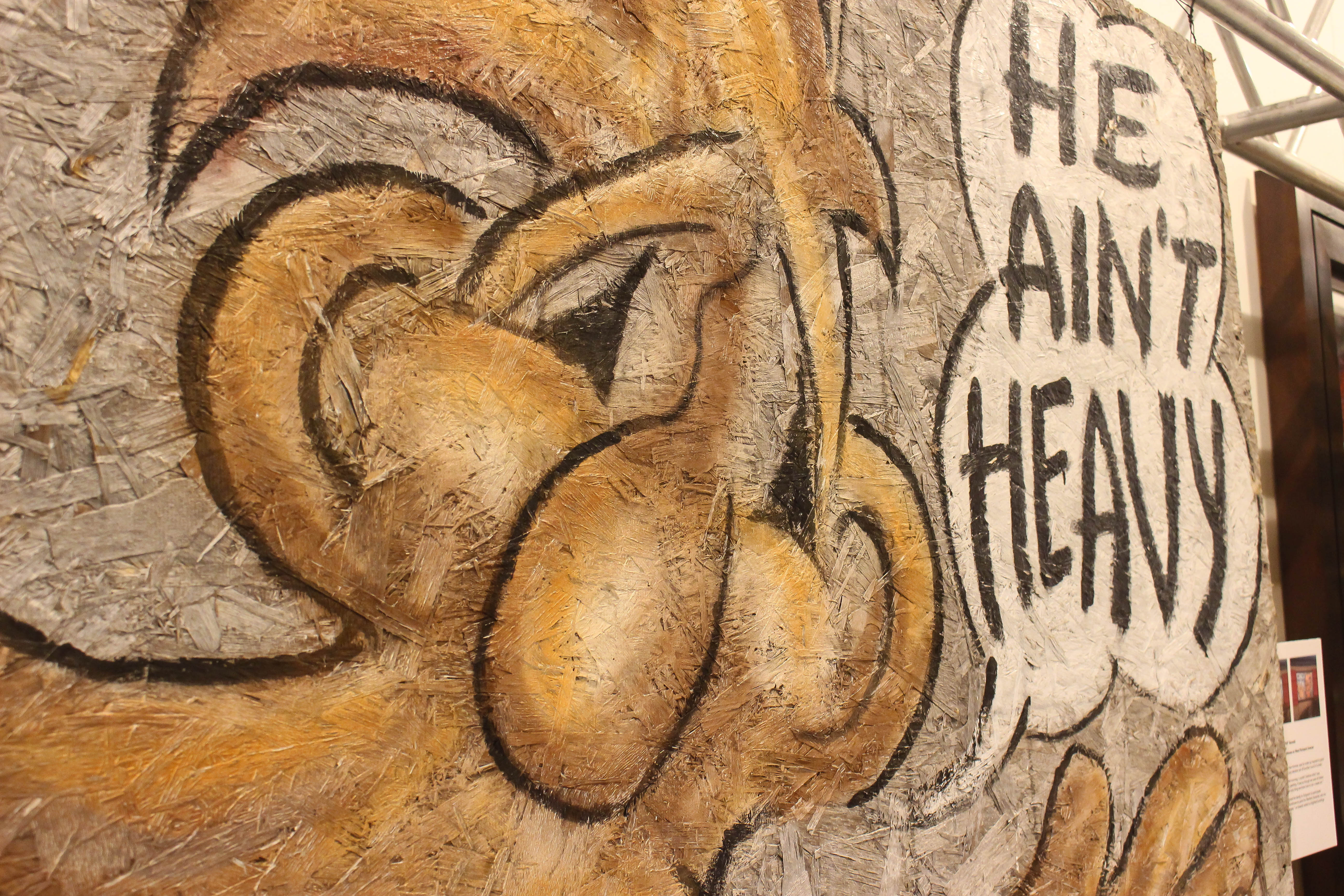 Klein, unsure of where to start, called on her photography friends to help capture the good moments; the ones that brought in crowds to sing and dance; the ones that let the community heal rather than hurt. She watched as the adults in the surrounding area worked together with town hall meetings, meetings in church basements and other various efforts to stabilize their home, but one thing felt neglected, and that's when Klein knew which direction to head.
"There hadn't been much focused at kids. And because there were no tools out there, a lot of schools and teachers and principals said, 'Don't talk about it,'" said Klein.
Klein began to work on a children's book, one that strictly showcased the Ferguson community. Painting for Peace, first printed in February 2015, shed light on the people from St. Louis and from far away, who were so willing to give up their own time to better the future.
"Any kind of proceeds have been going up to Ferguson, and that's enabled me to give like $5,000 worth of books to the area schools, $10,000 to the small businesses, and another $5,000 ... to arts and youth organizations."
Klein specifically created the book Paint for Peace to do much more than just give the kids a book to read, but to make their home feel like home again. The art featured in the book was displayed at the Urban League Convention at The Dome at America's Center in July.
"The kids didn't want to come [to help paint their community] because they were scared, because they'd seen all the pictures on television," said Klein. "They decided to come and they saw the transformation of getting out of your comfort zone, and reaching out.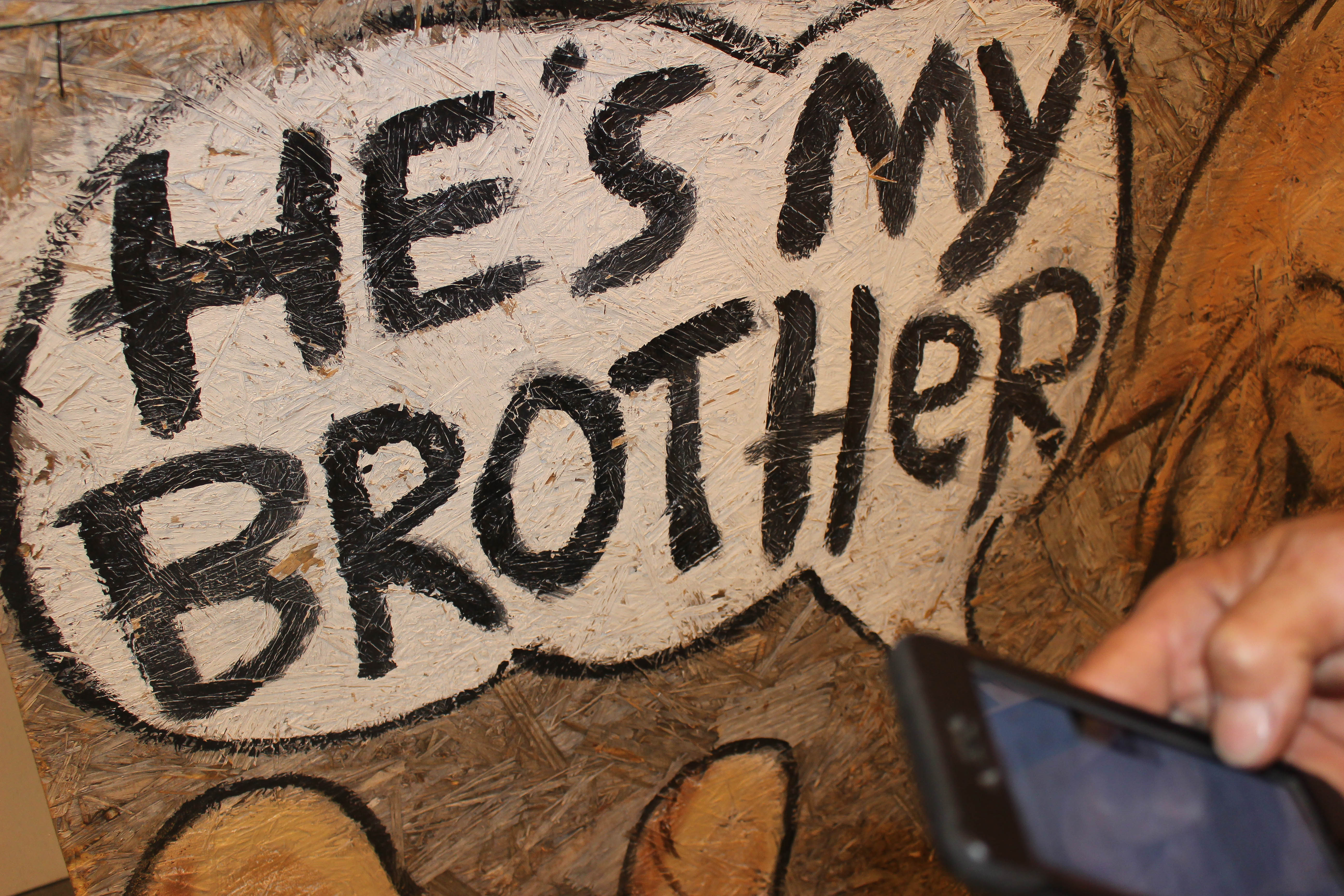 "They said as they were doing the painting(s), people brought music, started to dance [and] the National Guard was there. They couldn't paint ... so they put their [shoulder] patches up on the lettering of City Hall to show they supported this effort of coming together."
Berwick met Klein through their work in and throughout Ferguson, but one instance left the calling card of Merferd to, yet again, be more than just a simple painting on plywood.
"I started to go down to Grand, because some of the Grand artists came up to Ferguson, and I come back to Ferguson … that beauty shop on South Florissant. I show up and there's three dudes painting an ugly and scary monster guy with the tag line 'What did you expect?' If you look up and down the street, there's theme's of joy, there's forgiveness, what's with this?" Berwick was perplexed. "Does [the business owner] know you painted this?' and they said, 'No, but she told us we could paint.'"
The three men left shortly thereafter, but the business owner soon walked outside to see the painting displayed on the front of her store, and as Berwick said, "She shrieks and says, 'Ew! I hate that!'" She hadn't yet been introduced to Berwick, but spotted the Merferd poster he was holding and said, 'Him! I want him up there! Can you put him up there?'"
"Those folks didn't know each other, [but] they got to know each other," said Klein.
In his years spent working with, making and distributing his own Picasso's, Berwick has been met with only a handful of people who found fault with his work. Whether that reasoning is justified or not, he's found that the message Merferd's carry goes beyond a basic misunderstanding of street art. It isn't sitting as a tattoo against a blighted piece of plywood, nor is it a scar meant to harm the community Merferd calls home. At the very least, Berwick's firstborn is meant to be a caricature of where St. Louis can head rather than where it is.
The Missouri Department of Transportation has actively been switching between friend or foe with the arrival of the Treetoons, but their duty of removing the 'toons from trees around the City of St. Louis opened up much-needed communication. Berwick, while not pleased with his work being taken down and stored away, sees the move as one that provides stock into Merferd's worth.
But, that same communication closes doors, too. Just days after Berwick and his workers, friends, and members of the homeless community celebrated the arrival of ash tree treatment, the City of St. Louis cleared the homeless camp. Those who called that overgrown lot of grass and weed home were forced to find a new one. The relationships built, the time spent, and the protection from streets crumbled like the thousands of trees the City plans to remove.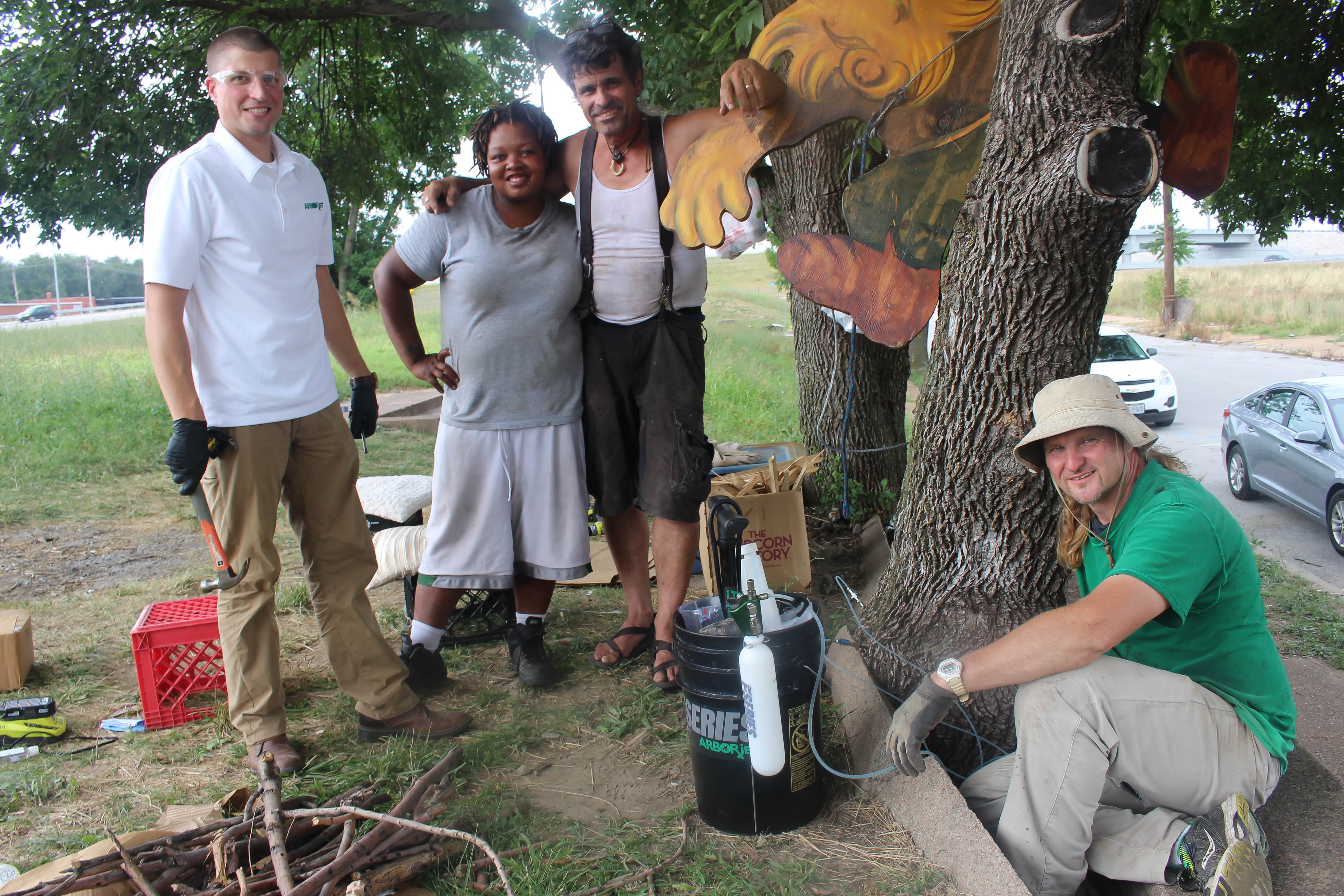 Regardless, at the end of the day, when the sun prepares to set and Berwick readies his creations for the following morning, he reflects on what's up in the air rather than what's down below.
"When I'm in a tree during the day, I get lots of revelations, sometimes songs," reflected Berwick. "But these flee away by the time I get down to the ground."
His calling still sits alongside his family, his business, his work with the homeless, and his hand-made Merferd's, but his gravitation towards the sense of peace sitting in a tree blesses him with remains unmatched. For Berwick, he's living up with the birds, and the Treetoons, while remaining down below.