ST. LOUIS — While you may only know Mardi Gras as an annual boozy celebration with colorful purple-and-green costumes, parades, beaded necklaces and king cake, it's actually a cultural tradition with religious roots dating back thousands of years.
Let's dive deeper into the history of the holiday.
What is Fat Tuesday?
Fat Tuesday, or "Mardi Gras" in French, is a centuries-old Christian holiday that traces back to medieval Europe's pagan celebrations of spring and fertility, such as the wild Roman festivals of Saturnalia and Lupercalia, according to History.com.
When Christianity arrived in Rome, religious leaders incorporated those popular Roman traditions into their new faith, resulting in what is now known as Mardi Gras. The first celebration of the holiday in the U.S. took place in 1699 when French explorers landed near what is now New Orleans.
Today, Mardi Gras is celebrated in many countries with large Roman Catholic populations, such as the U.S., Canada, Brazil, Italy, France and Belgium.
Mardi Gras is traditionally celebrated on the Tuesday before Ash Wednesday, which marks the start of the Lenten season. In Catholicism, Lent is the 40-day season of prayer, fasting and penance leading up to Easter Sunday.
Just as Mardi Gras celebrations now offer the opportunity to "let the good times roll," party, drink and enjoy the lavish things typically abstained from during Lent, the French would spend Fat Tuesday binging on the rich, fatty foods in their homes in anticipation of several weeks of fasting and eating only fish.
Mardi Gras in St. Louis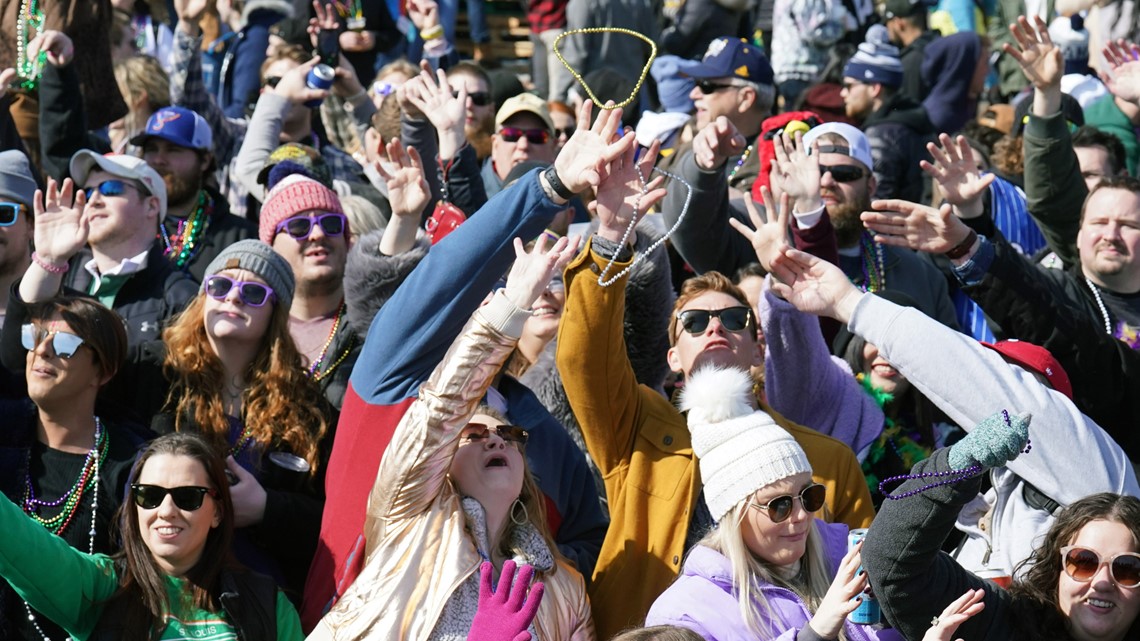 Just like Mardi Gras, the City of St. Louis has French roots.
St. Louis was founded as a fur trading post in 1764 by Pierre Laclede and Auguste Chouteau, and the pair began to construct the settlement, named "St. Louis" in honor of the king of France at that time.
Over 200 years later, Mardi Gras in St. Louis' Soulard neighborhood began in 1979 with a house party among five friends in search of a theme, according to Mardi Gras, Inc., the organization behind the annual St. Louis festivities.
Decades later, the city's celebration has blown up. St. Louis now ranks alongside New Orleans on many lists, including those from TimeOut and Lawn Love, for the top 10 Mardi Gras celebrations in the U.S.
The dozens of events that span the Mardi Gras season in Soulard draw thousands of visitors each year and generate more than $20 million in economic activity for the St. Louis region, according to Mardi Gras, Inc.
This year, the Mardi Gras season in St. Louis spans from Twelfth Night, Jan. 6., through Fat Tuesday, Feb. 21.
For its grand and booze-filled finale, partygoers saw 17 million beads thrown and 1,500 port-a-potties scattered throughout the city during the parade weekend.