ST. LOUIS — Over 110,000 Facebook accounts agreed with one post's message: "It's so expensive to just survive."
The post was created in mid-August and compared the prices of several items purchased at a Walmart in Springfield, Missouri, in 2023 versus in 2020.
Screenshots in the post showed a package of smoked turkey cost $3.14 in 2020. It now costs $6.72, a 114% increase in price. A pound of ground beef cost $3.46 in 2020. It now costs $5.22, a 50.8% increase.
In the spirit of that post, 5 On Your Side took a dive into grocery store prices from the St. Louis area from 1993, 2003 and 2013. Here's what we found:
1993
Don's Meat Market has been serving the Marine Villa and Dutchtown neighborhoods in south St. Louis since 1990. Owner Mike Jackson said he bought the market from the original Don in 1995.
In the Feb. 15, 1993 print of the St. Louis Post-Dispatch, a Don's Meat Market sales ad boasts some prices that would appear to be out of place in today's market. We called Don's and got current prices for the same items.
Thirty years ago, chicken leg quarters went for $0.25 a pound. Now, they go for $1.29 a pound. That's a price increase of 358%.
Chicken wings were $0.60 a pound. Now, a pound of wings will cost you $2.69— a 348% price jump.
Pork steaks went for $0.88 a pound. They're now 2.99 a pound; a 40% price increase.
Loin cut pork chops were $1.40 a pound; today they go for $2.09 a pound. That price jump is only 49%.
Lean ground beef was also priced at $1.40 a pound in February of 1993. On Thursday, that price was $5.99 a pound, which gives us a 328% price increase.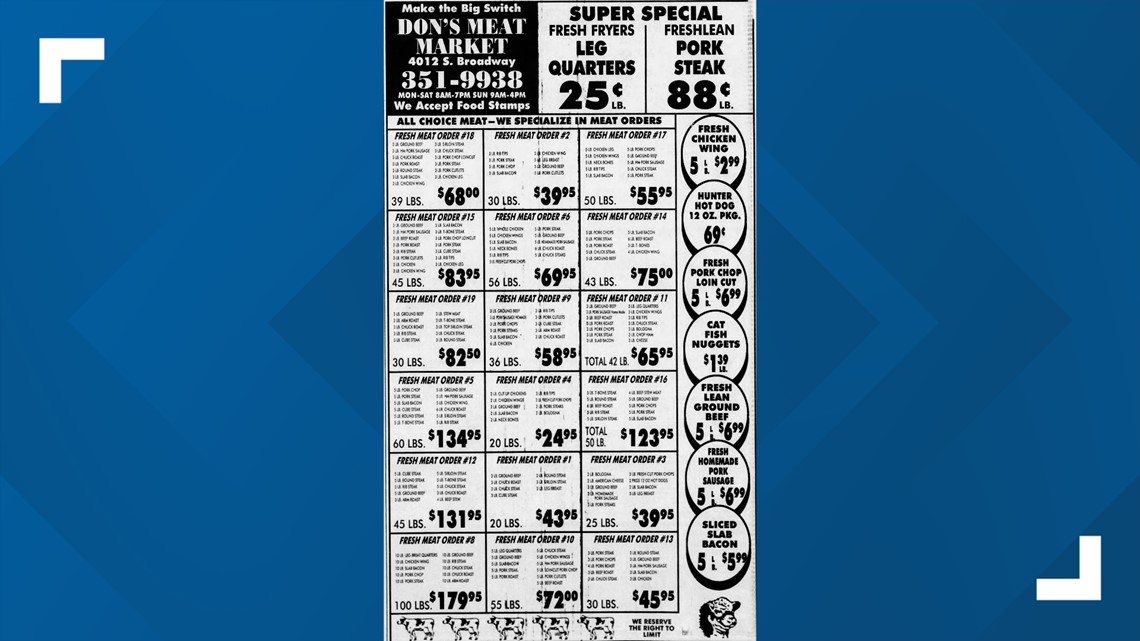 2003
A Feb. 26, 2003, sales ad from Sappington International Farmer's Market featured in the St. Louis Post-Dispatch can give us some incite into prices of some grocery items that year.
Unfortunately, the establishment closed in 2012, according to an article from the Webster Journal. We've selected items from the sales and comparable counterparts that can be found at Walmart to demonstrate a jump in price and a smaller product portion. Most of these could be an example of what many people have been referring to as shrinkflation.
Stouffer's 40-ounce Family Size Lasagna costed $4.99 in 2003. Currently, Walmart.com offers a 34-ounce Stouffer's Meat and Sauce Family Size Lasagna for $9.84.
All 16-ounce varieties of Wishbone salad dressing went for $2 in 2003. A 15-ounce bottle will cost you $2.32 at Walmart.
Premium Nabisco Saltines, 16-ounce packages, went for $1.50. You can get them at Walmart for $3.58.
The price of a 32-ounce container of Hellmann's Mayonnaise was $2 in 2003. Now, you can purchase a 30-ounce container for $5.48 at Walmart.
Assorted 64-ounce containers of Minute Maid orange juices were priced at $2 in the 2003 ad. At Walmart on Thursday, a 59-ounce carton of Minute Maid Original Orange Fruit Juice costs $3.18.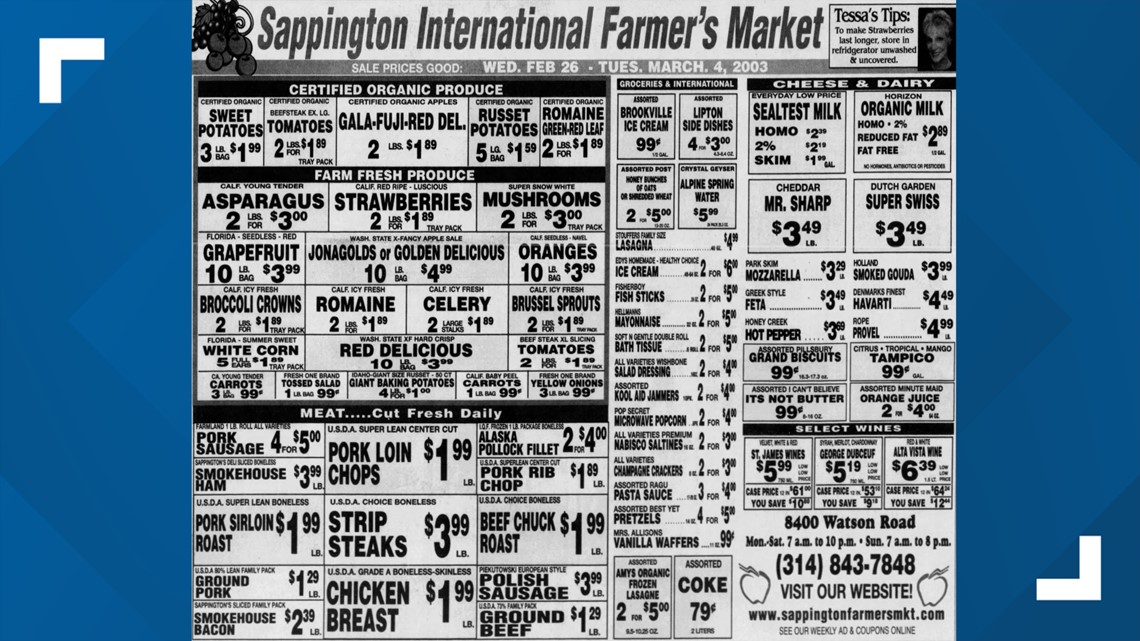 2013
Open in the Soulard area since 1912, Vincent's 12th Street Market would probably be the best place for a long-term price study. We'll compare a few items that were on sale in 2013 with the same products in 2023.
At the top of a Vincent's 12th Street Market sales ad in the 2013 Christmas Day issue of the St. Louis Post-Dispatch, you'll find several meat products, and that's what we're using for this price comparison.
We spoke to one of the managers at Vincent's, Steve Hromadtka, who is also a member of the family that's owned the shop for several generations.
The first product featured on the sales ad is USDA Choice standing rib roast, and in 2013 it sold for $9.99 a pound. The price for the same product at Vincent's Thursday was $9.99, Hromadtka told 5 On Your Side over the phone.
USDA Choice strip steak sold for $8.99 a pound in 2013. Thursday's price was $10.99 a pound That's a 22% price jump.
According to Hromadtka, beef and pork prices haven't been as volatile as chicken, and Vincent's does it's best to keep prices as low as they can.
There are some exceptions like smoked ham shanks, which went for $1.99 a pound in 2013. The price now is $4.99 a pound, making the price jump 150%. Smoked Ham Shank producers have been asking for higher prices in recent years, Hromadtka said.
Some pork product prices at Vincent's have dropped since 2013, like boneless center cut pork loin roast and lean boneless butterfly pork chops.
The center cut pork loin roast went for $2.99 a pound in 2013. Thursday, the price was $2.29 a pound. The boneless butterfly pork chops sold for $3.49 a pound in 2013. Now, they're $2.59 a pound.