ST. LOUIS — Holiday hiring, virtual job fairs and help with resume writing are among the many job resources available in the St. Louis area this week.
And bonuses and employee discounts are among the perks being offered by companies hosting those hiring events.
AT&T hosts virtual hiring event
AT&T is hosting a virtual hiring event Wednesday, Oct. 20 as it hopes to fill jobs in its local retail stores.
More than 30 positions are up for grabs in AT&T stores in St. Louis, Eureka, Chesterfield, Brentwood and Fenton.
Many of these jobs come with a $1,000 sign-on bonus.
The virtual event runs from 10 a.m.-5 p.m. Those interested can schedule an interview on AT&T's website ahead of time.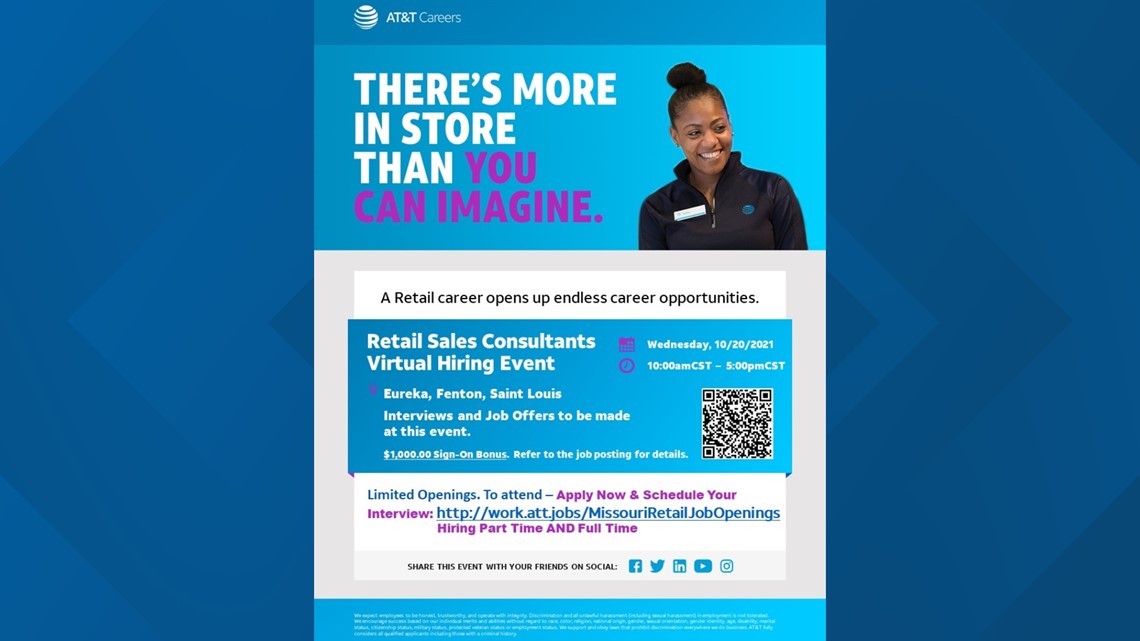 West County Center hiring for the holidays
West County Center is gearing up for the holidays.
It's hosting a job fair Friday, Oct. 22, from 1-4 p.m. in the north court near Macy's. Full-time, part-time, management and seasonal positions are available.
This is an in-person event and job seekers can register to win one of three $100 store gift cards while applying for a job.
These are retail positions, so schedules are flexible and often include employee discounts on merchandise.
Here's a list of some of the companies hiring:
Akira
Ann Taylor
Barnes and Noble
Brighton Collectibles
Buckle
Charlotte Russe (new store)
Dick's Sporting Goods
Earthbound Trading Company
Everything But Water
H&M
Victoria's Secret
Pandora
Lululemon
Macy's
Torrid
White House | Black Market
and several others
City of STL job and hiring fair
St. Louis Agency on Training and Employment (SLATE) Missouri Job Center is joining forces with 21st Ward Alderman John Collins-Muhammad for a job and hiring fair.
It's Wednesday, Oct. 20 at Wesley House Association, which is located at 4507 Lee Avenue in St. Louis. It runs from 10 a.m.-2 p.m.
Open positions are in the City of St. Louis Parks and Recreation Department, and utility workers, forestry laborers, streets and traffic laborers, recreation assistants and more are needed.
These jobs come with benefits, competitive pay, career advancement and flexible schedules.
SLATE can help those interested in a job update or create a resume and prepare for the hiring process.
If you are interested, email info@stlworks.com and type "Parks" in the subject line. Someone will be in touch with you about next steps.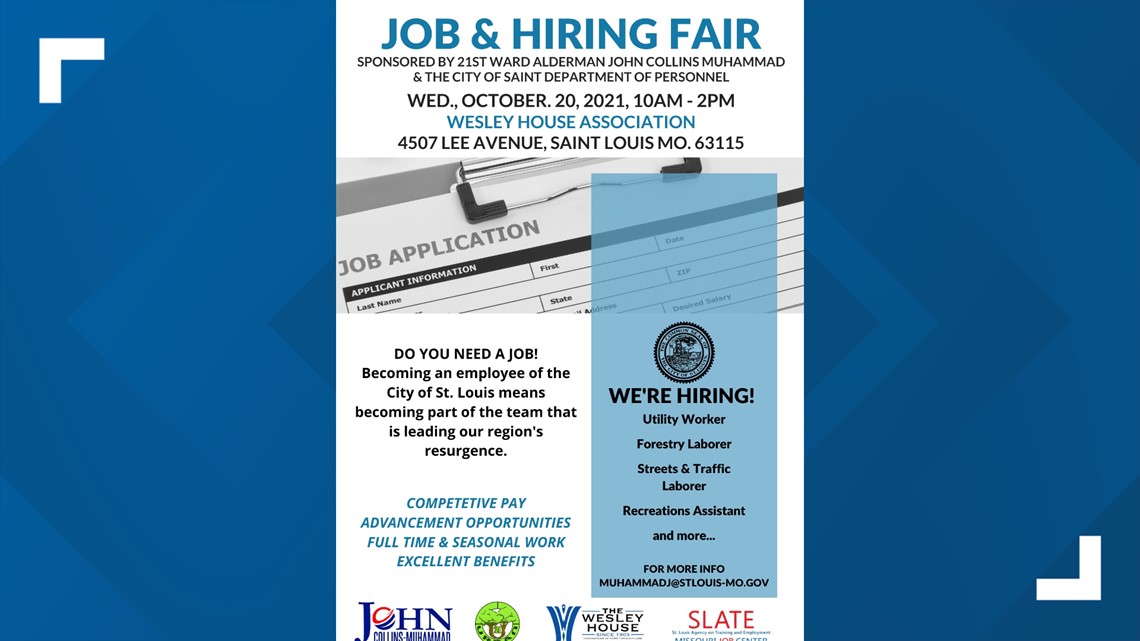 Holly Jolly Holiday Hiring Fair
SLATE Missouri Job Center is conducting a Holly Jolly Holiday Hiring Fair.
Among the participating employers are Walmart, Bi-State/Metro, Delmar Gardens, GSK, Bar K, City of St. Louis, Algonquin Nurses Home Health Care, GT Ventures, Bon Appetit, ESS, Clean Tech, Genii Healthcare Services, AOS Staffing and Challenge Unlimited.
You are invited to the SLATE office to meet them. The agency is located at 1520 Market Street on the third floor in room 3050.
The hiring fair dates are:
Monday, Oct. 25
Tuesday, Nov. 2
Wednesday, Nov. 10
Thursday, Nov. 18
Friday, Dec. 3
The fair runs from 9 a.m.-12 p.m. on each of those days.
Recruiters are prepared to interview and make job offers for hundreds of open positions. Participants will need a resume in order to speak with employers.
If you need help with writing your resume or want to practice your interviewing skills, visit the SLATE Missouri Job Center in-person, Monday through Friday, from 8 a.m.-5 p.m., except Wednesdays when the hours are 9 a.m.-5 p.m.