ST. LOUIS — There are so many job opportunities to kick off the new work week in 5 On Your Side's Career Central report this week. Dierbergs, Aldi and UPS are some of the big names hiring right now. There also are opportunities to begin a career working at St. Louis Lambert International Airport.
St. Louis Lambert International Airport hiring
There are more than 100 vacant positions, including: technical support specialist II and programmer/analyst I & III positions in the IT division, all trades in the operating departments (electrician, fleet maintenance technicians, facilities maintenance workers, airfield maintenance workers, HVAC mechanics, mechanical maintenance workers and others), airport police officers and airport properties specialists. The airport properties specialists, for example, are responsible for establishing airport tenant relations and monitoring tenants for compliance with leases.
Contract compliance officer
Civil engineer II
Engineering manager I
Gardener
Utility worker
Stationary engineer
Clerk Typist and other administrative support personnel

Some of these jobs come with $1,500 hiring bonuses that are paid out after passing a work testing period. Airfield maintenance worker is one of the classifications eligible for the bonus. These employees maintain and repair airport runways, ramps, taxiways and grounds.
SLATE Missouri Job Center helping recruit personnel for Fresh Thyme Market at the Foundry
The new Fresh Thyme store at the City Foundry has more than 70 new jobs available across multiple departments.
Salaries for team members start at $12 per hour, plus benefits.
Market team members will stock shelves, help customers find their favorite products, assist customers with self-checkout, maintain a unique store appearance and support the team during peak periods or scheduling conflicts.
SLATE Missouri Job Center can help you apply. Send your resume to info@stlworks.com and type "Foundry" in the subject line. A representative will reach out to let you know what to do next.
SLATE accepting applications for the Clean-Tech Company
The Clean-Tech Company is looking to fill cleaner positions at Enterprise Center.
These are seasonal jobs for the period from Sept. 15, 2021-May 2022.
To apply online, go to the Missouri Job Centers website and search for Job Order #12935181 or send your resume to SLATE Missouri Job Center at info@stlworks.com and type "Cleaner" in the subject line. A representative will reply with the next steps.
SLATE Job Preparation Workshops
SLATE Missouri Job Center offers no-cost, in-person and virtual job preparation workshops.
If you're looking for your next big opportunity, you can get a new job faster if you know how to write a professional résumé, can improve your interviewing skills, know how to network and are computer literate.
Learn or brush up on these skills and find out more by attending SLATE workshops.
Choose between two sessions: 9:30-10:30 a.m. or 11 a.m.-12 p.m.
Also, SLATE offers accommodations for individuals with limited English proficiency, and those who have visual or hearing impairment.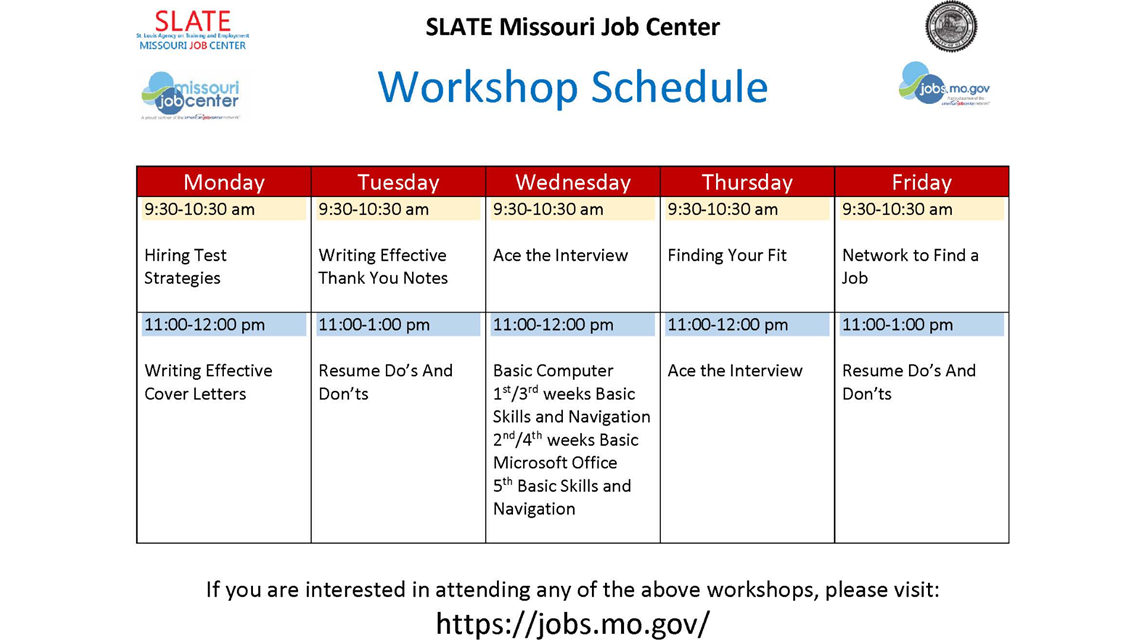 UPS hiring employees for the holidays
These are full- and part-time positions. You would help handle the delivery rush this holiday season. We're talking package handlers, drivers, driver helpers, personal vehicle drivers and more.
Additional benefits of a seasonal job include:
Over the last three years, about one-third of people hired by UPS for seasonal jobs were later hired in a permanent position. That opportunity for a permanent job is important to many.
Nearly three-quarters of seasonal hires want their job to turn into a long-term position, according to a recent survey of Americans.
Through the company's "earn and learn" program, eligible seasonal employees who are students can earn up to $1,300 towards college expenses, in addition to their hourly pay, for three months of continuous employment.
Permanent UPS jobs – including part-time jobs – come with benefits, including health care and retirement benefits and up to $25,000 in tuition assistance.
The hiring campaign is all online. UPS said applicants could even get a job offer within 30 minutes of applying. You can get started here.
Nationally, more than 100,000 workers will need to be hired.
Dierbergs hosts annual 'Mega Hiring' event
Dierbergs Markets is hosting its annual Mega Hiring open interview event Wednesday, Sept. 15 with a goal of filling more than 300 immediate employment opportunities at production facilities, the corporate office and all stores, including the new Lake Saint Louis store, which opens in November.
Opportunities range from full-time and part-time entry level positions to managerial and specialized positions.
For a limited time, Dierbergs is offering new associates a chance to earn a hiring bonus of up to a $500 for select positions.
The event will be held from 9 a.m.-7 p.m. at the Chesterfield Double Tree Hotel on Swingley Ridge Road.
Candidates will have the opportunity to meet with team members and learn more about open positions. Qualified candidates may receive offers on the spot.
To expedite the open interview process, interviewees are encouraged — but not required — to apply in advance by texting the word TEAM to 97211 or by going online at Dierbergs.com/careers
Aldi hoping to fill 581 jobs locally
Aldi is hiring more than 20,000 new store and warehouse employees across the country through February 2022 and beyond.
Here in the greater St. Louis area, Aldi is looking to fill about 581 positions.
The grocer will be hosting a National Hiring Week event Sept. 20-24. During this time, local stores and warehouses will host interview events to fill available positions.
Aldi also recently increased pay for store and warehouse employees and the new national average starting wages for open store and warehouse positions will be $15 and $19 per hour, respectively, based on market and positions.
Employees are also eligible for a range of benefits, including health care and retirement plans, financial wellness and employee assistance programs and generous paid time off.