ST. LOUIS — Three former St. Louis aldermen have been sentenced for their roles in a federal bribery scheme.
Former Board of Aldermen President Lewis Reed and former aldermen Jeffrey Boyd and John Collins-Muhammad were all handed prison sentences Tuesday afternoon at the Thomas F. Eagleton U.S. Courthouse. Each had pleaded guilty in August to federal theft and bribery charges, but they were each asking the judge not to sentence them to any jail time.
Collins-Muhammad was sentenced to 45 months in federal prison, with three years of supervised release afterward. He must also pay back $19,500 in bribes he accepted from an undercover FBI informant.
Boyd was sentenced to 36 months in federal prison, one month less than the maximum recommended under advisory guidelines, plus three years probation. The judge assessed a fine of $23,000.
Reed was sentenced to 45 months in prison plus three years probation and was fined $18,500.
The original 66-page indictment released in June against Reed, Boyd and Collins-Muhammad claimed that all aldermen accepted cash and other gifts in exchange for proposed tax breaks and development project approvals in north St. Louis City.
Reed and Boyd resigned from the Board of Aldermen in the days following their June indictment. Collins Muhammad resigned in May.
The three originally pleaded not-guilty but pivoted to guilty pleas in August. The aldermen have been out on bond before Tuesday's sentencing and have been ordered to pay restitution on the bribes and gifts they received.
Former Board of Aldermen President Lewis Reed is pleading guilty to a count of bribery and another count of racketeering and faces up to 15 years in prison.
According to the indictment, Reed met with local businessman and undercover FBI informant at his campaign headquarters and discussed plans to redraw the ward map to protect Collins Muhammad from activists who wanted to recall him from office.
The charges claim Reed asked the informant for $20,000 in campaign cash.
In a letter dated Nov. 22, Collins-Muhammad wrote to U.S. District Judge Stephen R. Clark Sr. that he was "ashamed of my conduct" in the case, saying "serving the people was my 'dream job' and I let personal greed come in the way of that."
"Your honor I am more than what the headlines says I am," Collins-Muhammad wrote in the letter, asking the judge to consider the entirety of his life and tenure and not just his involvement with the bribery scheme. "I am sorry and am filled with guilt and self-accusation. I will make the best of whatever sentence you impose to have a second chance at life and be the father, husband, and person I know I can be."
John Collins-Muhammad faced up to 35 years in prison and up to $750,000 in fines for counts of bribery, racketeering and wire fraud filed against him.
Boyd pleaded guilty to bribery and racketeering and wire fraud in January. He was facing a maximum of 55 years in prison.
During his sentencing hearing, Boyd read an emotional letter highlighting his military career, PTSD, battles with mental health and alcoholism. He said he "screwed up badly."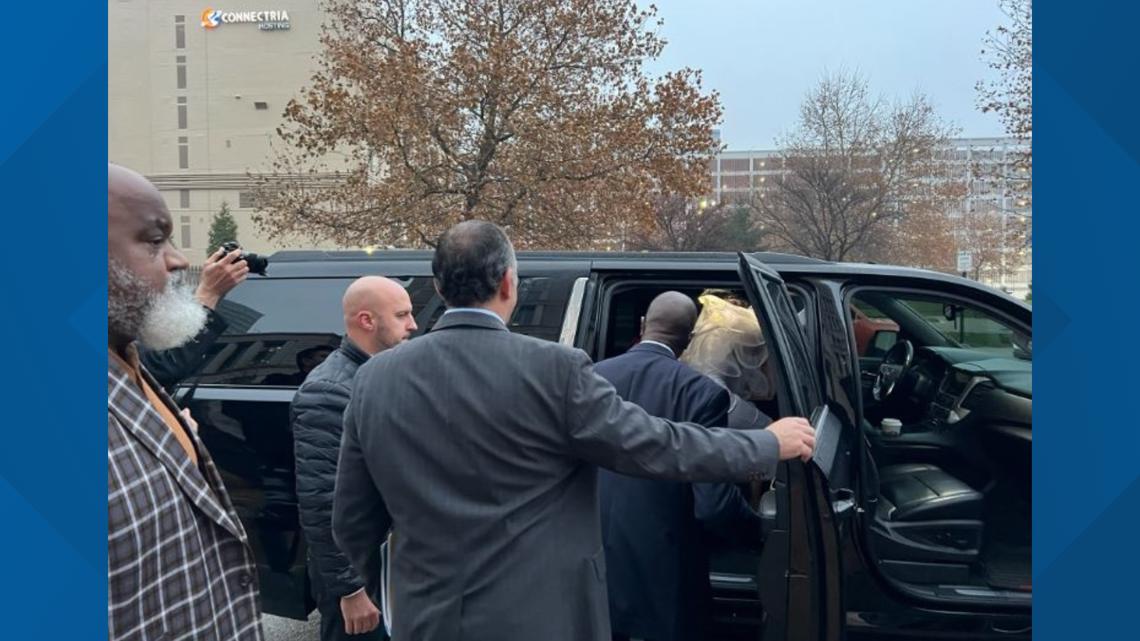 Boyd told the judge, his family, and the people of St. Louis he was sorry for being "stupid." Prosecutor Hal Goldsmith said he "wasn't stupid, it was criminal."
After the sentencing, Boyd left quickly and gave no comment.
Judge Clark provided comments on what most concerned him about Reed's behavior.
"What troubles me most is how cooly and calculated he accepted these cash bribes," he said.
The judge also remarked about how Reed lied to the FBI and treated illegal dealings as an "acceptable and appropriate way to do business in the City of St. Louis."
U.S. Attorney Hal Goldsmith brought up how Reed accused former Mayor Slay of pay-to-play politics during a press conference in 2013 when Reed ran for mayor.
"That makes me believe he knew exactly what he was doing," he said.
There were some fireworks after the court adjourned when one of Reed's supporters yelled at a man inside the courtroom who had torn up a copy of a resolution Reed once signed and urged the judge to give him the maximum sentence. Marshals quickly escorted her out of the room.
A crowd of about two dozen of his supporters applauded him as he walked out of the courtroom. Many were in tears, including his wife and children.
Some of them started shouting at Goldsmith, and Reed told them to stop.
St. Louis Mayor Tishaura Jones released the following statement following the sentencings:
"Today, a federal court held Jeffrey Boyd, John Collins-Muhammad, and Lewis Reed accountable for the pain they have caused our communities. These crimes have victims: Their families, who are suffering; their constituents, whose interests they put aside in pursuit of personal profit; and our entire city, which was shaken by the brazenness of the trio's corruption.

"City agencies have already taken steps to reform past practices and increase transparency in development work to help prevent abuse in the future. LRA halted sales for the remainder of the year while it addressed its internal procedures, and SLDC is creating a development scorecard for incentives to make this process more clear to the public.

"We have more work to do. In electing President Megan Green, St. Louisans have emphasized the need to break from the past, which includes reforming our development incentive process to make it more community-driven, transparent, and free of conflicts of interest. I look forward to working with her, the full board, and Comptroller Green to restore trust and integrity to city government."
The U.S. Attorney's Office had suggested a range of 37 to 46 months of jail time for Muhammad and Reed and 30 to 37 months for Boyd.
Last week, all three former St. Louis aldermen and their lawyers put out memorandums calling for a second chance, and no jail time.
A SLU Law professor told 5 on Your Side that these cases have a major impact on St. Louis politics.
"It looks like the U.S. attorney's office is really cleaning up politics in St. Louis City and St. Louis County…" St. Louis University Law Professor Anders Walker said. "The feds are looking at what they are doing, and they need to stay up on the right side of the law."
To watch 5 On Your Side broadcasts or reports 24/7, 5 On Your Side is always streaming on 5+. Download for free on Roku or Amazon Fire TV.