ST. LOUIS COUNTY, Mo. — Five people were shot during a large bonfire event in north St. Louis County Saturday night.
Officers in the North County Precinct responded to the report of a shooting at 11:43 p.m. in the 10000 block of Crown Point Drive.
They arrived to find several people had been shot. St. Louis County police originally said four people were injured, but Sunday morning said an additional victim was located. All of the victims are expected to recover.
Police have not released the names of those who were shot, but said they included four men ages 28, 31, 44 and 48, and a 31-year-old woman.
One of the shooting victims is an officer with the St. Louis Metropolitan Police Department. Police officials have not clarified whether he was on-duty or off-duty at the time.
The St. Louis Police Officers Association confirmed it is helping the officer's family. Donations made through the Shield of Hope Charitable Foundation will go toward the officer and his family.
There are no suspects in custody.
Police said they were all attending a large planned event in an open field. Organizers told 5 On Your Side it was part of an unofficial Normandy High School annual alumni get-together.
An alumnus and an organizer shared the event flier with 5 On Your Side. The gathering was described as an alumni bonfire. Admission was charged with part of the proceeds being donated to the Normandy school district.
The flier specifically stated weapons were not allowed at the event.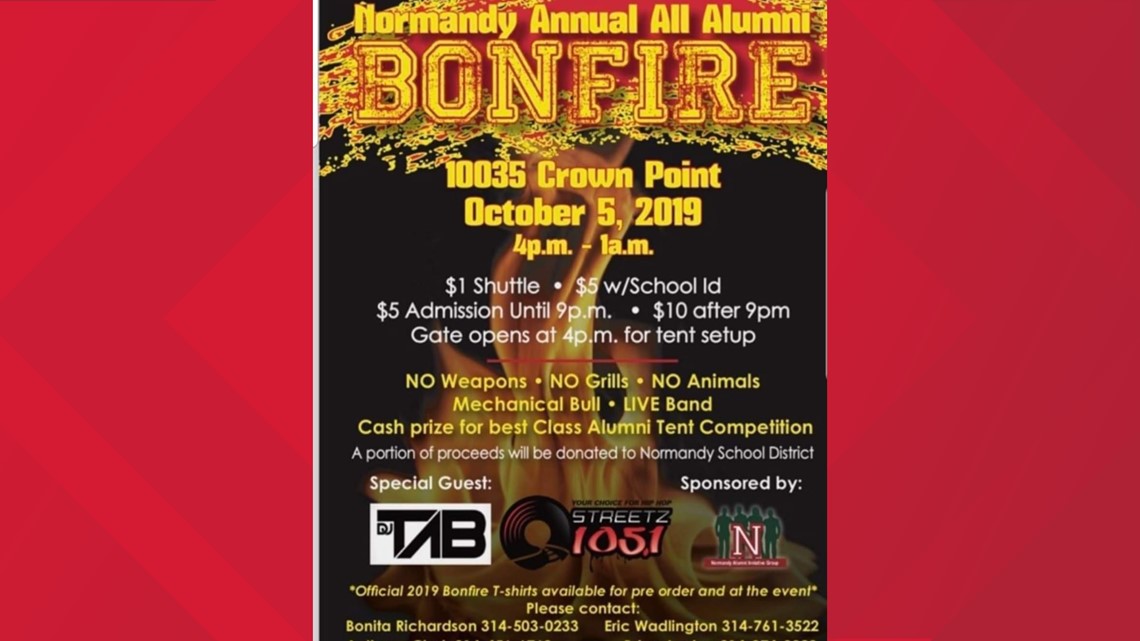 Several hundred people were at the event.
Video shared with 5 On Your Side showed people standing in a large field listening to music. The woman taking the video indicated she saw some people fighting. At that time, people started to calmly move away from the area.
Then, people started screaming, 'Let's go!' A couple seconds later, the first gunshot was heard. The woman taking the video--along with many others--starting running away from the scene to safety.
About 10 seconds passed before a flurry of gunshots rang out. About two dozen gunshots were heard over a 40-second time span before the recording cut off.
Police said a fight led up to the shooting, and all the victims were known to each other. They do not believe it was random.
The Normandy Schools Collaborative released the following statement Sunday afternoon in regards to the shooting:
'The district has no affiliation with this event. It's an annual tradition that is organized by individuals who we understand are alumni at an off-site location. As we know that many of our alumni attend this event, we are saddened and troubled by this incident and hope that those injured are able to make a full recovery.'
Please contact the St. Louis County Police Department at 636-529-8210 to speak to investigators if you have any information regarding the incident. To remain anonymous or potentially receive a reward, please contact CrimeStoppers at 1-866-371-TIPS(8477) if you have any information regarding the incident.
Top stories people are reading right now: