ST. LOUIS — Another night of break-ins was reported at several restaurants across the City of St. Louis early Wednesday morning.
The first incident was reported at around 12:10 a.m. at Sunny's Cantina, located at 6655 Manchester Ave. Police said a glass door on the side of the building was shattered. The owner told officers an iPhone was stolen.
"I think it's more frustrating than anything because they're doing more damage," said Kelly Filla, the general manager at Sunny's Cantina in Dogtown.
The next incident was reported at around 12:24 a.m. at Vicia, located at 4260 Forest Park Ave. In a recent report, police said the restaurant was "ransacked" and there was money missing from the cash register.
The same suspects that broke into Vicia also burglarized Mack's Bar and Grill and Mack D'Licious Ice Cream just after 1 a.m., according to the report. Money and cash registers were also missing from those businesses.
The next incident was reported at around 2:53 a.m. at Five Guys, located at 4183 Lindell Blvd. Police said the front glass door was heavily damaged and the cash register was emptied.
Another incident happened sometime between 9 p.m. Tuesday and 6 a.m. Wednesday at Hi-Pointe Drive-In, located at 1033 McCausland Ave. Police said the suspects used a rock to smash a window and enter the business. Nothing was taken from the restaurant, according to the police report.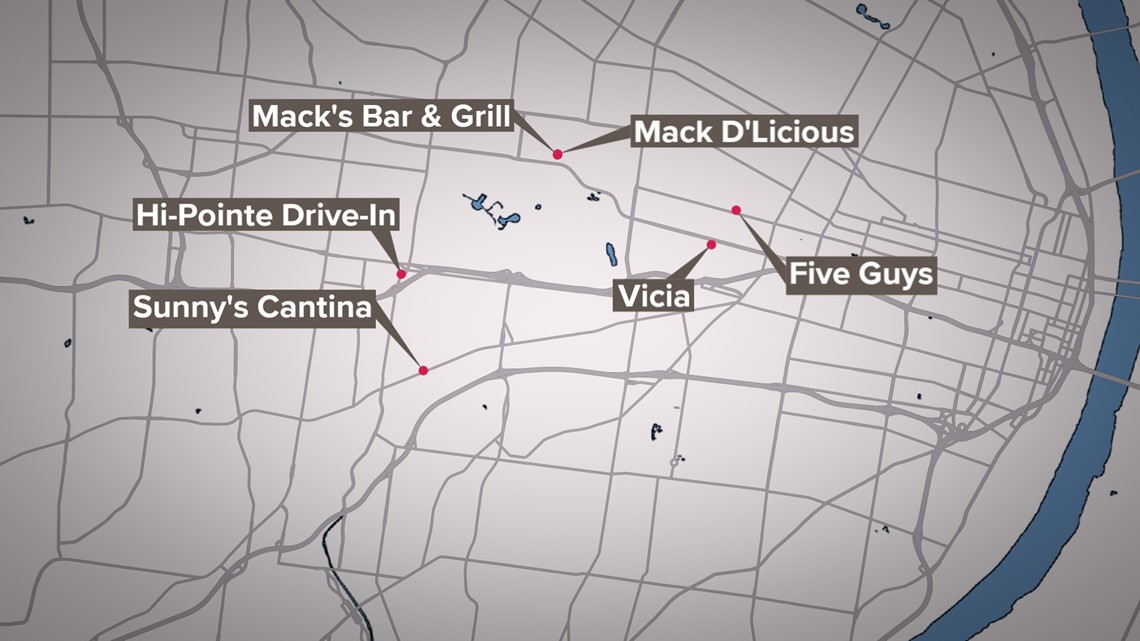 "It's just a setback each time," said Mack Hill.
Hill is angry and with good reason. Last month burglars broke into his "Mack D'licious" ice cream shop in the Central West End.
"They came and threw a brick through the ice cream door," said hill.
Tuesday around 1:45 in the morning, two guys who wore hooded sweatshirts and gloves shattered his front glass door again. Hill says the burglars jumped on his counter, ransacked the area behind his cash registers and stole a money box.
The crimes weren't caught on surveillance video because the thieves immediately ripped apart hill's security system.
"They then took off. They were gone. It couldn't believe more than three minutes," Hill said.
Police say in many of the break-ins the burglars wore hooded sweatshirts, gloves and struck at night when the businesses were closed.