But one feathery observation day stands out among the rest.
Bird Appreciation Day is neither related to politics nor a past war; instead it puts a spotlight on Missouri's native birds. The bill was signed into law more than two decades ago in 2001, and the original legislation to create the observance day was sponsored by Democratic State Sen. Steve Stoll.
"The (21st) of March shall be designated as 'Bird Appreciation Day' to be observed by elementary and secondary schools, cities, state agencies and civic organizations with activities designed to enhance the knowledge and appreciation of Missouri birds," states the law's text.
March 21 was known as "Bird Day in Missouri" from 1917–1973 until a revision in state law unintentionally wiped it off the books, according to a 2001 Kansas City Star report. The 2001 bill saw overwhelming bipartisan support with only 20 of the state's 127 representatives voting against the measure.
"The bluebird typically visits Missouri from the early spring to the late fall; some areas of the state see bluebirds year round, especially in the south where they are considered permanent residents," the site said. "The birds breed in the spring and summer, and many Missourians attract the birds to their property by installing bluebird houses."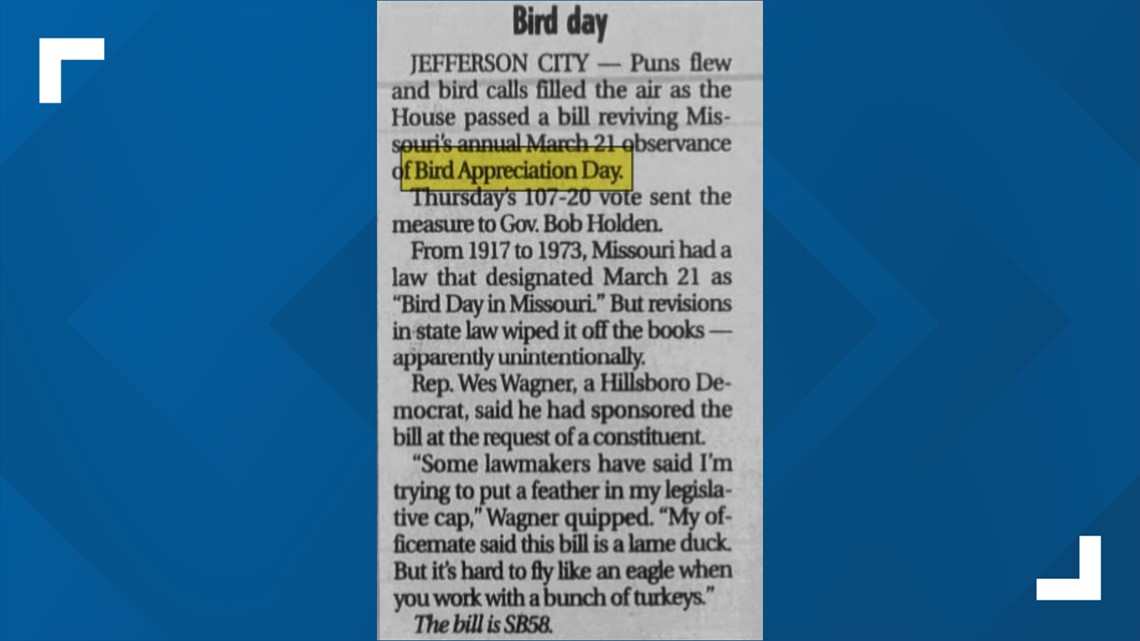 Searching for Solutions
Searching for Solutions is a year-long look by 5 On Your Side reporters at what is working in other cities that St. Louis could learn from.