ST. LOUIS — There are about 1,000 patients in St. Louis area hospitals with confirmed or suspected cases of the coronavirus as of Friday morning and hospitals are near capacity, the St. Louis Metropolitan Pandemic Task Force said.
"Here's the problem, while the hospitals are almost full, the virus continues to spread like wildfire," Dr. Alex Garza, the head of the task force, said during a briefing Friday morning.
Health care leaders have begun to discuss what could happen if hospitals can no longer accept patients, including setting up a field hospital and administering "crisis standards of care."
"We'll have to make choices of who can't be helped," Garza said. "That's a dilemma no health care workers want to face. How can we make ethical decisions about caring for the most people with what we have?"
Garza reiterated his plea for a statewide mask mandate. Last week, the task force called upon Missouri Gov. Mike Parson to issue a statewide mask mandate and a "safer at home" order.
Parson did ask that Missourians wear masks and practice preventative measures, such as social distancing and hand hygiene. Garza thanked the governor for the public health warning, calling it a "step in the right direction."
"With that being said, we've been clear about the need for a statewide mask mandate," Garza said.
St. Louis and St. Louis County have had mask mandates in place since the summer.
On Friday, the task force reported 881 COVID-19 hospitalizations, a single-day record. The 7-day average for hospitalizations of 807 was also a record.
The full numbers update from the task force is as follows:
New hospital admissions (data lagged two days) increased from 130 to 131 today.
The seven-day moving average of hospital admissions (data lagged two days) remained the same at 126 today.
The seven-day moving average of hospitalizations increased – from 783 yesterday to 807 today, a new seven-day moving average record.
Inpatient confirmed COVID positive hospitalizations increased – from 849 yesterday to 881 today, a new daily hospitalization record.
Inpatient suspected COVID positive hospitalizations decreased – from 150 yesterday to 148 today.
The number of confirmed COVID positive patients in the ICUs increased – from 159 yesterday to 163 today.
The number of confirmed COVID positive patients on ventilators increased – from 87 yesterday to 88 today.
Across the system hospitals, 131 COVID-19 patients were discharged yesterday, bringing the cumulative number of COVID-19 patients discharged to 9,638.
Today, staffed bed hospital capacity is at 84%, an average across our task force hospitals. The ICU's are at 91% of their total staffed bed capacity.
In Missouri, the state health department reported 262,436 cases and 3,537 deaths as of Friday, a single-day increase of 4,614 cases and 30 deaths.
The state's dashboard said the seven-day positivity rate in the state was 22.6, down from the previous two days.
According to the dashboard, cases are down about 20% in the last seven days when compared to the previous seven days. Testing was down about 11% in that same time, according to the dashboard.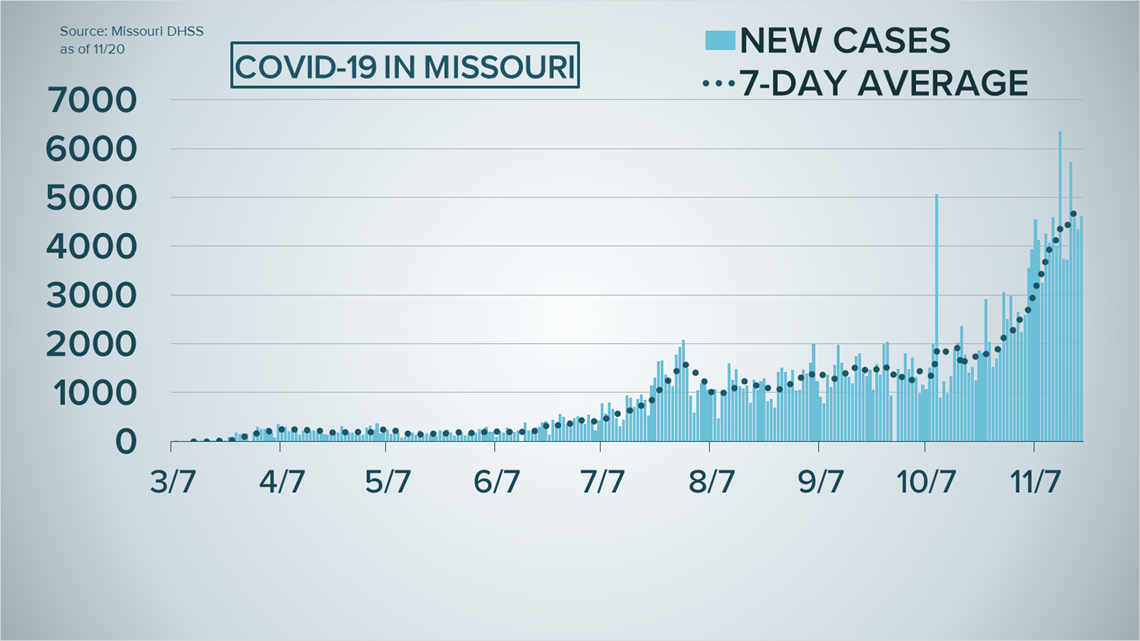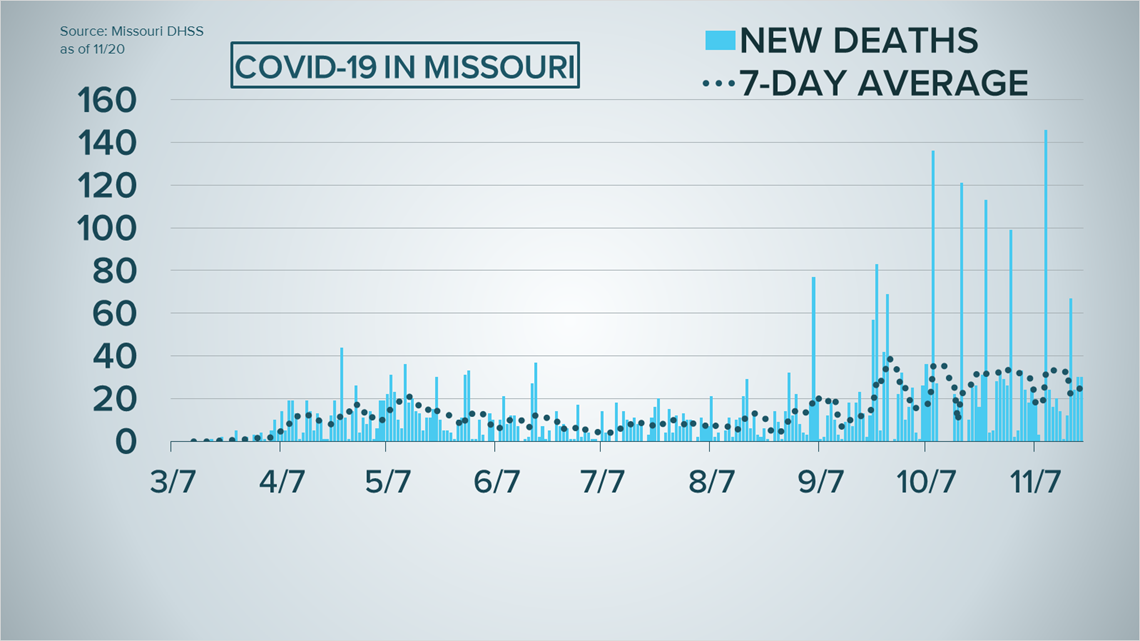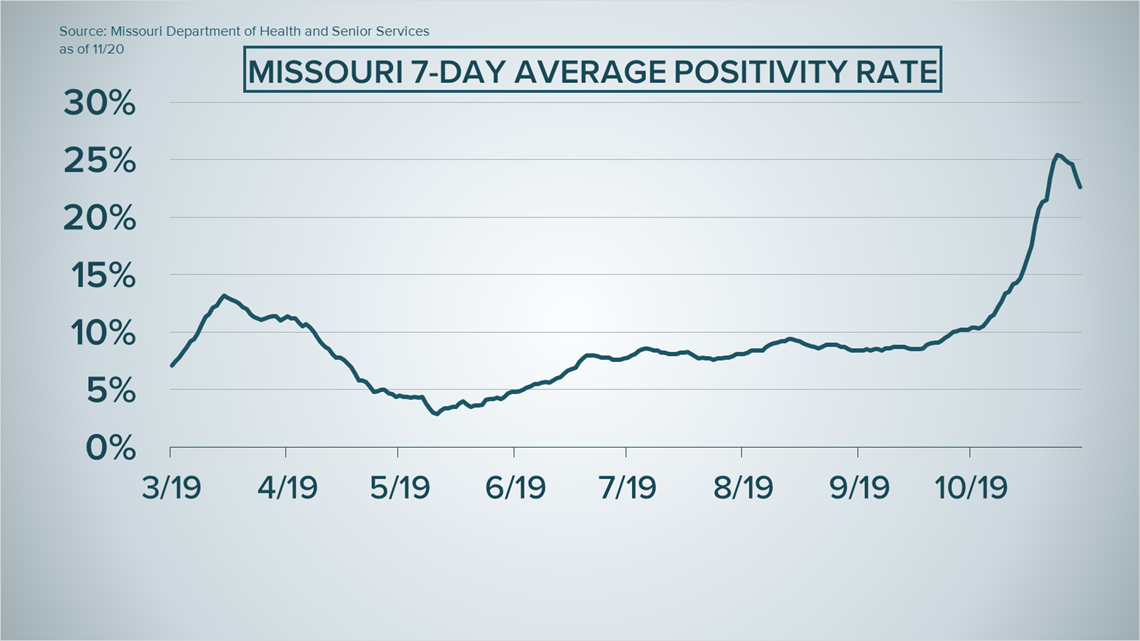 Watch the entire task force briefing in the video player below:
Health care workers share stories of caring for COVID-19 patients
Four health care workers from various hospitals spoke during the task force briefing, including an emergency medicine nurse from St. Luke's, a respiratory therapist from Mercy, an ICU nurse manager from SSM Health DePaul and a registered nurse from Mercy.
Brittany Becker, an emergency medicine nurse at St. Luke's hospital, spoke about her experience caring for COVID-19 patients. She recalled one instance when a patient was dying and the family could not get to the hospital in time to say goodbye. She was left alone with the patient during the last moments of life.
She urged everyone to wear a mask and take precautions.
"Trust me, it's much better than being hooked up to a ventilator," Becker said.