CHICAGO — Illinois Gov. J.B. Pritzker on Friday ordered all state residents to remain in their homes except for essentials, joining similar dramatic efforts in California and New York to limit the spread of the coronavirus.
Pritzker's order, which takes effect Saturday, still allows the state's 12.6 million residents to seek essentials including groceries and medicine.
The Chicago Tribune was the first news outlet to confirm the impending state shutdown.
On Thursday, Pritzker sought to reassure residents and discourage panic-buying.
"Grocery stores, pharmacies, gas stations, these sources of fundamental supplies will continue to operate," he said. "There is no need to run out and hoard food, gas, or medicine. Buy what you need within reason. There is enough to go around as long as people do not hoard.
"We will never shut these services down."
Pritzker had previously ordered all schools statewide to shut down and limited gatherings to 50 people to curb the spread of the coronavirus in the state. He also closed dine-in service at bars and restaurants but allowed businesses to continue delivery or carryout options.
The order applies to people who live in Illinois and work in Missouri. The governor's office said those residents can travel to Missouri for work, but their jobs have to fall under the list of essential businesses.
Pete Holloway, who said he's an operator at a small, family-owned manufacturing company, told 5 On Your Side he's already feeling the impact of the order.
"I got it from my boss. He was saying, 'You won't be coming in Monday,' Holloway said. "I'm debating right now whether or not Monday I should file for unemployment or not."
He said he'll be OK financially for a little while, but he doesn't know how long he can go.
"Hopefully three weeks, and we'll be back to work," he said
The governors of California and New York have issued similar orders.
The first Illinois community to impose a stay-at-home order was the Chicago suburb of Oak Park, which declared a state of emergency Wednesday.
For most people, the coronavirus causes only mild or moderate symptoms, such as fever and cough. For some, especially older adults and people with existing health problems, it can cause more severe illness, including pneumonia.
The vast majority of people recover from the virus. According to the World Health Organization, people with mild cases recover in about two weeks, while those with more severe ones can take three to six weeks to get better.
As of Friday afternoon, 5 people had died in Illinois and hundreds more had tested positive for COVID-19 across 22 counties. Forty-two cases, including 30 residents and 12 staff members, are linked to a nursing home in DuPage County, which is just west of Cook County.
Chicago Mayor Lori Lightfoot on Thursday ordered anyone with a confirmed case of COVID-19 or showing symptoms of the disease to stay indoors, formalizing advice issued by health officials.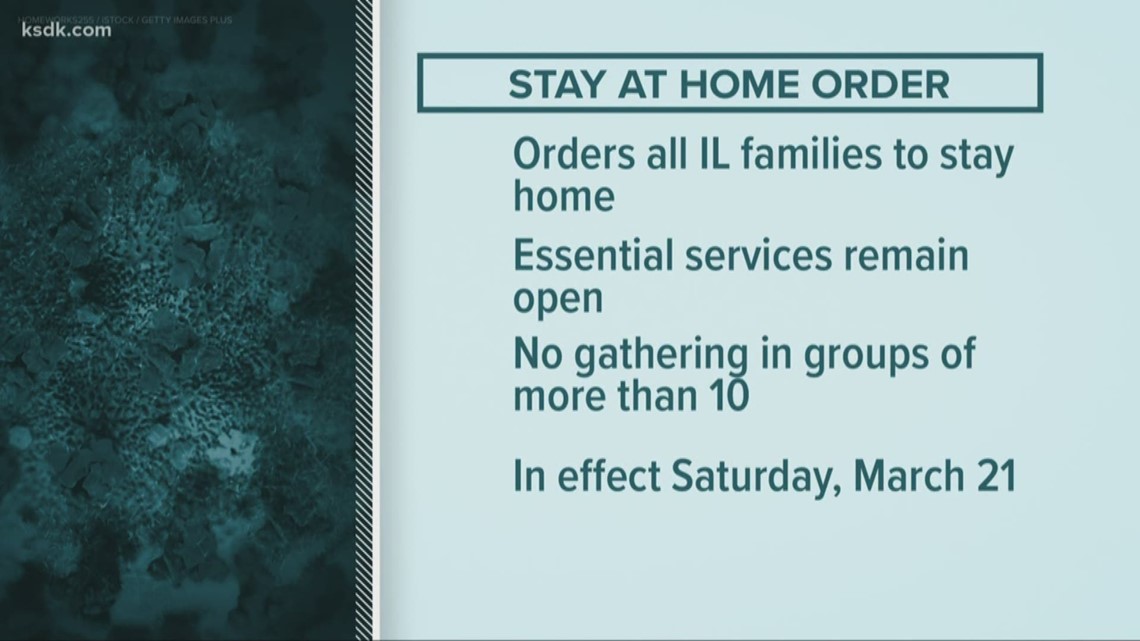 Patients cannot leave their homes, go to work or visit any group setting except to seek medical care and "life-sustaining needs," including medicine or food, according to a statement from the Chicago Department of Public Health.
A list of essential businesses and operations can be found below.
Essential Businesses and Operations:
Healthcare and Public Health Operations: Working at or obtaining services from hospitals; clinics; dental offices; pharmacies; public health entities; healthcare manufacturers and suppliers; blood banks; medical cannabis facilities; reproductive health care providers; eye care centers; home healthcare services providers; mental health and substance use providers; ancillary healthcare services — including veterinary care and excluding fitness and exercise gyms, spas, salons, barbershops, tattoo parlors, and similar facilities
Human Services Operations: any provider funded by DHS, DCFS or Medicaid; long-term care facilities; home-based and residential settings for adults, seniors, children, and/or people with disabilities or mental illness; transitional facilities; field offices for food, cash assistance, medical coverage, child care, vocational services or rehabilitation services; developmental centers; adoption agencies; businesses that provide food, shelter, and social services and other necessities of life for needy individuals — excluding daycare centers, daycare homes, group day care homes and daycare centers licensed as specified in Section 12(s) of the order
Essential Infrastructure: Working in food production, distribution and sale; construction; building management and maintenance; airport operations; operation and maintenance of utilities, including water, sewer, and gas; electrical; distribution centers; oil and biofuel refining; roads, highways, railroads, and public transportation; ports; cybersecurity operations; flood control; solid waste and recycling collection and removal; and internet, video, and telecommunications systems
Stores that sell groceries and medicine
Food, beverage and cannabis production and agriculture
Organizations that provide charitable and social services
Media
Gas stations and businesses needed for transportation
Financial institutions
Hardware and supply stores
Critical trades, including plumbers, electricians, exterminators, cleaning and janitorial staff for commercial and governmental properties, security staff, operating engineers, HVAC, painting, moving and relocation services, and other service providers that maintain the safety, sanitation and essential operation of residences, Essential Activities, and Essential Businesses and Operations
Mail, post, shipping, logistics, delivery, and pick-up services
Educational institutions, for purposes of facilitating distance learning, performing critical research, or performing essential functions
Laundry services
Restaurants for consumption off-premises
Supplies to work from home
Supplies for Essential Businesses and Operations
Transportation, for purposes of Essential Travel
Home-based care and services
Residential facilities and shelters
Professional services
Day care centers for employees exempted by this Executive Order
Manufacture, distribution, and supply chain for critical products and industries
Critical labor union functions
Hotels and motels, to the extent used for lodging and delivery or carry-out food services
Funeral services
MORE CORONAVIRUS COVERAGE