ST. LOUIS — Even with St. Louis and St. Louis County beginning to reopen Monday, it's more important than ever for residents to continue social distancing measures that have been in place for months now, a top St. Louis area doctor said Monday.
Dr. Alex Garza is the incident commander of the St. Louis Metropolitan Pandemic Task Force, which has been giving daily updates on COVID-19 since early April. On Monday, he said relaxing restrictions is an important time for the St. Louis area, that it's a sign of good progress by everyone in the region.
"It's allowed us to get to this moment where we are today," he said Monday afternoon.
But he also warned that even though some restrictions are being relaxed, now is not the time to begin relaxing all of the things we've been doing to keep ourselves, our loved ones and the general public safe.
"The virus hasn't left. It hasn't changed. It's still here. It's still very contagious and it's still very dangerous," Dr. Garza said. "If we let our guard down or act like the virus is gone, it will very likely hit the people in the region very hard with a second wave."
Keeping six feet between you and others, wearing a mask in public and frequently washing your hands should still continue, even though cities are beginning to reopen, he said. The risk of spreading the virus will continue until there's a vaccine.
"We have to learn how to live with the virus and take all those important steps to keep it in check," Dr. Garza said. "We can gradually reopen the economy and do it in a way that continues to use what we've learned so far, but only if we learn how to dance with the virus."
One of the key data trends doctors and St. Louis area leaders are keeping an eye on to monitor the virus is how many new COVID-19 patients are being admitted to St. Louis area hospitals.
"The rolling average still shows a steady decline since early April," Dr. Garza said.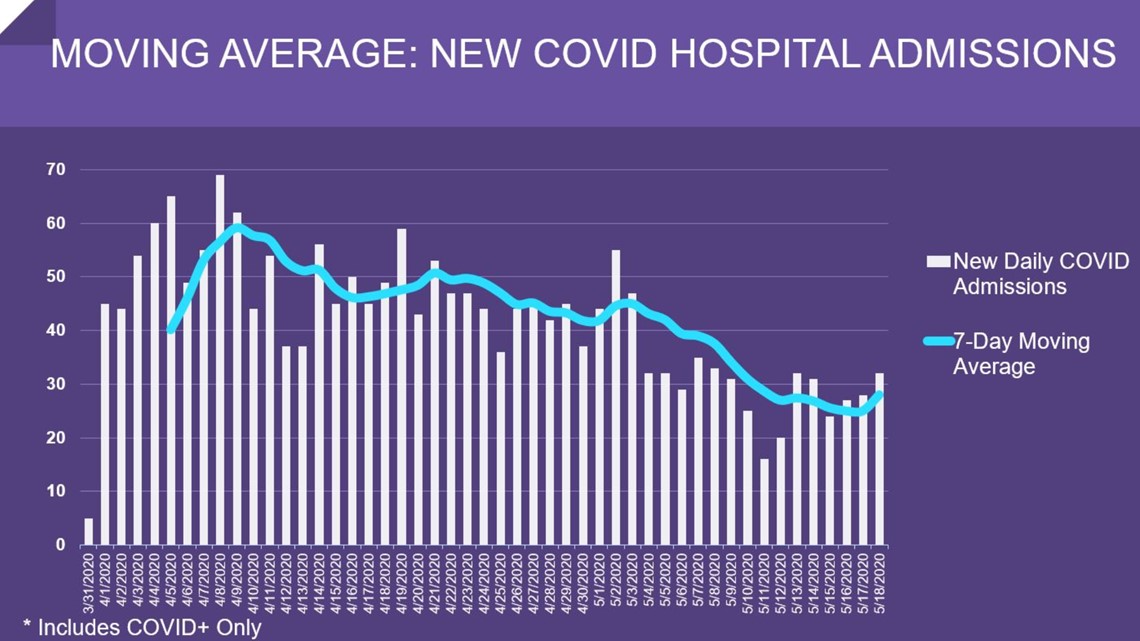 There were 32 new coronavirus patients admitted to area hospitals on Saturday (the data is lagged by two days). The seven-day average of the total number of COVID-19 patients in local hospitals stayed at 487 people, which is the lowest it's been since the task force started that data in early April.
"This continues an important trend and is an indicator of the level of suppression of the virus in the community. We want to continue to see it come down and stay low as we reopen," Dr. Garza explained.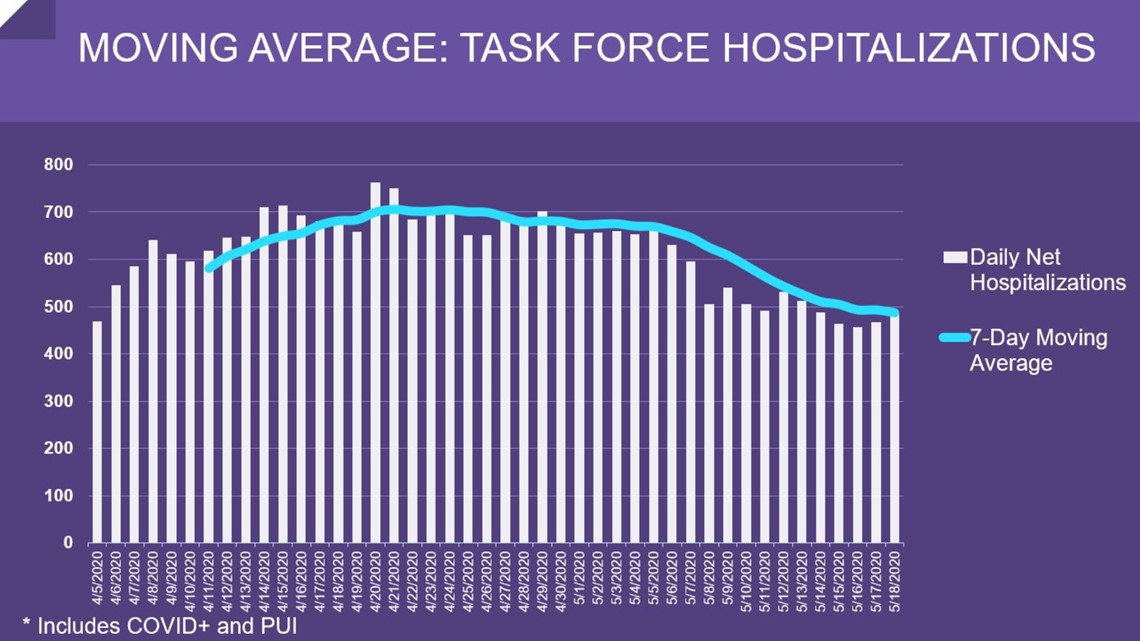 The St. Louis area task force hospitals reported the following COVID-19 numbers Monday:
Patients in the hospital: 487, up from 467 Sunday
Patients in the ICU: 109, down from 121 Sunday
Patients on ventilators: 76, up from 75 Sunday
There also were 12 coronavirus patients sent home from the task force hospitals over the last 24 hours, bringing the total to 1,892 COVID-19 patients who are recovering at home.
"We'll keep a close eye on the data as we make decisions on this next phase," Dr. Garza said.
St. Louis and St. Louis County are the top two areas in terms of cases and deaths in Missouri, but other counties have higher rates per 100,000 people. St. Louis has the highest rate in our area with 559 cases per 100,000, but Saline County (1,093 per 100,000), Buchanan County (595 per 100,000) and Sullivan County (591 per 100,000) all have higher rates.
More task force coverage: