ST. LOUIS COUNTY, Mo. — St. Louis County is seeing a rise in COVID-19 cases spanning all age groups, but one demographic is seeing a dramatic increase: young adults between the ages of 20 and 29.
St. Louis County Executive Sam Page expressed some concern about the age group during his Facebook Live briefing Friday morning. He said the number of COVID-19 positive cases in people ages 20-29 has increased by 195%. He didn't clarify over what timespan that was measured.
Page gave a cautionary example of how easily the virus can spread.
He said a person in the age range of 20-29 years old had the virus but wasn't showing symptoms and then went to "many different activities" with 25 different friends. Later, 15 of those friends ended up testing positive. The original patient has recovered.
"We are in the process of testing a long list of friends and their family members," Page said. "I share this story not really to place blame on any one individual — that's not the point — this is just an example of how very real this virus is in our community and how easily it can spread from person to person, even when someone doesn't have symptoms."
Page urged everyone planning to go out this weekend to continue to use extra caution and maintain a social distance from others whenever possible.
"If you go out this weekend, please give people their space and do everything you can to follow our guidelines. No one is an exception," he said.
From June 21-July 4, the number of new COVID-19 cases in St. Louis County has increased by 94%. The number of tests being performed also has increased to more than 1,500 per day. However, the county's positivity rate also has increased to 6.2%. That number was in the 4% range for most of June, Page said.
Coronavirus-related deaths have decreased dramatically in the county, going down 85% from June 21-July 4.
Friday's update came after the county has seen a surge in new COVID-19 cases.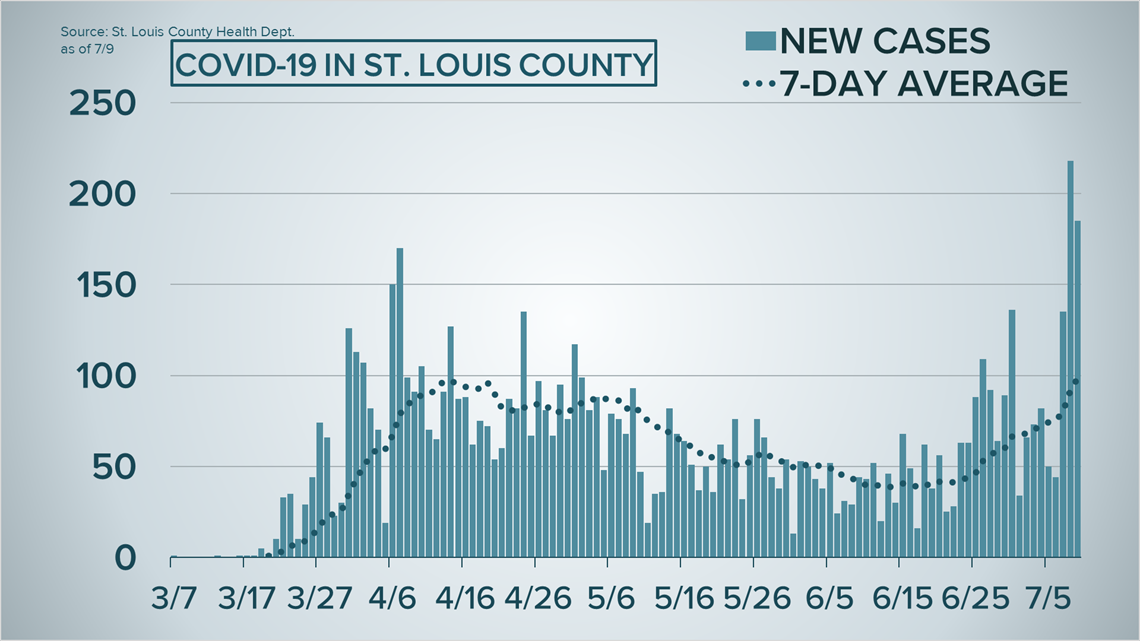 Over the last three days, St. Louis County has seen the largest increase in cases of any jurisdiction in Missouri with 538 new cases.
Dr. Randall Williams, the director of the Missouri Department of Health and Senior Services, said the increase in cases across the state and in St. Louis County is largely among young people he said are not following social distancing guidelines.
He said the mortality rate has dipped because many of the new cases are among young people who are not likely to die. However, Dr. Williams said with the increase in the number of people getting the virus, it will likely increase the number of deaths.
On Thursday, the state reported 795 new coronavirus cases, a new single day record for the state. The state also reported 12,485 new tests, the third-highest total since the state changed the way it reports testing numbers. The state's positivity rate increased from 5.70% on Wednesday to 5.72% on Thursday.
Missouri Governor Mike Parson said he will not be reversing course on reopening the state even as the state reported a record number of new cases of COVID-19 for the second time in three days.
"I think it's important, and I've been pretty clear on this, when we opened the state back up, I think that's exactly what we did, we opened the state back up," Gov. Parson said in response to a question about reevaluating his stance Thursday. "People are going to have to deal with the virus along with the economy and get people back out there."