ST. LOUIS COUNTY, Mo. — The St. Louis County Department of Public Health advises that critical infrastructure employees who have been exposed to the coronavirus can keep working, provided they are asymptomatic and follow additional precautions.
Under current St. Louis County health orders, the general public is expected to quarantine for 14 days after exposure. The department said in a Monday release that the guidance for critical employees is meant to "ensure continuity of operations of essential functions."
If a critical infrastructure employee has been exposed to COVID-19, the health department said the following procedures must be followed before they can return to work:
Pre-screening of employee's temperature and other symptoms prior to their shifts, ideally outside the facility.
Regular monitoring of the employee's symptoms. If the employee doesn't have a temperature or other symptoms, they may self-monitor under their health care provider's supervision and notify their employer if they develop symptoms.
Exposed employees must wear a face mask at all times while at work for 14 days from their last exposure.
The employee must remain six feet from others and practice social distancing as their work duties allow.
All areas such as offices, bathrooms, common areas and shared equipment must be cleaned regularly.
Employees should still work remotely if they are able to do so.
The health department said exposed employees and their employers should also consider the following additional guidance:
Employers should clean commonly touched surfaces more frequently.
Employers should work with facility maintenance staff to increase air exchanges in the room.
Avoid sharing headsets or other objects that are near the mouth or nose.
Pilot testing the use of face masks to ensure they don't interfere with work assignments.
Stagger breaks and physically distance during them, as well as making sure not to share food or utensils.
The health department also released a graphic detailing how people can find out what type of mask they need: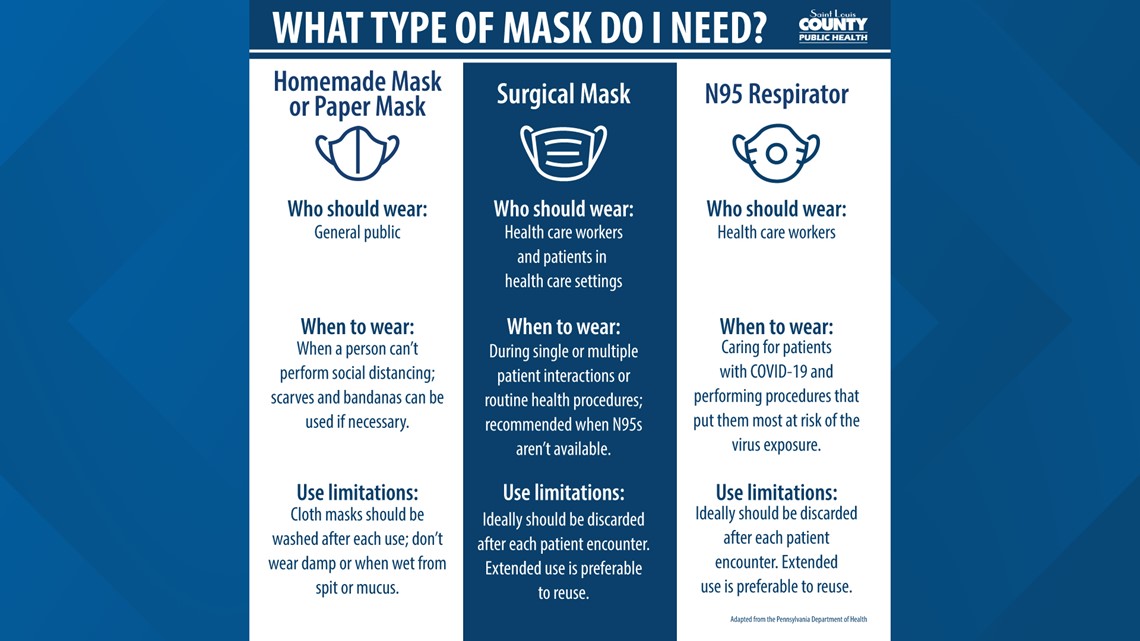 More coronavirus coverage: