ST. LOUIS — COVID-19 trends in the St. Louis area continued their overall downward trends Friday. But even with that good news and as restrictions continue to loosen, doctors say we shouldn't get complacent.
Dr. Alex Garza, incident commander with the St. Louis Metropolitan Pandemic Task Force, gave a live update on Facebook Friday afternoon.
"The progress in this region has been just really incredible. And it's still extremely important, though, to remember that the virus is not gone away," he stressed.
In order to continue enjoying the reopening process, Dr. Garza said people in the St. Louis area need to continue wearing masks, practicing social distancing, washing hands, staying at home when possible.
"These are all keys to allowing us to continue to reopen our communities and prevent any second waves from occurring," he said. "We'll keep a close eye on this data and we'll make some decisions as we go into the next phase."
On Friday, St. Louis Mayor Lyda Krewson and St. Louis County Executive Sam Page announced timelines to ease up on limits of large gatherings, including at venues.
On Thursday, Missouri Governor Mike Parson announced the state would move into Phase 2 of reopening on June 16, which lifts all restrictions, allowing the state to be "fully open for business."
Dr. Garza said COVID-19 numbers at St. Louis area hospitals continued to show "nice progress."
The seven-day moving average of daily new hospital admissions continued its downward trend. Since the last live briefing from the task force on June 1, the average has decreased from 19 to 15 new coronavirus patients a day. That's the lowest the average has been since the task force began collecting data in early April.
The graph below shows both the daily (white bars) and seven-day average (blue line) of new coronavirus patients who checked in to task force hospitals.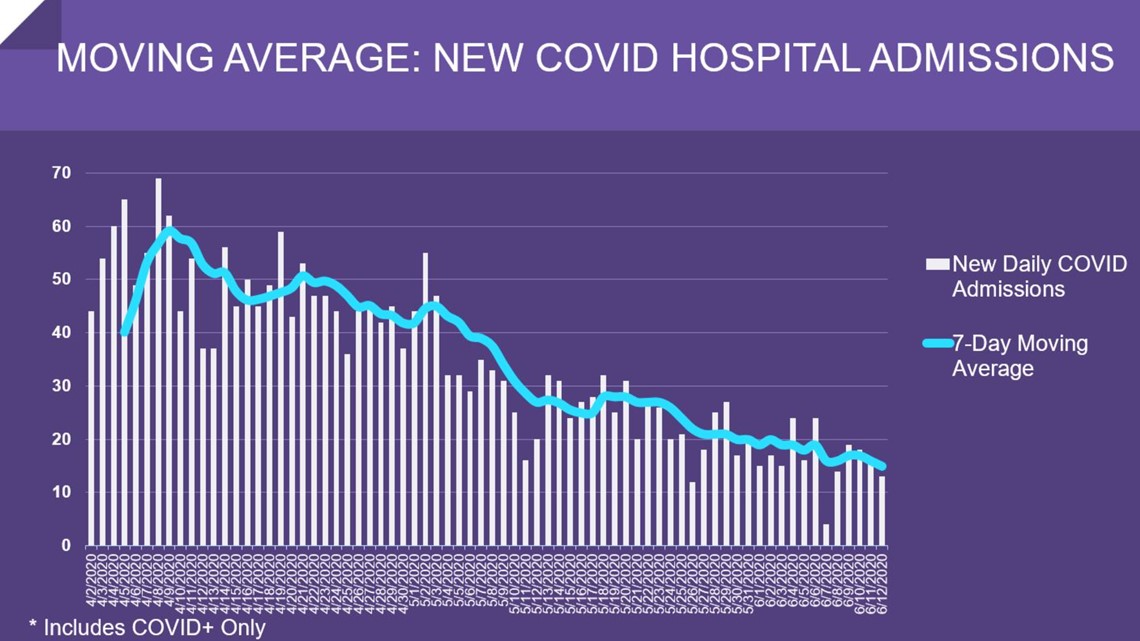 The average number of total COVID-19 hospital patients also continues to show progress. The average on June 1 was 363. On Friday, that was down to 274.
"So, we've seen a significant decrease in the number in just a few weeks, which is also encouraging data," Garza said.
The graph below shows both the daily (white bars) and seven-day average (blue line) of total COVID-19 patients who are being treated at task force hospitals.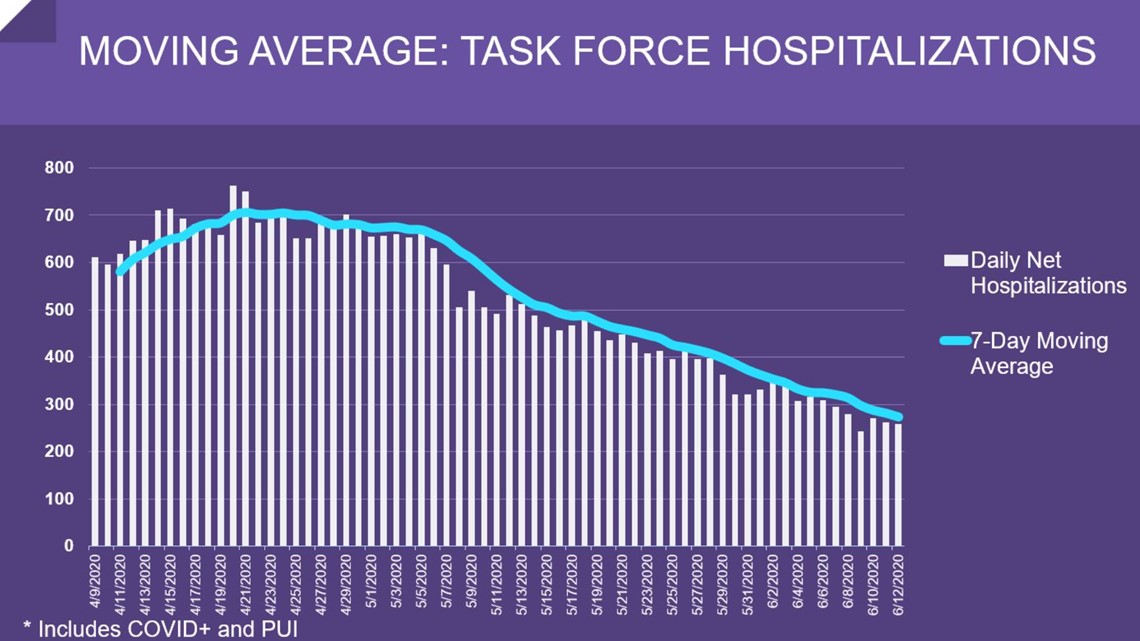 The full breakdown of data trends from the task force is below.
New hospital admissions: 13, down from 16
Seven-day moving average of new hospital admissions: 15, down from 16
Hospitalizations: 258, down from 262
Seven-day moving average of hospitalizations: 274, down from 282
Patients in the ICU: 57, down from 62
Patients on ventilators: 29, down from 33
Over the last 24 hours, 17 COVID-19 patients were released from task force hospitals, bringing the total to 2,530 COVID-19 patients sent home to recover since the first case was reported in the area.
"These are all important trends and ones that are leading to our continued, deliberate and cautious reopening of our economy and allowing our communities to do more activities while preventing secondary waves," Dr. Garza said.
Latest coronavirus headlines: