ST. LOUIS — Hundreds of water main breaks, boil orders or no water service at all have plagued residents across the city of St. Louis.
Margot Cavanaugh has lived in the Dogtown neighborhood for 34 years. She said she has never seen it this bad.
Cavanaugh said she's seeing water main breaks daily.
"A lot of them we don't hear about," she said.
But ever since a water main break less than a mile away from her home on Interstate 64, she's been dealing with low water pressure at home.
"This is not what I signed up for," she said.
And then, randomly, she wakes up to no running water or a boil advisory in case of contamination.
"I'm storing water in the basement," she said.
Neighbor Sarah Morton shares her frustration about the infrastructure that carries her water.
"It's extremely annoying. Everything takes three times as long to wash, to fill. I can only really run one water appliance at a time," Morton said.
Morton and Cavanaugh told the I-Team that a hydrant at McCausland and Oakland avenues in St. Louis, a few blocks from their Dogtown homes, has been running nonstop for four months.
The city said it's to lower water pressure in the area so they can make repairs to a break on a 5-foot-wide water main on Interstate 64. It happened back in May. The holdup: The water division is waiting for certain parts that need to be made from scratch.
Nick Dunne, the City of Saint Louis Mayor's Office spokesperson, said in an email: "We're hopeful the work will be completed in the coming months."
"We want it fixed," Cavanaugh said. "We're paying for it. We're not getting any answers."
People who live in the area said it's reflective of a bigger problem across St. Louis. So, the I-Team is pressing the city for solutions.
"I don't view (the city's water infrastructure) as a problem," City of St. Louis' Director of Public Utilities Curt Skouby said.
"We're addressing it," he said in response to residents' frustration with the city's water infrastructure. "We realize this is a major inconvenience … We're out there, and we're going to get it repaired and back in service as soon as we can."
Data we obtained shows the number of yearly water main breaks across the city has actually dropped slightly over the last decade, between 2012 and 2022.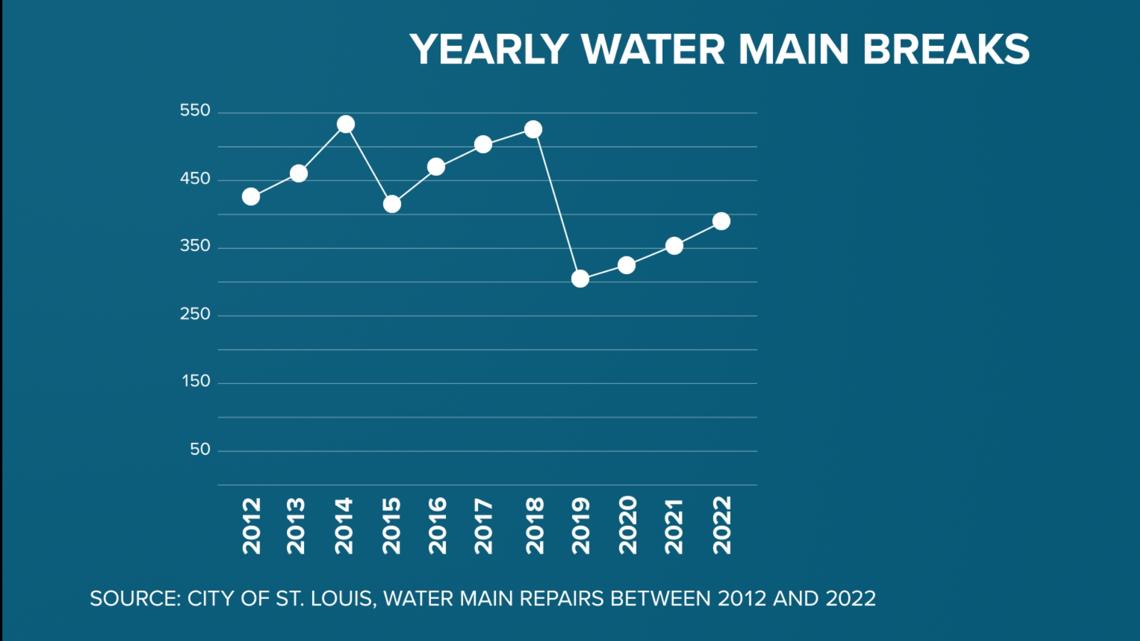 "A lot of water main breaks are random and unpredictable," Skouby said about the decline.
The city responds to them as calls come in. More cash, he said, would help his department be more proactive than reactive.
"We've got this windfall of cash with federal COVID relief money and Rams settlement money. Is that being used to help fix our city's infrastructure?" Senior Investigative Reporter Paula Vasan asked Skouby.
"It hasn't yet. The city has a lot of needs besides the water department and so remains to be allocated to," Skouby said.
City officials told the I-Team the majority of the American Rescue Plan (ARPA) funds have already been allocated. A lot of it is being used for infrastructure, including sidewalks, paving, and maintaining city buildings/vehicles.
But he said a 40% water rate increase for residents that city officials approved in June will help. He said it'll mean his team can focus more on preventing breaks and replacing some of the worst lines.
Residents will see an increase of $5 a month, or a total of $15 a quarter, as residents are billed on a quarterly basis. This is a two-year phased-in water rate increase. The first increase appeared on people's bills during the third quarter of the year, and the second increase will go into effect in the first quarter of 2024. Once both increases have been implemented beginning in January 2024, residents will be paying $10 more per month, or $30 per quarter, when they receive their bills.
Meanwhile, residents are waiting for a fix.
"We deserve better," Morton said. "I do demand to get the services that I've been paying for all these years."
"It's ridiculous. It's ridiculous. Why can't you fix this?" Cavanaugh said.
The city told our I-Team they've repaired more than 330 water main breaks so far this year, a number that's slightly lower compared to similar periods in previous years. The number is based on water main repairs within St. Louis City between Jan. 1 and Sept. 5.
But longtime residents said their water woes just keep getting worse.
If you're dealing with water problems and you live in the city of St. Louis, you can file a report with the Citizens Service Bureau at 314-622-4800 or via the city's website.
Are you dealing with water problems too? Our I-Team wants to hear from you. If you've got a tip for our I-Team, use the form below, leave a voice message at 314-444-5231 or email our I-Team directly at tips@ksdk.com.