O'FALLON, Mo. — Missouri's traffic fatality rate is the highest it's been in 15 years, according to data from the American Automobile Association. Many blame the fact that Missouri is one of only two states where texting and driving is legal for drivers over the age of 21.
At the Douglas household in O'Fallon, Missouri, butterflies are everywhere.
"It's not just every day. It's always been like when we're at a low or if there's something big going on," said Warren Douglas.
He said they're precious reminders of his daughter, Kendall. She loved softball, children and family.
"So full of life, vivacious, bubbly," said Sarah Douglas, Kendall's mother. "She was going to be an elementary school teacher. She was also very protective of her younger brother. They were, like, best friends."
"Very generous. She's buried in her coaching uniform," said Warren.
Everything changed for the Douglas family five years ago on Mother's Day.
"My last words were, 'I love you. See you later,'" says Sarah,
After a family dinner, Kendall was driving on Interstate 70 on the way to her apartment. A crash blocked her lane. She came to a stop. She had no place to go. Seconds later, a driver crashed into her at full speed.
"Was the person who crashed into and killed your daughter held responsible?" asked Senior Investigative Reporter Paula Vasan.
"Not at all. Not one iota. Not a speeding ticket," Warren said.
The attorney of that driver denies all allegations made by the Douglas family. He told the I-Team that evidence from state investigators shows his client was not using her cell phone and driving.
Yet the initial police report marked that driver as "distracted." Two witnesses tell us the person behind the wheel was driving around 75 miles an hour with their head down. One of those witnesses says the driver admitted to using a phone while driving.
There were no consequences, Warren and Sarah said, because there are no laws. Right now, Missouri is one of two states that doesn't ban all drivers from texting while driving. Missouri and Montana are the only states without distracted driving laws for all drivers.
New legislation in the state aims to change that, with Missouri Senate Bill Numbers 56/61. Opponents have historically cited government overreach, similar to pushback on helmet and seatbelt laws. Advocates argue such laws have worked in other states like Georgia, which passed a hands-free driving bill in 2019. Soon after, phone use while driving dropped 22%. Driving deaths went down too.
"This bill is a great step toward making roads safer in Missouri, as it bans handheld cellphone use, texting, video calls and watching movies while driving," said Alaina Dahlquist, state government affairs manager at the National Safety Council. "However, the bill still allows for voice-activated commands, which NSC recommends against, and, with distracted driving killing nearly nine people every day in the United States, NSC urges all to just drive when behind the wheel."
A study done last year by the insurance company Nationwide found that Americans overwhelmingly support laws to curb distracted driving. A total of 88% of consumers say they support legislation to address distracted driving and 86% support legislation in their state that would prohibit drivers from holding their phones while driving to talk, text or for other purposes except in emergency situations.
Research earlier this year from the same company showed dangerous driving behavior has not improved since last year. In fact, it has reached alarming highs.
"Missouri's fatality rate is at the highest it's been in 15 years," says Nick Chabarria, a spokesperson with the AAA. He blames our phone addictions.
"You cannot safely multitask behind the wheel," says Chabarria.
He says this is why. The dots in the image below show serious and deadly injuries in Missouri over the past decade involving distracted drivers.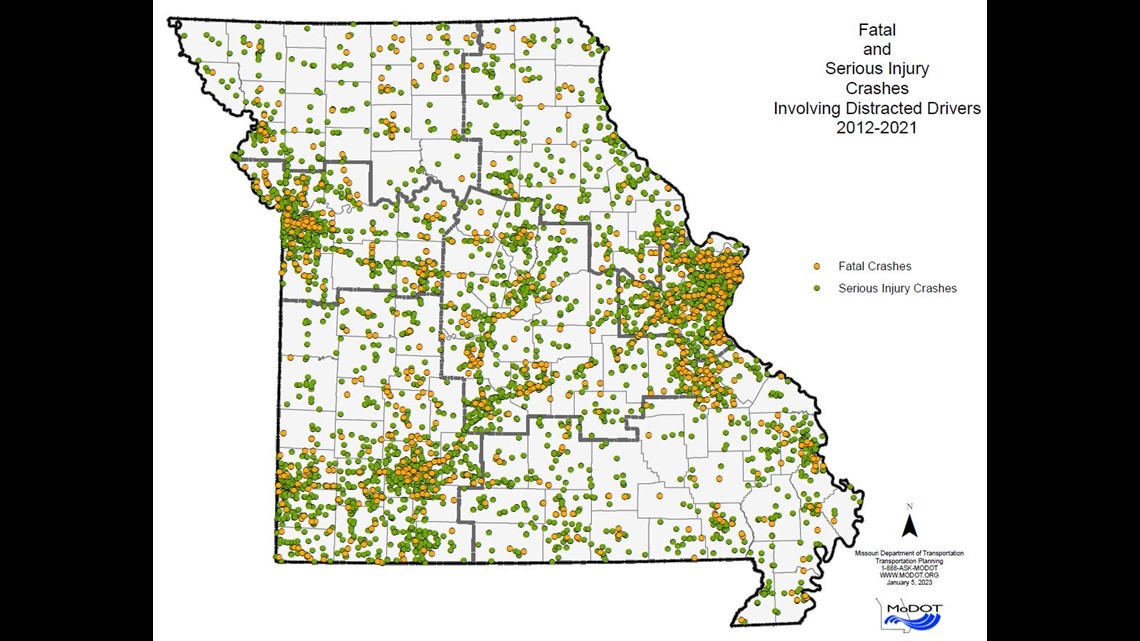 They're statistics until you meet the victims.
"I don't have a daughter now," says Sarah.
She holds onto her daughter's Mother's Day card because there won't be another.
"She wrote on there, 'I'm so lucky to have you,'" she said.
The decision for Missouri Senate Bill 56/61 to be considered and voted on now rests with House Speaker Dean Plocher. We've reached out to him to ask whether the legislation will move forward before the end of the session in the next couple of weeks.
In a statement to the I-Team, Christopher Allen, who represents the family of the driver who crashed into Douglas, wrote:
"Your story alleging that my client crashed into the rear of Ms. Douglas' vehicle because they were texting and driving is inaccurate. My client was not texting or using their cell phone. They made no such admissions to anyone. They cooperated fully with authorities in their investigation and turned over all cell phone records. The attorneys in the Douglas wrongful death suit against my client deposed witnesses, reviewed cell phone records and hired accident reconstruction experts. After all the evidence was in, the Douglas family settled their case against my client instead of going to trial because they knew there was no evidence of texting and driving. The accident was, in fact, caused by an out-of-control driver who drove into the median on Highway 70 just ahead of Ms. Douglas. The MO Highway Patrol's lead investigator testified that he could not conclude that my client was distracted or inattentive in the moments leading up to the impact with the rear of the Douglas vehicle. Moreover, the Douglas' own reconstruction expert admitted that there was no evidence of texting or cell phone use resulting in the crash. Other reconstruction experts in the case testified that, after factoring in perception-reaction time, my client reacted 4.8 seconds before the crash, when she was approximately 500 feet from the stopped Douglas vehicle, and that she braked before impact. While my client remains remorseful, greatly affected and traumatized by this tragic accident, the prosecutors, investigators and experts involved in this case all reviewed all the evidence and concluded that my client was not texting or using their cell phone. My client has not spoken publicly because they did not want to draw attention from Kendall Douglas and her grieving family but the Douglas' version of events in your story is patently false and the truth must be told."
Want to get in touch with Paula about this story on another investigative tip? Email paula@ksdk.com.