COVINGTON, La. - As a young boy, Justin Bleker had problems finding his voice. He didn't speak until he was 4-years-old. When his Abney Elementary School janitor, Dino Schwertz, raped him repeatedly in the 4th grade, Bleker's voice helped put Schwertz in jail for 999 years.
Now, as Bleker prepares to take the witness stand a second time in his civil lawsuit against the St Tammany Parish School District next week, he and his mother say they're hoping the case exposes, and closes, gaps in security for students at St Tammany schools.
The rapes
"My first indication that something was wrong was my child didn't want to go to school," said Rebecca Hickman, Bleker's mother. "He was having issues with his stomach. Throwing up. Did not know why."
Story continues under video
On March 8, 2008, a 10-year-old boy reported to Slidell Police he had been bullied and assaulted by another 10-year-old boy at Abney.
Through interviews with the boys, police said they later discovered Schwertz, the janitor, had raped both boys in the school bathroom.
Hickman said the school sent home notes with all the children asking parents to question their kids about the arrest, trying to find out if there were any other victims.
The Bleker house was watching the local news that night.
"When the news came across, my child got to see Dino Schwertz's face and I seen a part of my child I've never seen before," Hickman said.
She said the strain of her son's trauma not only robbed him of his childhood, but it cost the Blekers their marriage.
The night of the arrest, Hickman said Justin turned pale and refused to talk to her when he saw Schwertz's picture on the news.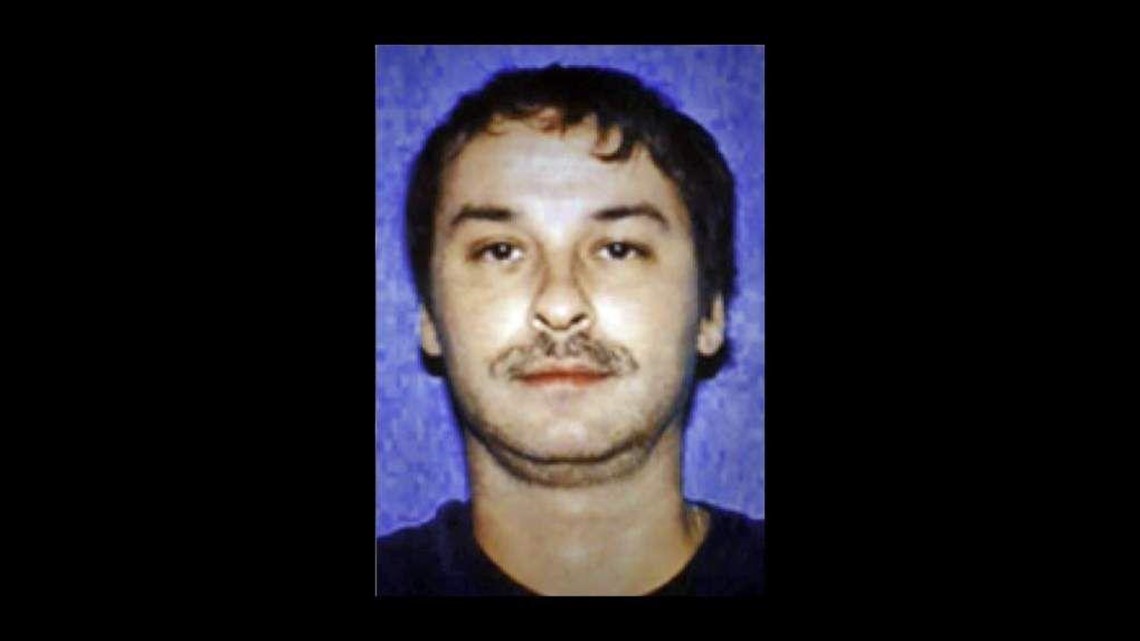 He was 11 at the time, older than most of his 4th-grade classmates because of his learning disabilities. He's 22 today.
"Nobody really thought anything because he was a janitor. And once we all started going back to school, everything was fine," he said, asking to stop short of recounting the attacks in an interview.
But his voice, and his words speak for him, with deposition transcripts detailing the horrors he experienced, personal violations no child should ever have to endure.
"I went to the bathroom. When I came out the stall, the janitor was in there and he pushed me back in the stall and put his hand on my butt and pulled my pants down and told me if I said anything he would kill me," the transcript reads.
Bleker described the two rapes and other encounters with Schwertz in detail.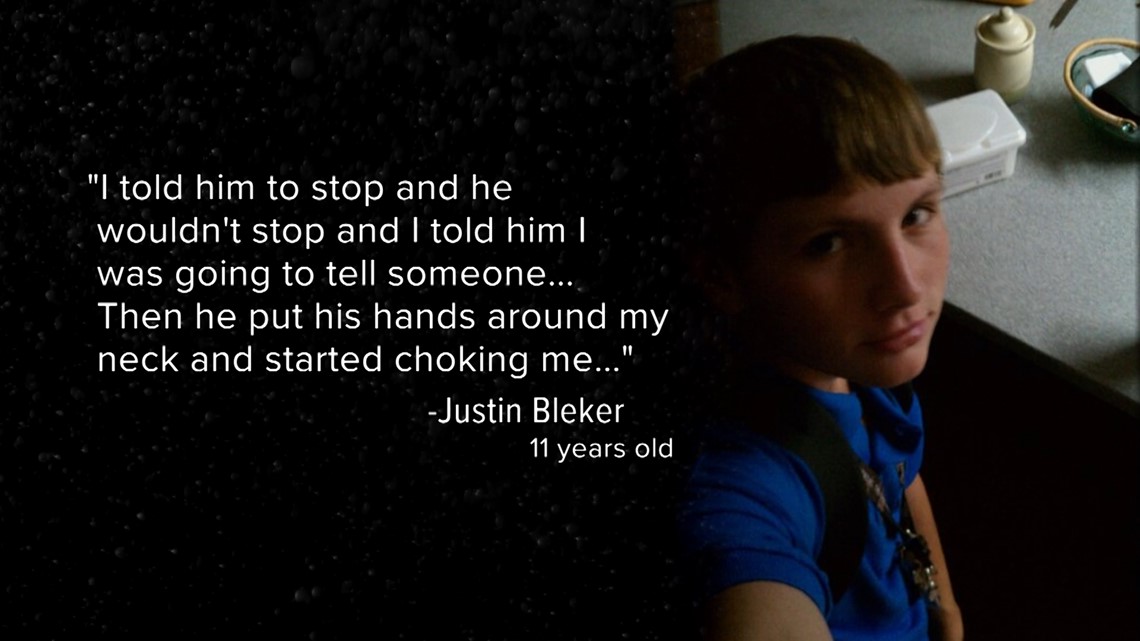 "I told him to stop and he wouldn't stop and I told him I was going to tell someone," Bleker went on to say, "Then he put his hands around my neck and started choking me."
Bleker told the civil attorneys he was too scared to scream the first time, but the second time, he yelled.
Schwertz only stopped raping him when he heard a class coming down the hall toward the bathroom.
"As a mom, it hurts, and then it hurts really bad knowing that you can't help him. You can't take that pain away," she said.
Hickman and her lawyers maintain Schwertz should have never been in the school in the first place.
"I just want the truth to come out. I just want the public to know what has been done wrong and I want the mistakes corrected," she said.
Schwertz lied on his employment application, but St. Tammany school district administrators didn't catch it until eight months after hiring him.
Schwertz applied to the school board for a custodian position in June 2007. The application asks, "Have you ever been convicted of a criminal offense?" Schwertz checked "No."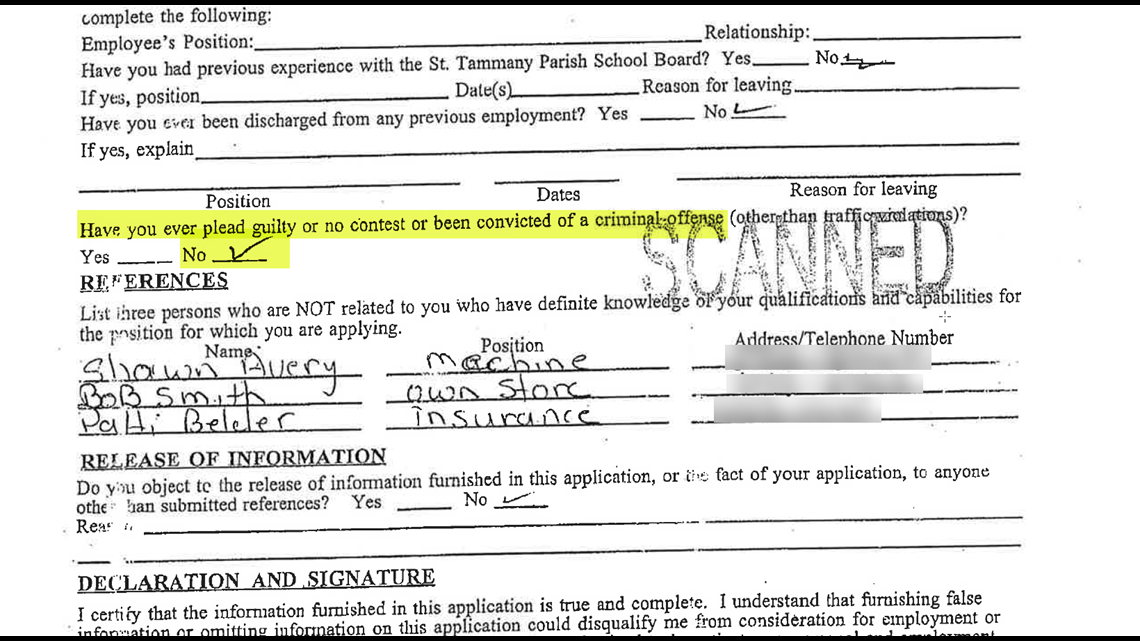 Louisiana law requires schools to conduct criminal background checks on janitors, but Schwertz's background check wasn't completed for three months, and the law allows the district to hire someone temporarily before that background check comes back.
When Schwertz's was finally returned to the district in September 2007, it revealed the janitor was on probation for bank fraud and he had another criminal conviction for violating a protective order.
Hickman said that protective order should have been a red flag.
The school district receives and reviews the background checks when they come in and depositions in the lawsuit indicate the school principals make hiring recommendations.
Because Schwertz's convictions were not for certain crimes spelled out in the law that are considered violent or drug-related, the district has the option to overlook them.
But the principal who hired Schwertz, Kathleen Katsorchis, testified in a deposition that she was never given Schwertz's background check to review.
"She said if it would have been provided to her, she would have never allowed him to work with those students," Hickman said.
When the Deputy Superintendent of Schools Peter Jabbia was asked by attorneys in a deposition why he never told Katsorchis about the janitor's convictions, he replied, "… I guess our assumption was that the protective order was a domestic thing and the bank fraud was worthless checks."
But the lawsuit claims lax policies allowed other warning signs to slip through the cracks as well.
Other red flags
The court records indicate teachers reported smelling alcohol on Schwertz's breath. Once it was reported to Katsorchis, but she testified when she went to question Schwertz, he had left for the day.
She said she made a point to greet him daily to monitor him in the weeks following the report.
But the records indicate students had also reported to their teachers they had seen Schwertz in bathrooms when kids were using them, a violation of what was an unwritten policy at the district.
While Principal Katsorchis testified some of the incidents were not reported to her until after the news broke of the abuse, such as an incident where Schwertz allegedly told a teacher he was developing a line of edible underwear with his mother, the records indicate multiple teachers did report erratic behavior, including interrupting classes to proclaim that the bathroom was closed.
"I know there's protocol that they have to follow, but you also have to understand that you're dealing with elementary students here. You need to take care of it immediately. Not wait for something bad to happen," Hickman said.
Katsorchis' deposition indicates in September 2007, when much of Schwertz's abuse started to escalate, she called Schwertz in for a disciplinary hearing because she had received complaints from teachers that he was talking to them too much, preventing them from getting their work done.
That hearing took place ten days after the district had received Schwertz's background check showing he lied on his job application. Jabbia's deposition makes it clear he and his staff didn't connect those dots until after police arrested Schwertz.
"When all of these allegations came out by multiple kids, then and only then did they fire him," Hickman said.
By then, Schwertz had been transferred, at his request, to a more permanent position at Northshore High School to work as a janitor there.
The lawyers
"I had to get interviewed a few times by my lawyers, their lawyers. They would say oh, we're gonna have a court date soon and the other side would push it back because they were getting new lawyers," Bleker said.
The school district hired new lawyers in 2014, after investigative reports by WWL-TV and the New Orleans Advocate revealed the board's attorney, Harry Pastuszek, was both working as an Assistant District Attorney and getting paid hourly through his private law firm to defend St Tammany schools in civil lawsuits, such as the Bleker case.
"Is the prosecutor going to investigate the school board if they find evidence in the criminal case was covered up," asked Pace University Law Professor Bennett Gershman when the story first broke in 2014.
After the St Tammany Parish DA's office convicted Schwertz of the aggravated rape of Justin Bleker and molesting another boy, Pastuszek secured an affidavit from Schwertz saying he didn't rape anyone, then raised questions in court filings about whether the boy was actually raped.
"How can he work for the St Tammany Parish district attorney's office, who prosecuted and put Dino Schwertz away and yet now, be representing the school board? How can he be on both sides," Hickman asked.
Pastuszek was getting a state salary, District Attorneys' retirement benefits, extra retirement benefits former DA Walter Reed secured for a few chosen employees, all the while billing the school board hourly for the work he and his private law firm were doing for them.
The La. Board of Ethics launched an investigation into Pastuszek's payment arrangement in response to the reports that is still pending.
"I did not care for the man whatsoever and for him to be getting double paid was just outlandish," Hickman said.
And the discovery dragged out the case over a decade, making Bleker re-live the abuse over and over.
"When they say it's coming, you have a court date, it all starts to pop in your head and it's hard to get it out," he said.
Bleker still suffers from night terrors and he still has stomach problems. Court filings indicate his medical bills and therapy have topped $133,000.
Safety in schools
"It happened to my child. It can happen to somebody else's child, my grandchildren. It's uncalled for. And mistakes were made and they've never been corrected," Hickman said.
Even after the attacks and Bleker returned to school Hickman said she would go to pick up Bleker and the teachers and staff wouldn't know where he was.
"I would be told, we don't know where he's at. You can go look for him. Why don't you know where my child is? You should know where my child is," she said.
Hickman said a representative from the St Tammany Parish School District told her they made the rules about janitors not entering bathrooms while children are in them a written policy, and they added a policy that the younger kids have to take a buddy when they go to the bathroom.
"Many of our security policies and hiring procedures have changed during the past ten years to help ensure the safety of our students. We are constantly reviewing all of our safety protocols and making updates as needed. However, we cannot comment on the specific details of the case due to the pending litigation," said Superintendent Trey Folse, St. Tammany Parish Public School System.
But Hickman said some of her other children, some of whom have attended St Tammany schools years after Belker's rape, told her those policies haven't always been followed.
"As a mom, do you want to trust any of your children with anybody after something like this happens?"
Unsealed
In 2016, after the news about the school board attorney broke, Bleker and Hickman asked the judge in their civil case to unseal the record.
It was shielded from public view to protect Bleker and the other boys involved.
The judge granted their request, only closing the parts of the case that concerned Schwertz's other victims.
"I asked my lawyers to unseal it because if I wanted to talk about it I could," Bleker continued, wiping tears from his eyes, "Hopefully this doesn't happen to anybody else, but if it did, they could look at it and see that they're not alone."
Schwertz is a named defendant in the lawsuit and his liability will be decided by a jury. State law prohibits jury trials against government entities, so the judge in the case, Judge Raymond Childress, will rule on the case for the school district.
The trial for both is scheduled to start Monday, May 21 in the 22nd Judicial District Court in Covington.