OXFORD, Mississippi — A former Eureka Lacrosse Club player and Eureka High School grad was killed in a hit-and-run crash in Mississippi Thursday.
The Oxford Police Department responded to a report of a crash involving a pedestrian around 11:15 p.m. Thursday, April 27, to the area of West Jackson Avenue and Fraternity Row, near The University of Mississippi - Ole Miss campus.
Responding officers performed life-saving measures to a pedestrian on the scene but he later succumbed to his injuries and was pronounced dead.
He was identified as Andrew "Drew" Mitchell, 19, of Missouri.
The car that struck Mitchell fled the scene. Oxford investigators located the suspected vehicle on Friday, April 28.
Drew Mitchell was a 2022 graduate of Eureka High School and was a freshman at Ole Miss. He played lacrosse for 11 years with the Eureka Lacrosse Club and others.
"Drew epitomized what being a great teammate is all about. We never saw him with anything but a smile on his face. Drew will be missed by all who knew him," the Eureka Lacrosse Club said in a Facebook post.
The team held a moment of silence prior to their Varsity game against Marquette on Saturday.
High school coach Tim Boroff said they'll continue to carry this forward.
"As long as I'm coach, we'll have his jersey and have someone wearing his jersey every game and we'll continue to give it out. I want them to know what that legacy and what the means to the program," he said.
Boroff met Mitchell more than 10 years ago.
From the beginning, Boroff said Mitchell was always eager to learn and grow.
"His tenacity, drive, and work ethic evolved as he got older. Just so bright and energetic. Drew was the first to congratulate his teammate on their success, awesome energy to have practice, always keeping guys positive and focused," Boroff added.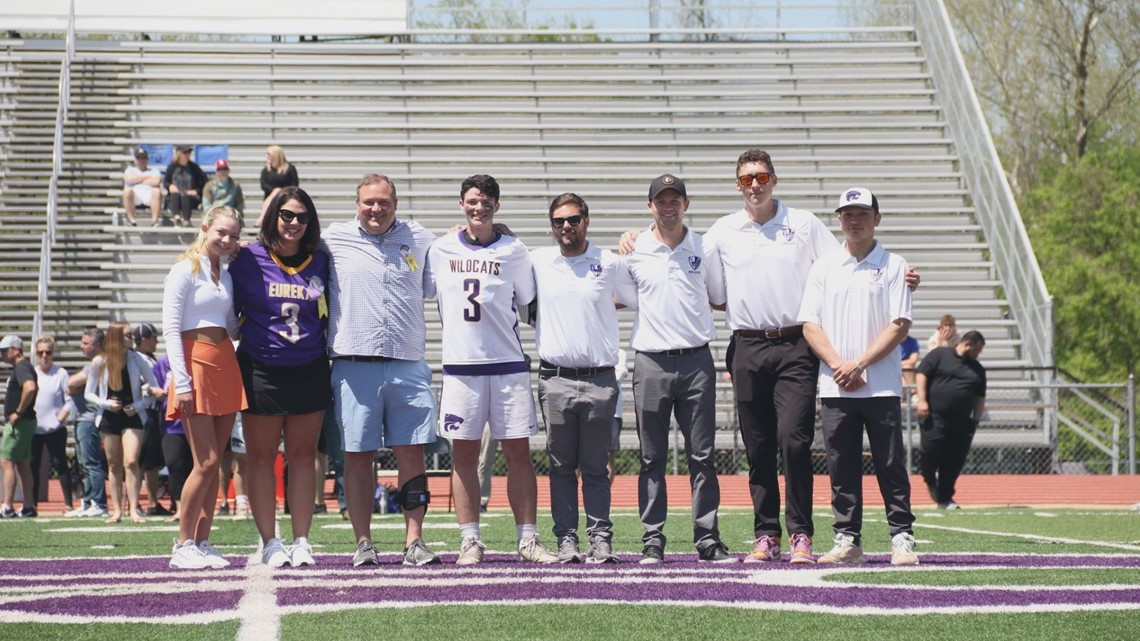 Boroff explained Mitchell played the attack position and said he was one of the toughest athletes he's assisted in his nine years of coaching.
"His senior year, he broke his collar bone and it was an awful break. He ended pushing back and coming back strong. He's such a good leader leading by example with that toughness and tenacity. He would get beat up in games and it would not matter, he would work that much harder and put himself in a position to be successful," Boroff said.
While teammates struggle with the loss, Boroff said they are leaning onto their memories.
"And honor that legacy and their work ethic and treatment of each other," he added. "Drew's memory is all about love for each other, supporting each other, hard work, dedication, and striving for what you really want in life."
"His loss will be deeply and forever felt by his family, friends, classmates, teammates, and the Wildwood, MO community," a GoFundMe for Drew said.