MARYLAND HEIGHTS, Mo. — An investigation is underway into a shooting that left one woman dead at a community center in St. Louis County Monday night.
Here's everything we know, so far:
Police responded to the Maryland Heights Community Center around 8:10 p.m., which is located at 2300 McKelvey Road.
An officer already was in the parking lot of the community center responding to an unrelated call when a woman alerted him that there was a man with a gun inside, Maryland Heights Police Chief Bill Carson said.
The officer went into the community center to confront the gunman. Carson said the gunman started shooting at the officer and that's when the officer returned fire. The wounded gunman was transported to a hospital, police said. The officer was not injured.
Police said the gunman shot and killed a woman inside the community center before the officer entered the building.
Maria Lucas, 45, of Olivette, was a city employee, Carson said in a Tuesday morning press conference. Lucas was the on-duty supervisor at the community center at the time of the shooting.
She worked for the city for seven years.
Chief Carson said her injuries were so severe that she was pronounced dead at the scene.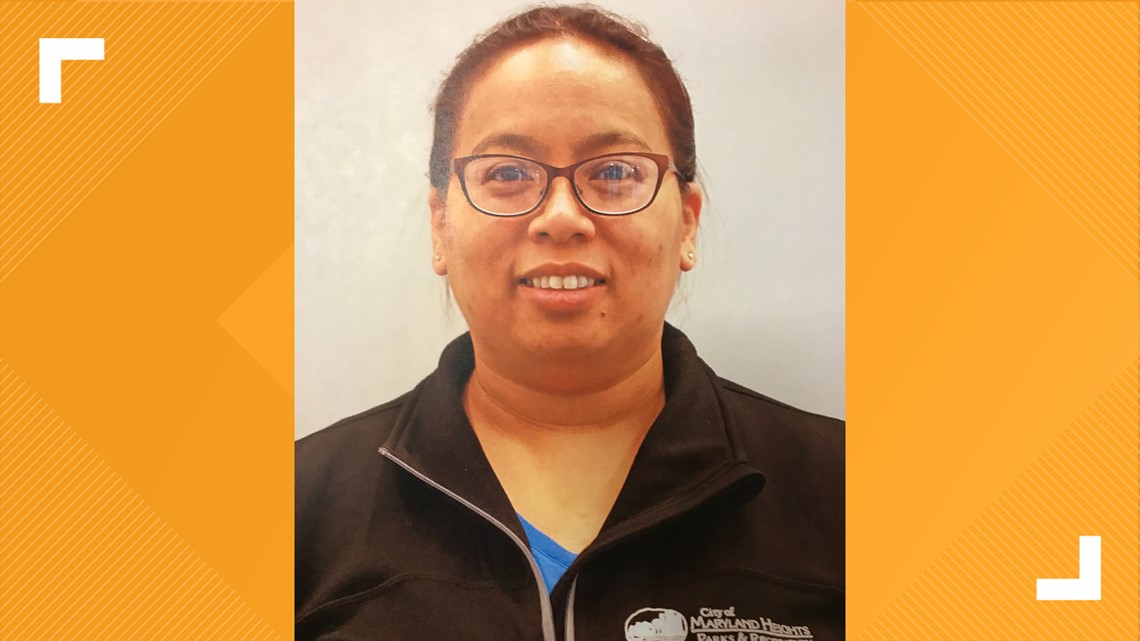 Suspected shooter: Michael Joseph Honkomp
Prosecutors charged Michael Joseph Honkomp with one count of first-degree murder, one count of first-degree assault on a special victim, one count of resisting arrest and three counts of armed criminal action.
Honkomp, a 30-year-old man from Florissant, is in serious condition at a local hospital after police said he exchanged gunfire with a Maryland Heights officer Monday night.
Chief Carson said Honkomp was a part-time city employee for just under three years and he was a custodial aid.
Police said Honkomp did not try to leave the scene after the shooting and police said it is still unclear what his 'intentions' were.
Honkomp is being held without bond.
Video shows shooting suspect pacing with gun
'Very heroic': Officer stopped gunman suspected of killing woman
Carson credited the quick and fearless actions of the police officer. He said the officer did not hesitate to run into the building alone and that he was confronted by the gunman almost as soon as he walked through the front doors.
"The actions of our police officer were actually very heroic. He was notified that there had been a shooting, there was a man with a gun inside the community center. He immediately went inside the community center and confronted the gunman, and shots were exchanged," Carson said.
The officer was wearing a body camera. He also said that the incident was caught on surveillance cameras.
Carson said the officer was relatively new and had just been out of the academy for just over a year. He added that he responded like an "experienced veteran."
According to a law enforcement source, the officer is Larry Jerrod.
Police are reviewing body camera footage and security camera footage from the community center.
Maryland Heights Mayor Mike Moeller released the following statement Tuesday afternoon:
"On behalf of our residents, first responders and employees, today we as a community mourn the tragic loss of Maria Lucas, a valued and beloved employee at our community center. I want to express our sincere sympathies to Maria's family and friends for their loss. We are all saddened and are struggling to deal with this difficult situation.
The city is making grief counseling services available to our employees beginning today, and we plan to also offer these services to any patrons of the community center that may need help through this difficult time. We will make the schedule of these services available to the public in the very near future.
I want to thank and commend the bravery of our first responders and community center staff that worked to protect patrons at the community center at the time this incident took place and reduce the possibility of further loss. Our police officer showed selfless bravery and put the public's safety above his own during this chaotic situation. The staff quickly moved everyone inside the building out of harm's way until the threat had passed. First responders provided emergency medical care without regard for their safety, and police from Maryland Heights and neighboring agencies came together to provide a safe perimeter and help reunite families with their loved ones trapped in the building as quickly as possible.
We are learning more about those involved in this tragedy to determine what can be done to enhance the safety of community center visitors in the future. There are many questions to be answered, and we will share as much of the information with the public as we can in the near future.
We are planning a public event to honor the life of Maria Lucas in the near future. We also plan to reopen the community center soon and return it to its role as a place in the heart of our community for people to gather and to enjoy their healthy lifestyles.
Maryland Heights is a great and proud community where violent crimes such as this are rare. I am confident that we will work through this difficult time together and emerge a stronger city and community."
Woman inside community center spoke to 5 On Your Side
5 On Your Side spoke to a woman who was inside at the time of the shooting. She said she has been going to the gym inside the community center since August 2019.
"I was just working out like regular, on the treadmill – listening to music. And all the sudden I heard a loud bang, it was so loud that I could even hear it through my headphones," Sasha Kondratyeva said.
She said everyone turned their heads toward the stairwell, near the main lobby and then everyone went to go see what was going on.
She said she saw a man with a pistol in his left hand and all of the people at the front desk were behind the desk. The workers told them to get off the stairwell and get out of the way, she said.
Two minutes later, five or six gunshots went off and that's when everyone started to run and scream.
"We went into one of the fitness rooms that had a utility closet, about 20 people came in there," Kondratyeva said. "It was dark in there, people were panicking … We didn't know what was happening, we didn't know if he [the gunman] was coming up there."
Kondratyeva said they all just stayed quiet and continued to check their phones for updates. She said she believes one of the people who worked there was in the closet with her group. He told them to keep quiet and turn the brightness on their phones down.
They were in the closet for about 30 to 40 minutes until police came in to clear them out.
She said she was texting her family and her boyfriend while she was in the closet.
"I basically just told them 'I love you,' if anything happens to me – I didn't know what else to say," Kondratyeva said. "I didn't know what was going to happen, at that point in my life I was like this is it, this could be it for me, so I basically just texted and called the people that were closest to me. That kind of stuff makes you realize like wow life could just end at any moment. "
Maryland Heights Community Center
The 92,000 square-foot facility is home to the city's parks and recreation department. It also houses an aquatic center, a gym with several courts, an indoor track and a large fitness area with cardio and weight equipment.
Chief Carson said counseling will be offered to city employees.
The community center is closed until further notice.
During Tuesday morning's press conference, Chief Carson addressed the fact that some people and parents were upset about not knowing what was going on at the time
"Our absolute first priority was to protect the families and children that were inside the community center and do a sweep of the interior and make sure we didn't have anyone else who was shot," Carson said.
It's unclear when the community center will reopen. A spokesperson said the city will reevaluate on Wednesday based on the cleanup progress and readiness of parks and recreation employees.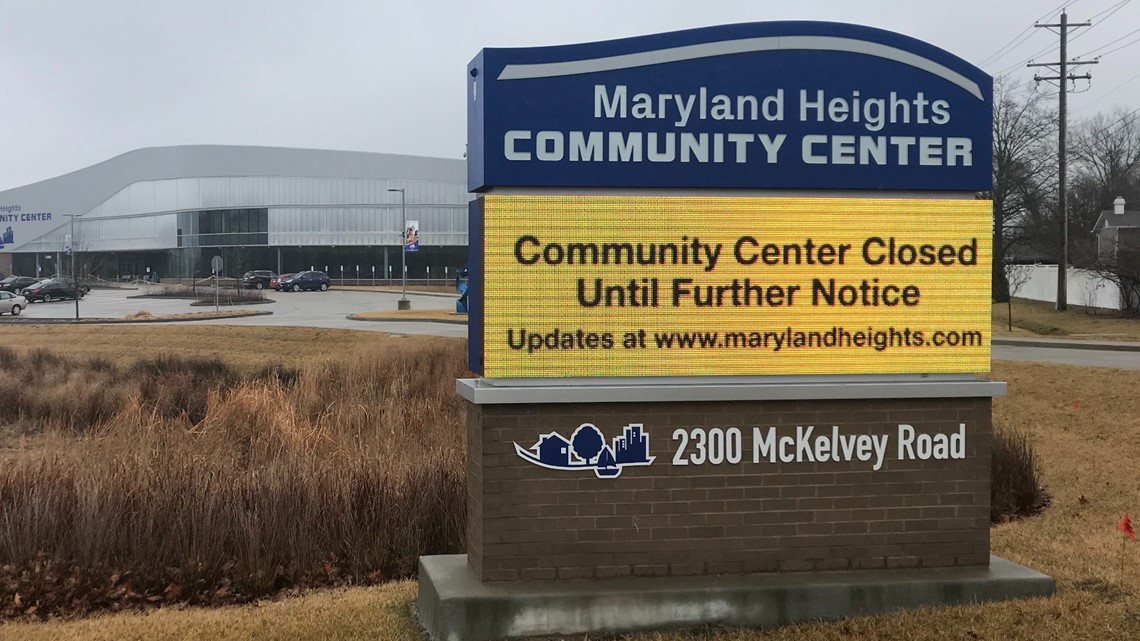 Maryland Heights free trauma support and counseling for people who were there
The City of Maryland Heights is offering free professional trauma support and counseling services for free to anyone who was there during Monday's shooting. The first session will be held on Feb. 28 from 7 to 9 p.m. at the Maryland Heights Government Center at 11911 Dorsett Road. It'll be open to any patron of the community center as well as members of their immediate family who feel they may need help.
"We care deeply about our community members. We know that many are hurting emotionally right now from this incident," said Mayor Mike Moeller. "We hope that any patron of the Community Center that is experiencing difficulty will take advantage of this opportunity, whether you were there that night or not."
A second session will be held on March 1 from 2 to 4 p.m.
Maryland Heights City Councilwoman Susan Taylor
The City of Bridgeton steps in
Bridgeton said it will offer Maryland Heights Community Center members its services for the next couple of days. It'll include admission for basic services such as indoor pool, fitness center and indoor track.
"Maryland Heights residents without an MHCC membership, but with proof of Maryland Heights residency, will receive resident admission at the BRC while the MHCC is closed. Daily drop-in rates are available for most of our fitness classes during this time. We hope to reach out and support our neighbors in their time of crisis," City of Bridgeton shared on Facebook.
Maryland Heights Police Department's press conference Tuesday morning
Town and Country Police Department shared its condolences with the Maryland Heights community:
"Our most sincere thoughts and prayers are with the Maryland Heights community and all others impacted by the tragic event last night. As keepers of the peace, we spend each and every day training for these terrible occurrences while hoping the day never comes."