Fallen North County Police Cooperative officer remembered
Many people gathered at the Cathedral Basilica to pay their respects to the fallen officer.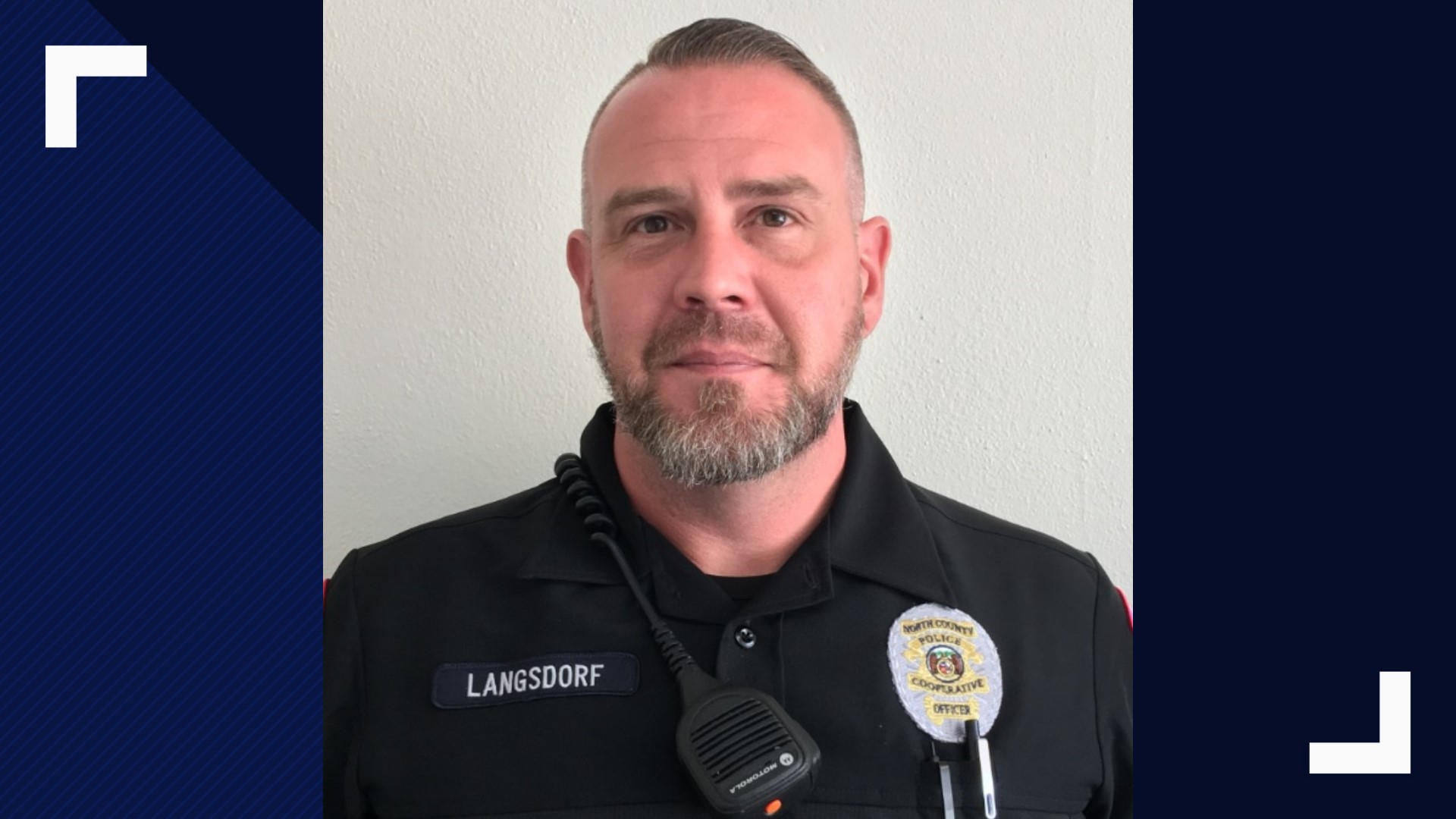 ST. LOUIS – Many people gathered at the Cathedral Basilica on Monday to pay their respects to the North County Police Cooperative officer killed in the line of duty.
Procession from mortuary to Cathedral Basilica
:
The procession from Hoffmeister Colonial Mortuary on Chippewa Avenue to the Cathedral Basilica of Saint Louis began around 8:30 a.m.
People also gathered across the street and on nearby street corners to pay their respects to Langsdorf. Michael Flamion, a Ballwin officer who was shot and paralyzed on the job in 2016 - was spotted in the crowd.
Officers different law enforcement agencies lined up outside the Cathedral Basilica ahead of the funeral. Officers from Chicago, New York, Dallas and Fort Worth were among the many agencies in attendance.
Bagpipes honor Officer Langsdorf
:
Bagpipes played as Officer Langdorf's body arrived at the Cathedral Basilica.
Funeral service
:
The funeral service began at 10 a.m. at the Cathedral Basilica of Saint Louis.
Virgil Wooley, who Langsdorf referred to as "Sonny" opened with an eulogy. Sonny was Langsdorf's cousin.
"There was a lot of laughter. That's the atmosphere in which Michael grew up," Wooley said. "After high school, Michael went to work for the Springdale Fire Department. It did not take him long to know that he would rather be a police officer, no offense firefighters."
"Michael's last watch came on June 23. He went where duty called. We lost him that day in a senseless tragedy. His passing is terrible to bear but I hope we can all take solace in the fact that he spent his life doing what he loved, in service to the people of the St. Louis community."
Langsdorf's two children, Kaleb and Oliva gave eulogies.
"Loving and wonderful father – thoughtful, dedicated and sensitive describe him well," Kaleb said.
"They say never to meet your heroes because you'll end up disappointed – well, I had the chance to be raised by mine and he never disappointed," Kaleb said.
"Our dad was the most important person in our lives. He had a huge impact on so many people and even though he was tough he had the biggest heart," Olivia said. "I think we all wish he could have made it through this one so we could hear him tell this story at every family dinner and event."
North County Police Cooperative Chief John Buchanan also gave an eulogy.
"June 23, 2019 will be marked as the worst day of this department's history as many lives were changed forever that day," Buchanan said.
"If I had 100 officers like Michael, I wouldn't have a problem in the world," Buchanan said.
'Michael was a 17-year veteran of law enforcement, most recently with the North County Cooperative. He had a mission to help people. Fiercely loyal, loving, caring and a helpful friend to so many. Michael was quite a character and would make everyone laugh. He was also a great chef and a lifelong Blues fan.' The program said.
Procession from Cathedral Basilica to Resurrection Cemetery
:
A procession from the Cathedral Basilica of Saint Louis to Resurrection Cemetery followed the funeral service. It lasted until about 1:45 p.m.
The procession followed the route below from the Cathedral Basilica to the cemetery:
West on Lindell
South on Kingshighway
West on Chippewa
Chippewa turns into Watson
Left on MacKenzie Road to the cemetery
If you missed the funeral, you can watch below
:
What happened on June 23
:
Langsdorf was shot and killed while responding to a call for a bad check at a Wellston market on June 23.
He was 40 years old and employed by the North County Police Cooperative since April 2019. He had 17 years of prior experience before joining the North County Police Cooperative.
Langsdorf leaves behind a fiancee and two children - Kaleb and Olivia. He was also a future stepdad to Devin and Kaitlyn.
Bonette Kymbrelle Meeks, 26, confessed to the murder of Langsdorf on June 24. He's being held with no bond. A second person of interest was taken into custody on June 28. Investigators from the North County Police Cooperative and the St. Ann Police Department have not released the identity of this person. No charges have been filed yet.
How you can help
:
Donations to BackStoppers in honor of Langsdorf can be sent to:
PO Box 795168 St. Louis, Missouri 63179-0700
Syberg's restaurants will raise money in honor of Langsdorf on July 2.
100% of profits from the restaurant's nine area locations will go Officer Langsdorf's family. The locations include all Syberg's, Helen Fitzgerald's Irish Grill and Pub and Twisted Tree Steakhouse.
Click here for more information on Tuesday's dine-out event.
Officer Langsdorf killed in line of duty