MOSCOW MILLS, Mo. — A Lincoln County father is going through unimaginable pain after a fire inside his home killed his 7-year-old son.
Devin Parks did everything he could to save his family in his parent's burning mobile home.
"I just took off running. I just grabbed them and threw them out of the house," Parks said.
Early Saturday morning, the electricity went out on Blue Bunting Circle. They lit some candles and lit the fireplace.
When he and his girlfriend went outside to smoke a cigarette, Parks said they were staying at his parents house to get back on their feet.
According to the Lincoln County Fire Protection District, the candle may have caused the fire. They determined the cause to be 'accidental,' according to a press release.
"It was like a flash, she thought it was the electric company and she turned around and said the house is on fire," He said.
In a moment of fight or flight, Parks fought his way in. Nine people were saved, but Jaxon did not make it out alive. "I just couldn't find him anywhere. I couldn't hear him nothing," Parks said. Baby boy, my world, my whole existence was trapped. He was the kindest boy. The boy loved everybody."
This sweet and smiley boy had many loves including super heroes. Little did he know that his father had a cape on himself - battling the fire to try and save him.
"I wanted to give my son everything and more," Parks said. He wants to continue that mission, even in Jaxon's death.
He started a GoFundMe for his son's burial costs.
"I'm not going to see my son graduate high school, I'm not going to see him get married, see him have kids, all these things I've dreamed about. This is the last thing I can do for my son and I want it to be the biggest and best thing for him. I just want to give him something that he deserves and something so memorable that it will never fade," Parks said.
It's a way to honor Jaxon. To show him, that his own powers, will always live on.
Parks says his final words to Jaxon in this post: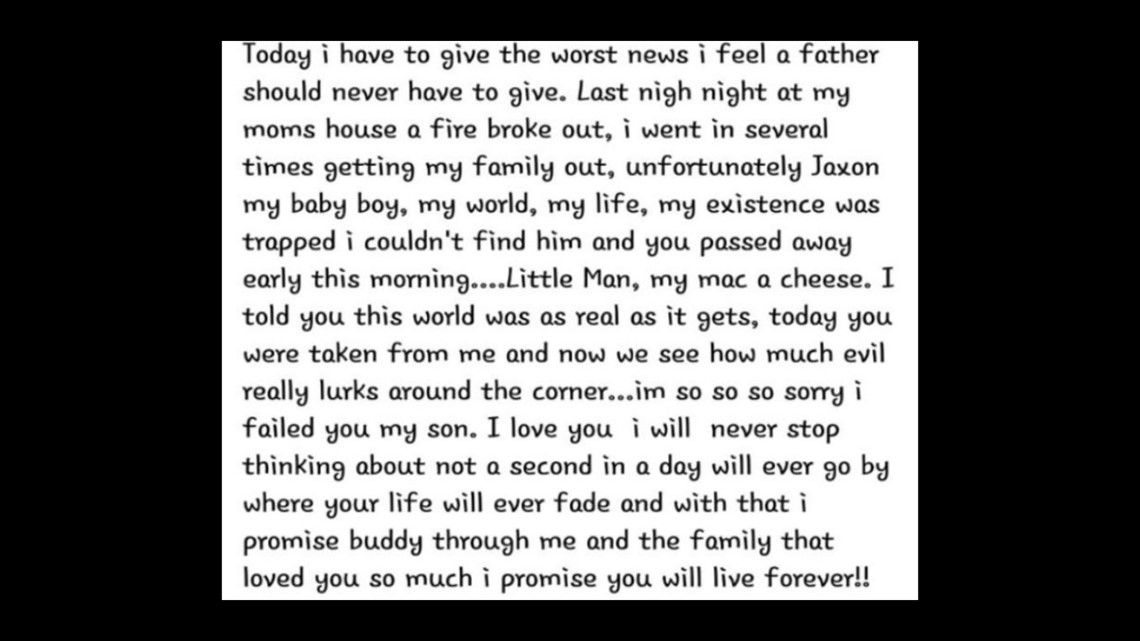 The GoFundMe will cover funeral costs for Jaxon. Parks says they were staying at his parents house to get back on their feet and were planning to get out in 90 days. Any extra money in the donation drive will help his parents rebuild.