ST. LOUIS COUNTY, Mo. — A plan to demolish the former Jamestown Mall took a big step forward Tuesday night. The St. Louis County Council voted unanimously and passed a bill that would provide $6 million to knock down the building.
The plan uses money from the American Rescue Plan Act. Those are the federal funds available to combat the economic fallout from COVID-19.
St. Louis Councilwoman Shalonda Webb has been the lead on this and spearheading the effort. She represents the area, which is the 4th District, and introduced the legislation on April 12.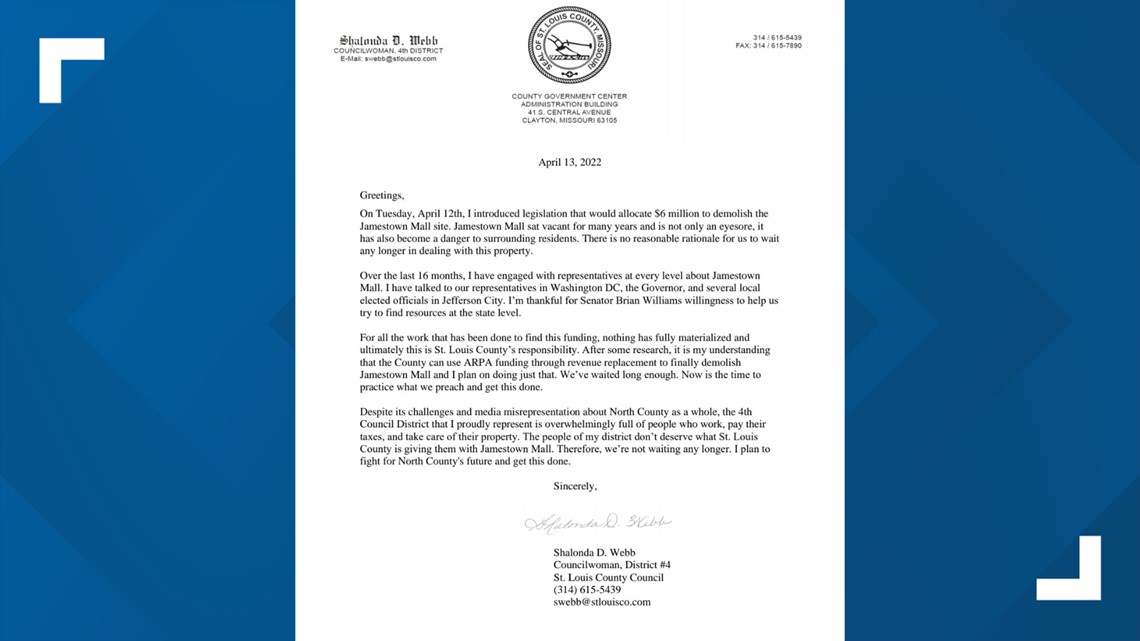 Many acknowledged Councilwoman Webb's efforts in getting this to move along.
The project itself is around $10 million.
St. Louis County is setting aside $6 million, with the hopes of getting the remainder of the funds from the state.
State Senator Brian Williams said he thinks they can fill in the gap.
"We have a record surplus, we have the money. This week, my office will be working to get a match in ARPA funding. There's not been any investment in north St. Louis County for several years," Williams said.
If that doesn't work, St. Louis County Executive Sam Page said, "We'll continue to look at other state programs and other resources."

On the St. Louis County website, officials say public input indicates residents overwhelmingly chose three factors officials should focus on when seeking proposals from potential developers for redevelopment – job creation, business and residential or mixed-site use. Additionally, county officials said residents have indicated they want to see entertainment options and access to amenities currently unavailable in the area.
The transformation
Jamestown Mall has transformed over the decades.
The mall was built in 1972.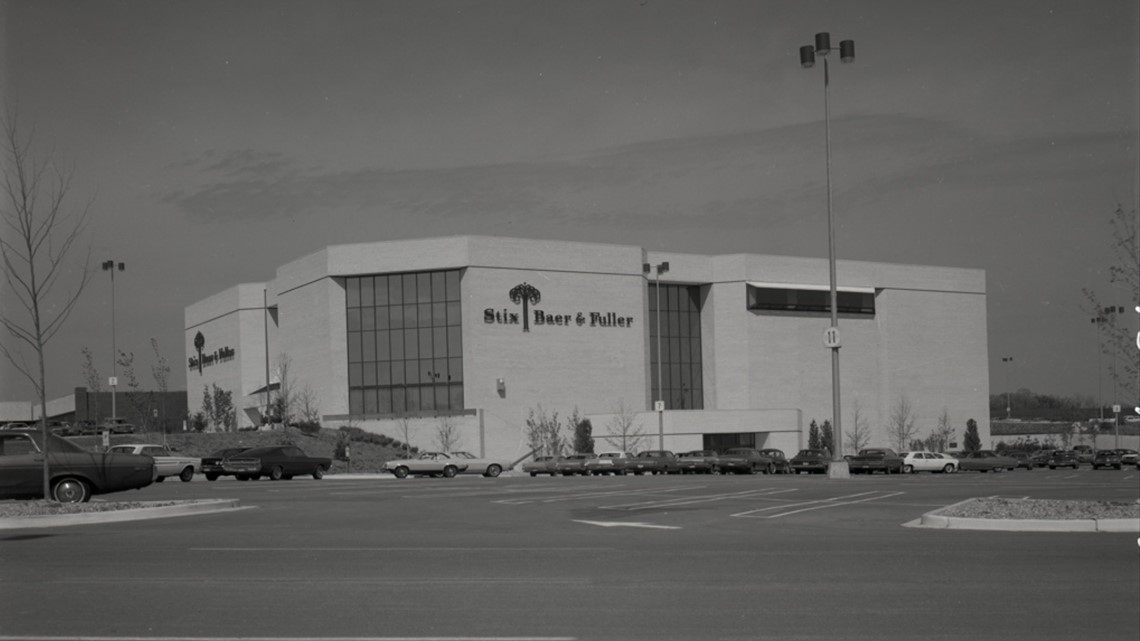 "I watched the original mall be built," Florissant Mayor Timothy Lowery said. "We had the renovation of the mall and then fortunately things were going well. I spent a lot of friend time there on the weekends."
The Florissant native remembers seeing Jamestown Mall flourish at its prime before watching it decline.
It closed up shop in 2014. For years, it's sat empty in its 145-acre lot, becoming an eyesore for the area. Since then, the goal has been to take it down and build the area up.

Lowery believes the delay has been due to financial issues. He believes nothing has taken off with any potential buyers.
"I think with the ARPA funds, they have the funds now available to take it down themselves," Lowery said.
What's next
In a tweet, Page said he looks forward to signing the funding bill into law.
Doug Moore, the spokesperson for the county executive's office said demolition most likely won't happen until fall. That's because it would take some time to find a contractor to take on the job.
They would have to go through a competitive bid process, do inspections and then hire the contractor.
Moore added that by clearing the site, developers could be more inclined to invest in this fresh piece of land.
Lowery has heard from residents that they want the next project to have commercial and residential use.
"I think the multi-use, kind of something similar to Streets of St. Charles, where you got some residential area, you got some business area, restaurants, that's what I've mostly heard," he said.
The mall had been slated for redevelopment into an industrial and logistics park, but that plan was scrapped last summer after opposition from residents and Councilwoman Webb.
St. Louis County Port Authority owns the property and spokesperson John Maupin said they are thrilled by the announcement. Once demolition starts, they'll be looking for developers.
Maupin also said there is a study group looking to see what comes next.