ST. LOUIS — A water main break has closed a stretch of Lindell along Forest Park – again.
The large break was reported Tuesday morning in St. Louis. The city water department responded to the scene to begin work on fixing the break.
The view from 5 On Your Side's helicopter showed a massive hole in the road with several large pieces of construction equipment on the scene. Water was spilling out onto the road just down the street from the crater.
The issue has forced crews to close Lindell from Union to Kingshighway, which runs along the northeast edge of Forest Park. Drivers should avoid the area.
No other information about this water main break has been released at this time.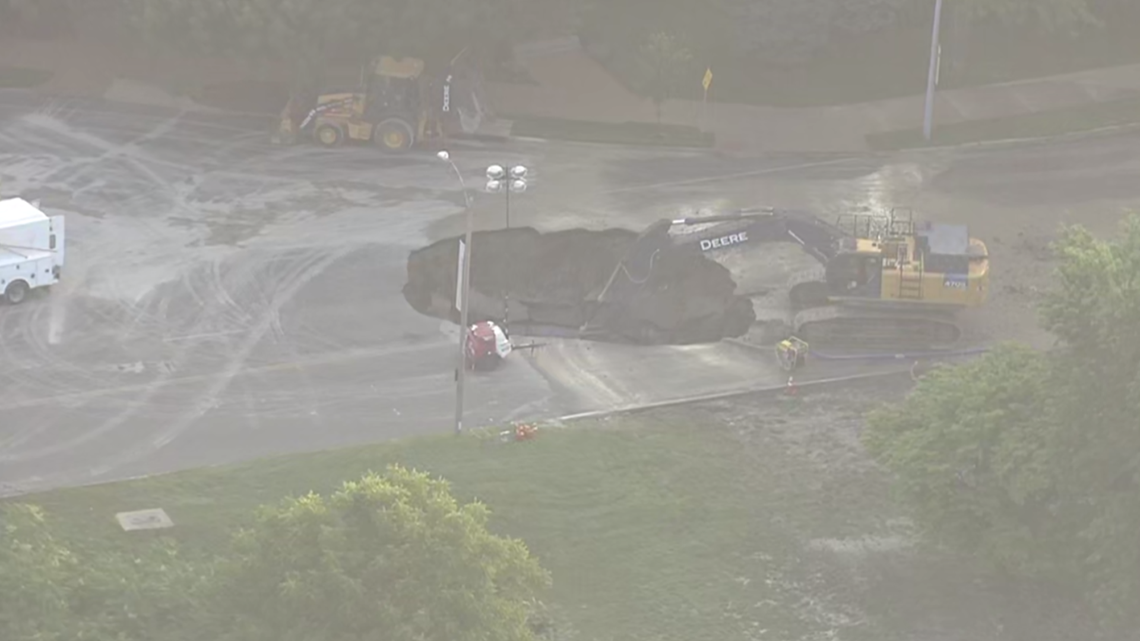 A massive water main ruptured in that same spot almost exactly one year ago.
On July 25, 2019, a 30-inch water main busted open, causing a large crater in the middle of Lindell at Union Drive. The break flooded the road, impacted Forest Park, the nearby MetroLink station and led to a boil advisory for parts of south city.
The 2019 break was so severe, crews had to rebuild nearly 100 feet of sewer main. The break forced crews to close the stretch of Lindell for about two weeks to make the fix.
"This happened last year and I've just been keeping an eye on it," said Central West End Resident Sean Gannon.
Gannon isn't the only one keeping an eye on this massive water main break.
"Looks like it failed again," said Gannon.
Curt Skoby has been with the Water Department 35 years and says this massive water main break near Lindell and Union has been one of the biggest pains his department has dealt with.
"When this gave out before that was definitely high ranking, we've had a couple cars in excevations before but this one is a little bit different," said Skoby.
Now streets are flooded with excess water as crews are relieving pressure from the pipe they're planning to fix.
"It is a 36-inch diameter pipe so it's a big pipe and it's deep down there so you need a big hole for both the pipe and then to dump," said Skoby.
While experts are busy fixing the break no one will be going through the road and people living nearby are hoping they won't see another repeat.
"I hope they fix it properly so it doesn't have to be visited again next year," added Gannon.
Crews say it will take about 5 days to fix the break and then the Street Department will re-pave the road.
Latest local headlines: