Wish granted | Thousands of cars line funeral procession for Missouri boy who died after years-long cancer battle
Alec Ingram was diagnosed with Osteosarcoma bone cancer in May 2015. He quickly became an inspiration to people across the country.
Facebook: Alec Ingram's fight with cancer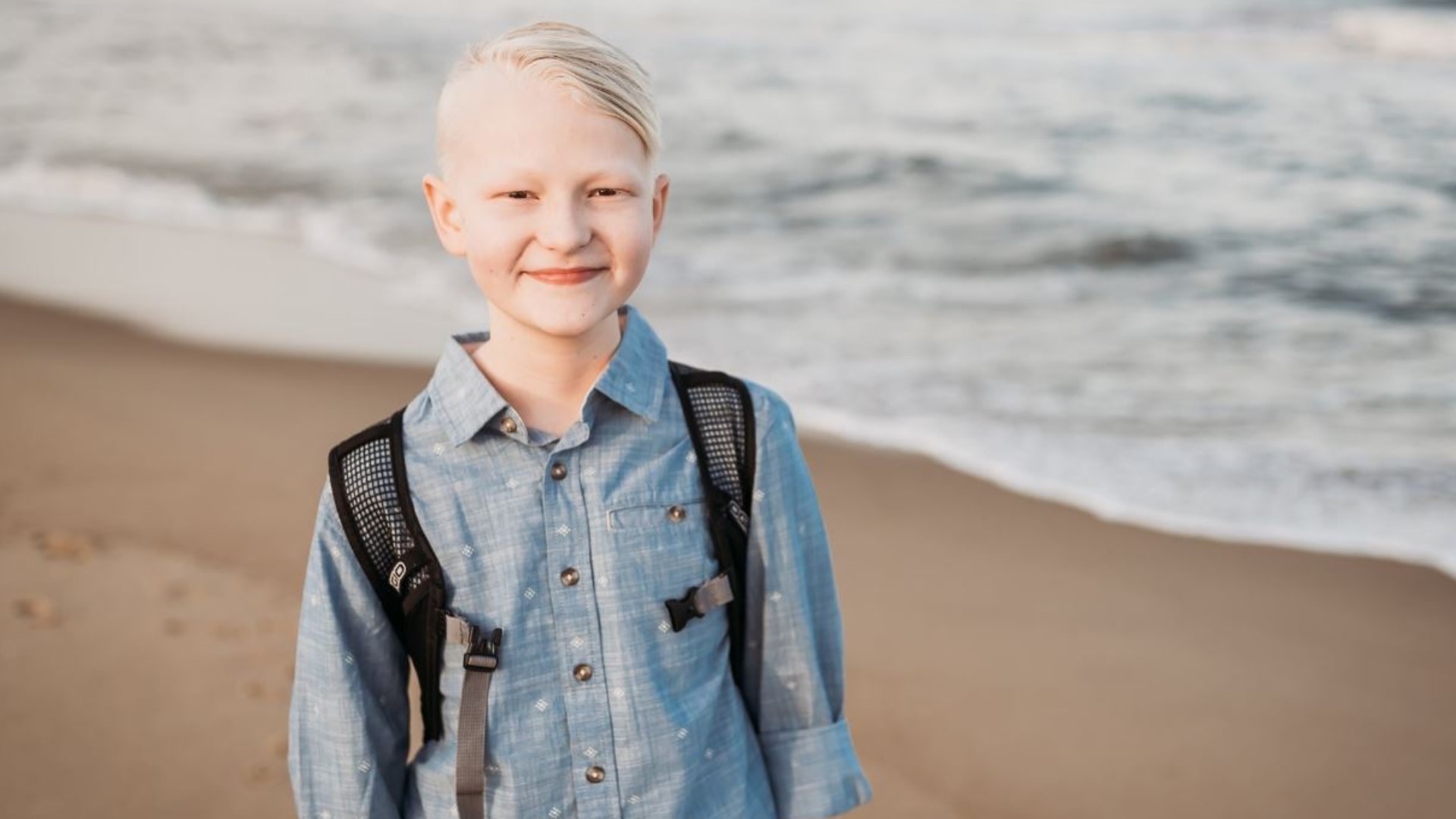 A boy from Washington, Missouri died on Nov. 7 after a 4-year battle with cancer.
Alec Ingram
:
'Forever our superhero'
Alec Ingram was diagnosed with Osteosarcoma bone cancer in May 2015. He quickly became an inspiration to people across the country.
Throughout the years, he endured several open heart surgeries, suffered a stoke and a brain bleed. And multiple rounds of chemotherapy.
In July after a year and a half on the oral chemo drug, it stopped working. Another tumor was found on his spine and a couple of months later after doing radiation on his spine and new tumor was found in the outer lining of his lung, according to Alec Ingram's fight with Cancer page. He started chemo three times a month, plus more radiation and after a few treatments his left lung collapsed. He spent 15 days in the ICU. His family said they traveled to Cleveland to try a new treatment called 'radium 223.'
The following message was shared to the Facebook page 'Alec Ingram's fight with Cancer,'
'Finding the light in our darkest moments.
Our sweet boy lived more life in his 14 yrs then a lot of us could ever imagine. 💛 He was an old soul. Loving his nurses and doctors as family. He touched more lives all over the world in his short time here then we may ever know. His purpose far exceeded what I could ever imagine.
We appreciate each and every person who has followed, prayed and stood beside us the past 4 and half years. Every thought, prayer and donation. We are beyond blessed to have been chosen to be Alec's parents even for a short time. It gives me so much peace knowing how loved our sweet boy was and will always be.
Alec is no longer in pain or has to fight this awful disease. He is at peace and gained his angel wings at 2:20 today, surrounded by his family and some of his Glennon faves that have stood beside us for so long. He did it his way. Forever Our superhero.
Momma misses you already, We love you so so much sweet boy! #teamalecforever'
Saying goodbye
:
'We have said our goodbyes more than once'
On Nov. 6, Alec's mom shared the past few days had been some of the hardest ones yet. 'Hospice says one thing, Alec does another,' she wrote on Alec Ingram's fight with Cancer page. 'We have said our goodbyes more than once thinking it's time and then it's not.'
In the heartbreaking post, Alec's mom said 'to be the nurse and mother through this adds a whole new set of emotions and heartache that I will probably never recover from'
Sports cars for Alec
:
He loved sports cars
He loved sports cars and before he died, he said he wanted people to make up his funeral procession of sports cars to fulfill his final wish. A spokesperson for the family said they have a minimum of 4,500 cars from nearly every state. The spokesperson said they're working to organize where the cars will go.
In a post to the 'Alec Ingram's fight for Cancer' page, the family wrote to join the following group if you're interested in bringing a sports car to the procession.
The escort will be in Washington, Missouri.
Sydneys Soldiers Always
:
Dana Manley and her family founded 'Sydney Soldiers Always' after her daughter passed last year from cancer. It raises funds to grant bucket list wishes for kids.
Sydneys Soldiers Always had been helping plan the final escort for Alec.
Support pours in
:
People across the country have been offering their condolences to Alec's family on social media.
'I am so very sorry for your loss. I lost my only child, my daughter, in 2015 to a very rare brain disease. My thoughts and prayers go out to you and your entire family for strength to get through this very terrible time,' Sandy Griffin wrote on Facebook.
'I know I don't know you but, feel like I do. I couldn't sleep last night. I kept thinking of all of you. My heart is heavy & I know what breaks our heart breaks Gods heart. Praying for each of you for comfort,' Debbie Yount wrote.
'Alec has shown me as a grown 33-year-old woman what true courage is, I never met him but he is such an inspiration to myself as to many others, fly high sweet angel! Prayers for comfort and strength for all his family,' Amanda Michelle wrote.
Final goodbye
:
Alec's visitation
According to the obituary, people who have been following Alec's stories are welcome at the visitation at Immanuel Lutheran Church on Nov. 16 from 11:30 a.m. to 3:30 p.m.
The service will be on Nov. 17 at 1 p.m., the family said they would like the burial to be private for family and close friends.
Memorials in lieu of flowers may be given to St. Baldrick's Foundation please note your memorial for Alec Ingram if you mail in a donation or Brayden's Puppy Project.
The procession will follow the service at approximately 2 p.m. from the church, go west on 5th street to Clay Street, where cars staged at the fairgrounds and industrial park will join in.
The procession will then go south on Clay Street to Highway 100, where they will pass parked racing cars, then east on Hwy 100 to A. Then south on Hwy A to the church cemetery at 2226 Highway A. The family will stop at the cemetery for a private burial. The car procession will continue south on Highway A to disperse among numerous county roads, Highway YY, or continue south to Union to access major highways.
A fundraiser has been set up to help offset the family's funeral expenses. To donate, you can click here.
Final wish granted
:
Thousands of cars line procession route
Alec's wish was granted on Nov. 17. Over 2,000 cars lined his funeral procession in Washington, Missouri.
Photos: Thousands of cars line up for Alec Ingram's funeral procession