JEFFERSON CITY, Mo. — Missouri has started offering licenses and identifications that comply with stricter federal identification requirements under the Real ID Act.
The Missouri Department of Revenue says there's no immediate need to rush to apply when they become available Monday. The current state-issued license and ID card can be used to board domestic flights until October 2020. That's when licenses that comply with tougher proof-of-identity requirements will be needed at airports. They're also needed to get into federal facilities and military bases.
State officials emphasized that if you don't plan on flying and don't need access to federal facilities or military bases, you don't have to get the new IDs.
"We want to reiterate that not every person will necessarily need a REAL ID-compliant license or ID card and that applying for one is a choice under Missouri law," said Joey Plaggenberg, director of the Motor Vehicle and Driver Licensing Division.
The documentation needed for a REAL ID is different from what Missourians are used to. Applicants must bring proof of the following to a license office:
Proof of identity
Lawful status
Social Security number
Two documents verifying Missouri residency
Additional documents may be required to verify a name change or use of an alternate mailing address.
You can view the complete list of acceptable documents online here.
The Missouri Department of Revenue created an interactive guide to help people create a custom list of documents they can take to the license office. Click here to go through the guide.
The cost for a REAL ID-compliant license or ID card will be the same as they are currently.
New markings were added to the card design to comply with the REAL ID requirements. One noticeable change is a star outlined in yellow in the upper right-hand corner of the license.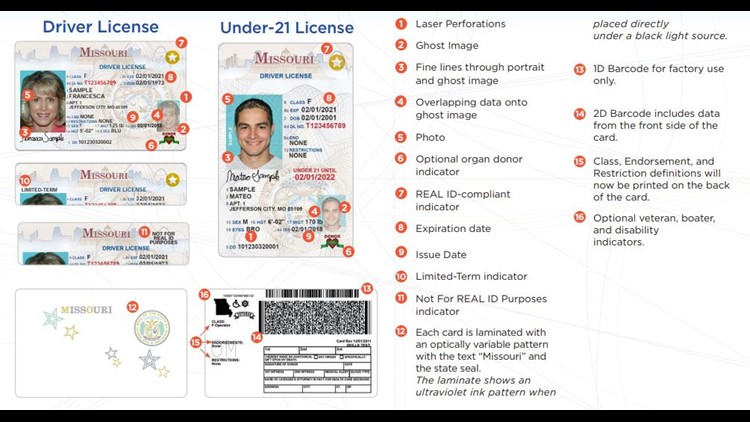 Another change with the REAL ID-compliant cards is where they're printed. As an added measure of security, all cards will be printed in one, secure facility and mailed out several days later.
"Mailing the license card helps detect and prevent fraud and identity theft by requiring a valid address, and allows extra security precautions to be taken prior to issuing the permanent license, so that individuals who might pose as someone else will not be able to receive a license on the spot," the Missouri revenue department posted online.
Some Missouri lawmakers worried about privacy pushed back against compliance for years. But a Missouri law that took effect in 2017 gives residents the option to get compliant driver's licenses or other ID cards. The Real ID Act was passed in the wake of the Sept. 11, 2001, terrorist attacks.
For more information about Missouri's Real ID, click here.
Other headlines people are reading: