A picture of the new rules at Social Bar and Grill has been overwhelmingly criticized on a St. Louis subreddit. The rules were reportedly posted in the bar's front window facing out and on an easel at the host stand, according to the user who originally posted the image.
"I mean, I've never had a bad experience there," the user told 5 On Your Side. "That's why it makes me sad and a little angry to see that the owners have such a bad attitude, all the workers are really cool."
The restaurant's new dress code policy bars patrons from wearing or carrying numerous things. The vast majority of the post's more than 600 commenters took issue with the bar's restriction of hoodies, saggy pants and men's bags. Commenters also felt that the dress code was hypocritical based on the restaurant's past.
The bar also released a new dining policy, which seemingly said that customers would not be allowed to send their food back to the kitchen and ask for a refund. The new dining rules include:
Please read the descriptions on menu
Be specific on temperatures
If you order it and you touch it, you pay for it
No returns no exceptions
Due to certain patrons refusing to add gratuity to their bill a 20% gratuity will be added to all bills
When paying with credit card over $25 we must have a copy of a valid ID
Guests who emit marijuana odors, vape indoors, or exhibit loud and disrespectful behavior will be asked to leave.
"If I have to read a whole page of rules to go in the restaurant, I'd just pick another restaurant," one commenter said.
The restaurant has also taken a hit on its Google reviews, with numerous one-star reviews being posted in the past 24 hours. Many either have no comments or reference the new rules specifically.
"Ridiculous rules that exude hostility not hospitality," one reviewer said. "You can't return a raw steak or chicken? What's so terrible if somebody wears a hoodie or has a mask on?
5 On Your Side attempted to reach Social Bar and Grill multiple times. One person we reached declined to comment about the backlash.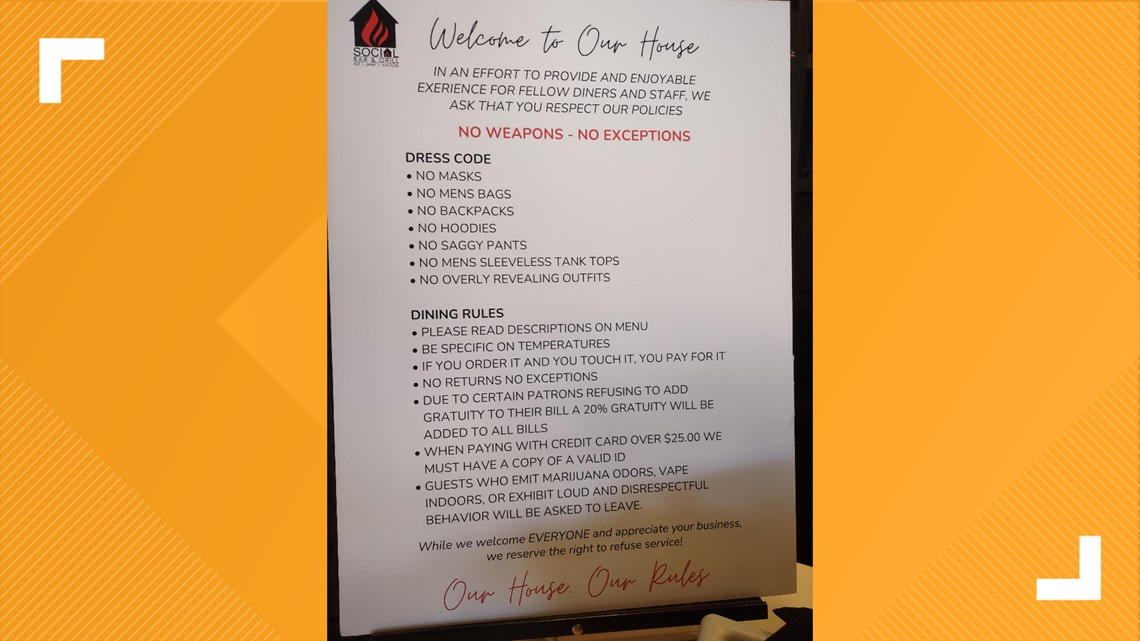 Top St. Louis headlines
Get the latest news and details throughout the St. Louis area from 5 On Your Side broadcasts here.