ST. CHARLES COUNTY, Mo. — Two protests with hundreds of participants took over some of the busiest areas of St. Charles Wednesday.
Both of them were peaceful and organized.
In one, protesters walked down Highway 94, which was blocked off to traffic by police. In the other, protesters marched with St. Charles police officers, and a few knelt at the end. Police helped keep both protests safe for participants and people in the area.
Protesters march with police on Main Street in St. Charles
Hundreds of protesters gathered for the second march of the day in St. Charles. They protested on Main Street, walking alongside police while calling for justice in the death of George Floyd.
More than 1,000 people were expected for the peaceful protest.
March organizer James Jones said St. Charles police reached out to him so they could protest police brutality together.
"They actually reached out to me because they saw I was doing a protest in Wright City with my little cousin Jayden that she held; and they contacted me through Facebook," Jones said.
"This young man wants to hold a peaceful protest and we're going to help him do that," said St. Charles police Lt. Tom Wilkison

They shut down Main Street – and several other streets in downtown St. Charles – to march for the same cause.
"Going back to the foundations of modern policing, the people are the police and the police are the people," Lt. Wilkison said. "So, we try to build as many bridges with the community as we can because we can't do our job without having a relationship with the community in which we serve."
"I hope the country goes to where I can finally look at you as a human being and you can look at me as a human being, and I just want to be treated like everyone else, you know," Jones said.
At the end of the Main Street protest, organizers, protesters and police officers were seen kneeling for a moment of silence over the death of George Floyd.
One protester said it was a powerful moment, and he hopes it endures.
"That meant that they were for the change. Show it to us on the streets. When the cameras are off, show it to us. We need to see it every single day," Tyrie Thomas said.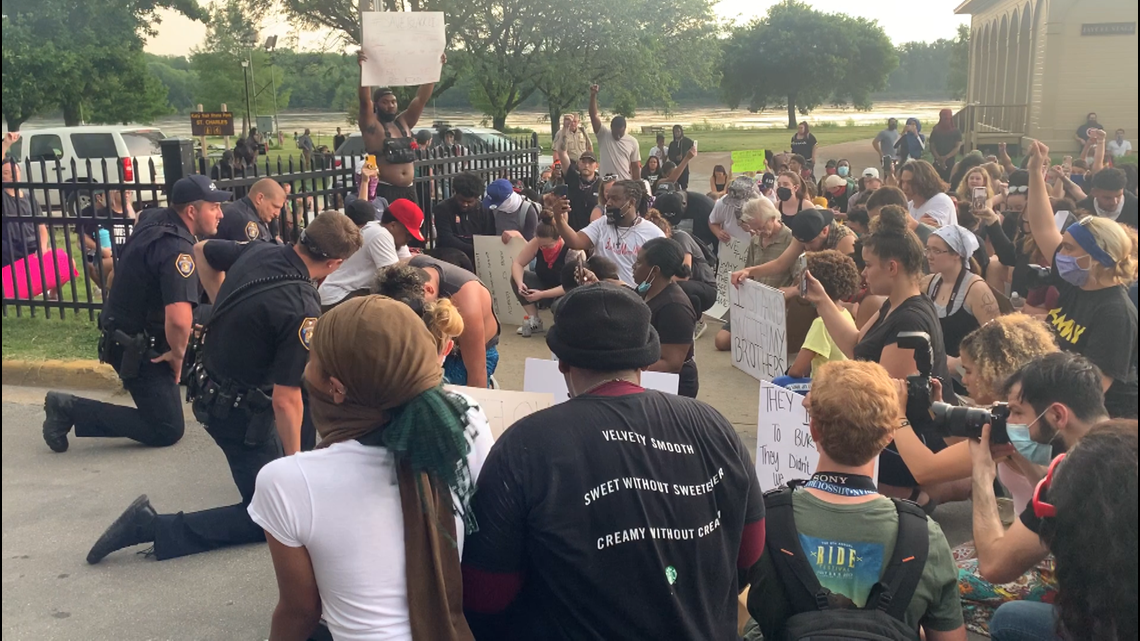 Protesters march on Highway 94 in St. Charles County
Hundreds of protesters marched for justice for George Floyd in the first of two demonstrations in St. Charles County Wednesday.
The view from Sky5 showed peaceful protesters holding signs and walking on Highway 94. They were heading west toward Interstate 70.
Police in marked vehicles blocked off intersections and stopped traffic so the protesters could safely walk on the highway.
At one point, protesters were seen walking between cars that were sitting in traffic. Several people held signs out of their sunroofs in support of the protest.
While walking on the stretch of Highway 94 that crosses over Interstate 70, protesters briefly stopped along the metal fencing and held their signs up so the cars driving by on I-70 could read their messages. About a dozen people went down onto I-70 to hold up signs as cars and trucks flew by.
Photos: Protesters march on Highway 94 in St. Charles
The organizers even got on the ground on their stomachs for a moment of silence in memory of Floyd.
The protesters then turned around and went east on Highway 94 back to the Marcus St. Charles Cinema where the protested started at 3 p.m.
The organizers told 5 On Your Side they're from north St. Louis County. They wanted other parts of the larger St. Louis community — and specifically, predominately white areas — to be a part of the experience.
"You can't change anything if it's happening in our community; we have to bring awareness to the stuff out in other communities. We have to make people uncomfortable so they understand why we're uncomfortable," said organizer Alana Williams.