A school board candidate filed suit against a special education teacher and others who shared one of his Facebook posts.
Hillsboro School Board Candidate Tom DeVore filed a libel lawsuit in Montgomery County, Illinois, Circuit Court. He's also requesting an injunction that would prohibit the defendants from posting anything about him on social media.
It all started with a Facebook post published by DeVore. In the post, he talks about a recent experience at a children's basketball game. He says the kids working the concession stand were having trouble giving him the proper change, and were being rude to him.
DeVore then stated in his post, "Lord help us with the window lickers, I mean special children."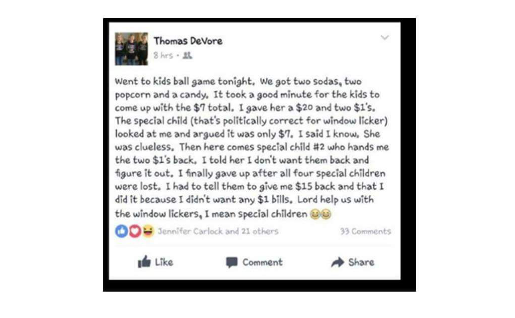 According to Devore, the three defendants named in the lawsuit, including a Hillsboro special education teacher, shared Devore's original post, saying he was criticizing children with special needs. The derogatory term "window lickers" refers to a person with learning disabilities.
DeVore pointed out that his post used the phrase "special child", not "special-needs child", and he said "special needs" is not what he meant.
"I grew up in a different era than we're in right now," he said. "That word, which you can find in a slang dictionary, was used in my time to refer to irritating, unruly, mean, disrespectful, right to people's face."
DeVore said his criticism of the math skills was a criticism of the public education system. He posted subsequently, apologizing to anyone he offended, and clarifying what he meant, but the damage was already done. The post was seen nearly 150,000 times, which DeVore said is impacting his business.
"We've had clients calling our office asking us to explain," he said, "I'm an attorney. I use courts to get fairness and equity. I didn't know how else to get my voice heard, in order to say "No, this is not what happened." Because you know how it is with social media. When it gets so overwhelming, where did your voice go, right?"
5 On Your Side did reach the special education teacher being sued. He, nor his attorney, would speak on-camera because of the lawsuit.
DeVore says he's still in the school board race. The election is April 4.
A GoFundMe account has been set up to help pay for the legal representation of the defendants in DeVore's lawsuit.