Searching for Solutions: What St. Louis can learn from Indianapolis
5 On Your Side is committing as a news organization to finding solutions outside of our region. This time, we're heading to Indianapolis.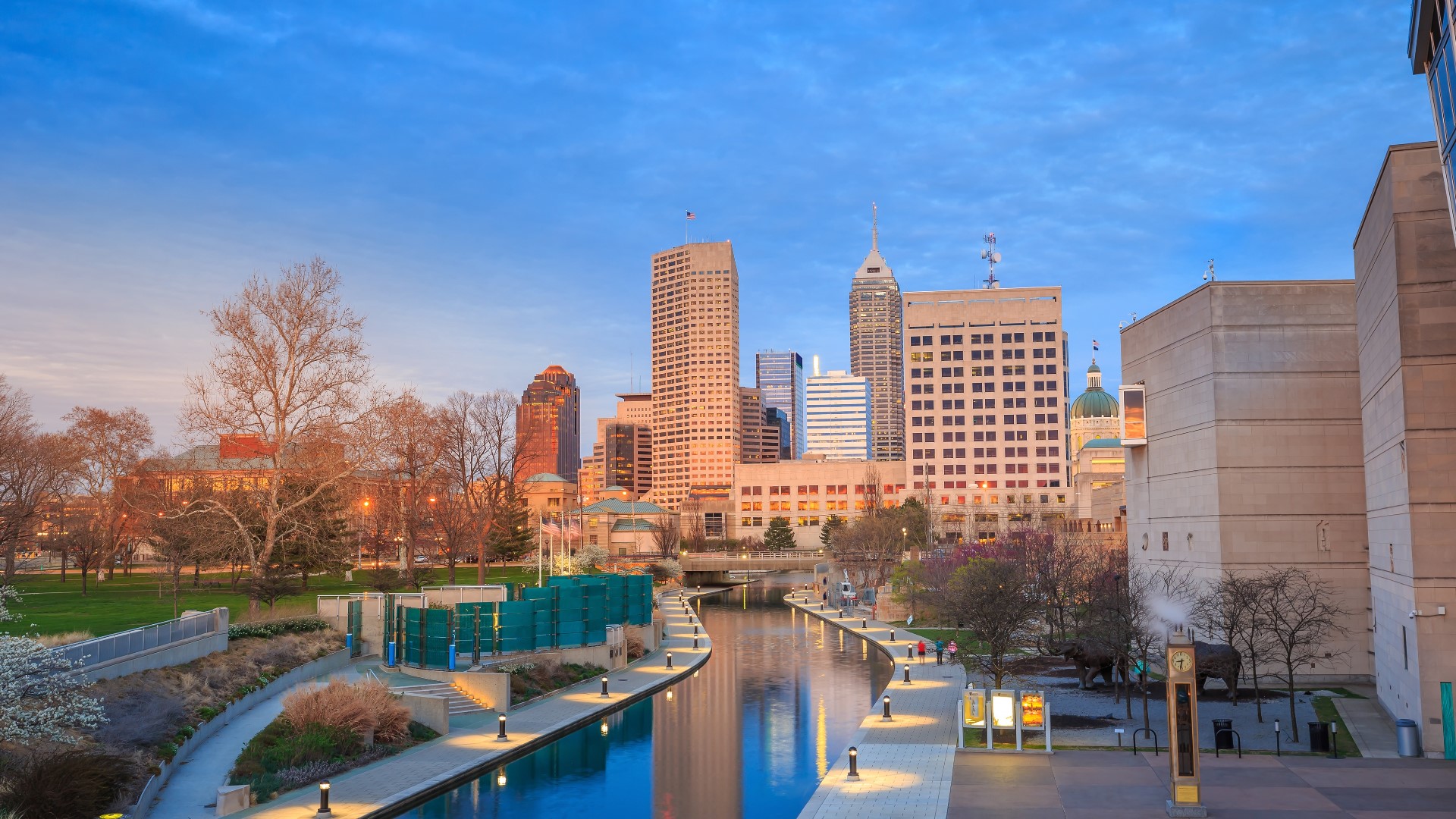 When it comes to solving the problems that have plagued the St. Louis area, it will take funding, planning and follow-through.
5 On Your Side is committing as a news organization to finding solutions. We are committed to searching for ideas to turn our region around.
Now, we're heading to Indianapolis.
Chapter 1
:
Grassroots violence prevention
In the cities of St. Louis and Indianapolis last year, at least 200 people were murdered. It's a horrific number.
But a grassroots group in Indianapolis is fighting back, proving some shoe leather and some former criminals can stop the violence.
5 On Your Side traveled to the Circle City to meet them. It's part of our year-long series called "Searching for Solutions." The objective is to find out how other cities are tackling many of the same issues facing St. Louis.
Reverend Charles Harrison delivers the Sunday sermon at Barnes United Methodist Church in Indianapolis. He founded the anti-violence group, Ten Point Coalition in 1999. Four nights a week Pastor Harrison steps away from the pulpit, pounding the pavement with other members. They walk the most dangerous neighborhoods in Indianapolis.
"You guys keepin' it safe?" asks Harrison. "Keepin' it safe?"
His sermon in the streets? Engage the troublemakers and stop future violence and retaliation by tracking "hot spots."

"So we only work on what we consider the hot spot areas, so we don't focus on the whole neighborhood we have to focus on the problem areas."

"We review it every day. So, for instance, what happened last night will determine what we do tonight. So if there were shots fired, law enforcement will give us the information and we would use it to determine the area we would go into," said Rev. Harrison.
At night, the group will patrol those areas. They started to see real success when former criminals started stepping up.
"They were the drug dealers, they were the members of the gangs," said Harrison. They ended up going to prison, they came out of prison, turned their lives around. They were the individuals who wanted to clean up what they had messed up."
The Ten Point Coalition calls these individuals the OG's. They're people like Donnie Reynolds.
"So coming out on the streets here from off the west side, I grew up in a housing project here," said Donnie.
The OG's started volunteering, walking the streets with Ten Point and their street cred got people talking.
"If you have a gang that's hanging out on the corner, the OG's went up to them and started engaging in a conversation," said Rev. Harrison.

And Donnie is no stranger when it comes to the streets of St. Louis, he used to live in north city. He says these dangerous Indy neighborhoods mirror some of our own.
"Oh, I would probably compare that to going up and down Natural Bridge, going up West Florissant, Fairgrounds Park area," said Donnie.
He believes a Ten Point Coalition could work in North St. Louis. It's definitely worked in Indianapolis. Since 2016, Ten Point has reduced annual homicide totals in some Indianapolis neighborhoods by 80 to 100 percent.
"Five out of the last 8 years this area has gone 365 days without a murder, in Crown Hill they have gone 3 out of 8 years without a murder," said Rev. Harrison.
Now, residents not only count on these street guardians, they welcome them.
"I see you're still putting in the work." I still put it in," said Harrison.
Plus, comrades in city hall believe in the mission.
"We had the support of the city police, the city and the prosecutor's office from the very beginning," said Rev. Harrison.
The statistics prove Ten Point's success. And news of the coalition's accomplishments are spreading across the country.
"I have about 28 other cities that have reached out to me from across the country," said Rev. Harrison.
When asked it St. Louis could reach out, Rev. Harrison said yes.
Rev. Harrison warns there is no silver bullet to reducing violence. He believes it has to be a bottom-up approach, where the community, the churches and law enforcement work together to address both immediate violence and its root causes.
Chapter 2
:
Competing for a business boost
St. Louis has the Cardinals, Blues and now St. Louis City SC. The Lou is a sports town, but when it comes to hosting national and international sporting events, it lags behind some cities.
In April, "Searching for Solutions" took us to Indianapolis, Indiana. Indy's made attracting major sporting events a priority. It's an economic strategy keeping the Circle City at the top of its game.
Stepping inside Stout's Shoes on Massachusetts Avenue in downtown Indianapolis is like stepping back in time. The 4th generation family business has been in the very same location since 1886. Stephanie Stout is an owner, and says the business has been a constant, even when the neighborhood was down on its luck.
"It really was very undesirable back in the day. It would really surprise people. It was a little bit what they would refer to as like a skid row kind of place," said Stout.
But over the last 25-plus years, the area got back on a sure footing.
"Mass Ave has transformed into the premier of Indianapolis. It is the district for shopping for restaurants, art, and culture," said Stout.
The transformation is largely due to sporting events. Back in 1979, the mayor and civic leaders created a vision to use sports as an economic driver. They founded the first sports commission in the country. It's called the Indiana Sports Corp. Brett Kramer is Indiana Sports Corp's Senior Communications Manager.
"So our role in the sports strategy is attracting sporting events to come to the city to help us from an economic landscape. So, filling the hotels, getting action in the convention center and making sure the restaurants are lively and full of patrons," Kramer said.

It's now the largest sports commission in the country, a nonprofit that's brought more than 500 sporting events to the city, including the NCAA men's basketball tournament, the U.S. Olympic diving trials, Big Ten football and basketball, and the P&G Gymnastics championship. The organization says the total economic impact is $4 billion.
So how does a city get picked to host an event? It comes down to a bidding process. Potential host cities present packages including facility details, services and financial incentives.
One of Indianpolis' most recent sports bids pitted Indy against St. Louis. Both cities wanted to host the 2024 U.S. Olympic swimming trials. St. Louis offered to host at the Dome at America's Center. Indy offered to host at Lucas Oil Stadium where the Colts play. U.S.A Swimming chose Indianapolis.
Both cities were willing to build pools inside the stadiums.
"Lucas Oil Stadium just went under renovation from video boards to in-house technology, so they are continually making that investment in that facility," said Kramer.
The St. Louis Sports Commission, which submitted the bid, says our city lost out on $75 to $100 million in potential revenue. And when it comes to cash, Indy wins again. In 2022, the annual operating budget of the Indiana Sports Corp. was $9 million compared to the St. Louis Sports Commission's $1.7 million operating budget.
And Indy's bidding success will likely only grow. A new state law created a sports and tourism bid fund that would give Indiana Sports Corp millions in state funding.
"So, I think our legislators realize that we need to do something to remain competitive," Kramer said. "Right now, it's not final, but it's looking about 10 million over two years."
That means the Indiana Sports Corp's annual budget will increase by more than 50 percent. In comparison, the St. Louis Sports Commission said it doesn't get any government funding to bid for events. But the state of Missouri does give it $5 for every ticket sold after the event is booked which at most totals a few hundred thousand dollars a year.
The new state fund promises to make Indy an even bigger force at the bidding table. And give local businesses, like Stout's Shoes, a leg up when it comes to Indy's downtown foot traffic.
Families and spectators, they are looking for something to do," Stout said, "and who doesn't like a good pair of shoes? So, it means a lot to us."
It's economic stamina for the Circle City due to sports. It's a long-time vision that's making great strides.
"It's just going to be a huge boost for the city," Stout said.
Bidding on sports is just something Indianapolis does well. In 1997, the NCAA decided to leave Kansas City. The bids started coming in, and in the end, Indianapolis beat out several other cities. Indy offered a $45 million incentive package that appears to have paid off.