A chaotic scene in downtown St. Louis Thursday morning after a sinkhole swallowed a car.
The incident occurred around 6:30 a.m. near the intersection of 6th Street and Locust. The car's owners were inside a nearby gym when their car went down into the sinkhole. No one was injured.
The car was removed by a crane around 9 a.m.
St. Louis Director of Public Utilities Curt Skouby said the cause is undetermined.
"We are concerned but it's part of dealing with the infrastructure in a large city," he said.
The infrastructure is about 100 years old. Geotechnical engineer Allen Minks spoke with us about two common possibilities: sewer or water leaks.
"You have a void forming underneath the pavement and then overtime it leads to a collapse and when there's pavement on top of it it's typically catastrophic collapse," he said.
In fact, the City's public utilities department says, last November, the same 8 inch water line at broke 50 feet up 6th Street.
Photos: Car swallowed by sinkhole in downtown STL
Photos: Car swallowed by sinkhole in downtown STL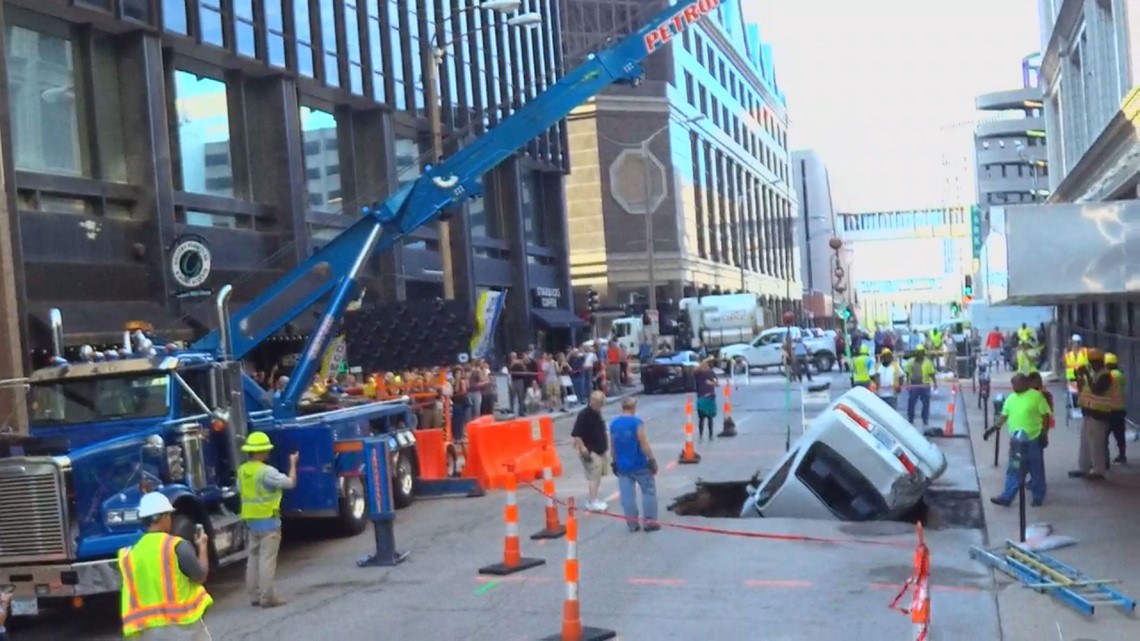 "There was a pipe failure when a contractor was doing other work, Skouby said. "The pipe got exposed and came apart.
Minks thinks the city should replace them all and better maintain them. He said the city received a 'D" in a relatively recent infrastructure report.
"You patch that break and a month later 50 feet down it breaks again," Minks said. "I think what needs to be done on more of a macro scale is replacing the system, not just putting bandages on it."
But Minks says solutions like installing new pipes costs big bucks.
City commissioner of streets Ken Flake says workers fix 10 small depressions a day. Depressions that can grow into larger holes if ignored.
While there were citizen reports of potholes in the same general area earlier in June, Flake says that is no indication the collapse was imminent.
Flake estimates it will be three weeks before this hole is fixed.
Facebook Live: Sinkhole swallows car on 6th Street and Locust