ST. LOUIS COUNTY, Mo. — St. Louis County Police Chief Mary Barton announced her retirement after 43 years of service.
Barton stepped up to the podium following a closed session of a scheduled St. Louis County Board of Police Commissioners meeting Friday. She gave a very brief speech announcing her retirement and wishing her best for the next chief.
"I will always wish the best for this police department," Barton said.
Multiple sources had confirmed with 5 On Your Side that Barton first made the announcement during the closed session. Sources familiar with the situation also said Barton several weeks ago had filed an Equal Employment Opportunity Commission (EEOC) complaint against the board alleging discrimination.
The complaint is the first step in the process of filing a discrimination lawsuit, which could be based on age, race or gender.
After Barton stepped away from the podium, the police board announced Lt. Col. Kenneth Gregory will serve as acting police chief effective Friday. He has served as Barton's second-in-command and has been with the department since 1979. He thanked Barton for the time they've worked together and thanked the board for the opportunity and said he appreciates their confidence in him.
Gregory told the board he looks forward to collaborating with them and keeping the department moving forward.
"Transition is tough, transition is tough," he said. "It's gonna be my job to make this transition as peaceful and as easy as we possibly can."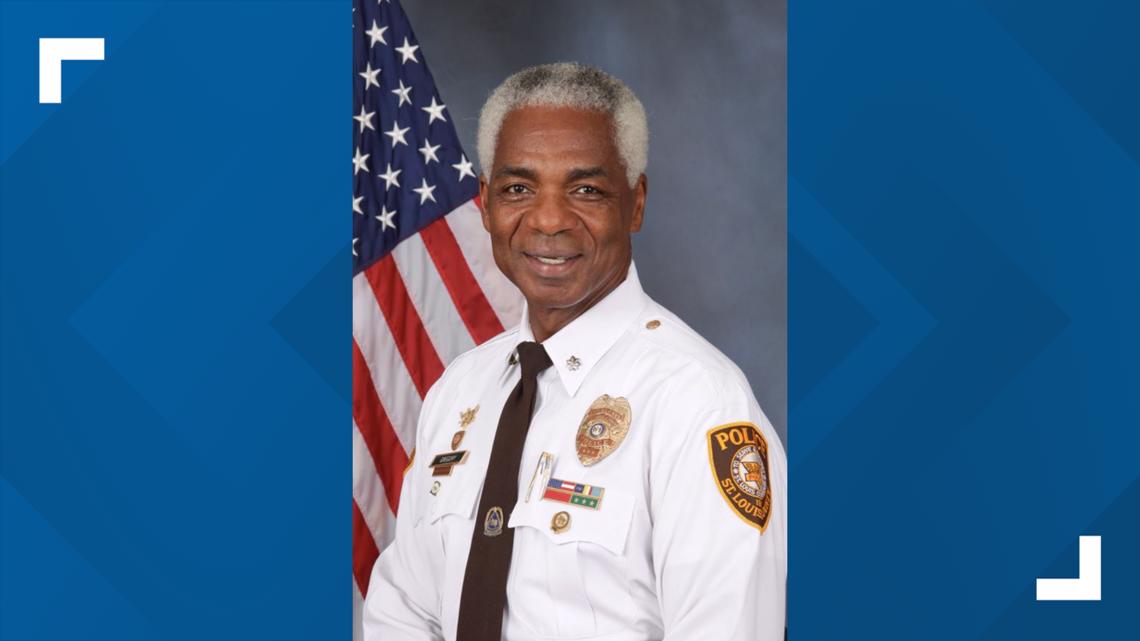 Before being tapped to be the county's top cop, Barton was captain of the 7th Precinct in west St. Louis County. She replaced Chief Jon Belmar, who retired.
The St. Louis County Police Association called Barton's appointment to chief "historic," as she was the first woman to serve as the department's chief.
The St. Louis Police Officers' Association criticized Barton for ordering the department's Director of Human Resources Carl Becker to admonish Lt. Keith Wildhaber for speaking out against her brother-in-law publicly. Wildhaber was appointed the department's Director of Diversity and Inclusion after winning a $20 million jury verdict against the county police department for refusing to promote him because he is gay.
"We embrace the fact that we will no longer tolerate or no longer put up with inappropriate remarks, inappropriate behavior," said Chief Barton said at the meeting in June 2020.
The statement by Chief Barton caused concern for some, including Councilwoman Kelli Dunaway, whose district covers Chesterfield. She responded by asking the chief to clarify what she meant.
"Chief, I want to go back to something you said earlier, about what we really need is a shift in culture where we no longer tolerate inappropriate behavior. Can we just call that racism?" asked Dunaway.
"There's all kinds of things. Some of it is ageism, some of it is sexism and I think to say that there's systemic racism in the police department is overly broad and probably not accurate. Until we sit down and talk about it and can verify or at least ferret out what it is people are talking about, I think to put a label on it is really unfair and shortsighted," Chief Barton responded.
Three Black commanders have also filed discrimination lawsuits against the department, and the Ethical Society of Police has criticized Barton for transferring them and others who speak out about racism.
Going into this year, it seemed Barton was on good terms with the board. The I-Team first reported police commissioners gave her a $12,000 raise.
The St. Louis County Police Association issued a statement saying the organization "shared some of ESOP's concerns" about Barton and explained it was conducting a survey of its 915 members to get a sense of the issues leading to low morale in the department.
ESOP released a statement Friday afternoon following Barton's retirement. The organization commended her for decades of trailblazing service but said "it was in the best interest of the department and the citizens of St. Louis County that she steps down."
The full Ethical Society of Police statement is below:
"Mary Barton has dedicated 40 years of her life to public service in one of the most noble and challenging professions there is. As the first female St. Louis County Police Chief, she is undoubtedly a trailblazer and a source of inspiration for others with similar career aspirations. For that, she should be commended. Yet, she should not receive an automatic payout when she has allowed a culture to exist that discriminated against several protected classes.
"The news of her resignation is not surprising. As Chief, her tenure has been plagued by leadership failures to say the least. Therefore, we believe it was in the best interest of the department and citizens of St. Louis County that she steps down. County Executive Sam Page and the Board of Police Commissioners have an opportunity to select the best qualified candidate who has widespread support from a broad demographic spectrum within the region.
"The culture of discrimination within the St. Louis County Police Department extends beyond Chief Barton. In fact, the individual named as acting deputy chief is at the center of discrimination lawsuits. A thorough process for selecting the next Chief, including input by organizations such as the Ethical Society of Police, is critical to ensure new leadership is ready on day one to address complex issues, including racism, that are pervasive in the Department.
"We believe there are several well respected and capable candidates to choose from as a replacement. We are encouraged by the potential for St. Louis County to continue to break down existing professional barriers with the selection of a chief capable of mending fractured relationships between the department and the community it serves."
According to a source, Barton sent the following message to the department:
I want to take this opportunity to thank all of you who have supported me through my 43 year journey with the Department. I could not be prouder of the men and women of this Department and wish you all much success in the future.
I am letting you know that I will be retiring at the end of my accumulated leave time, but today will be my last day in the office.
I don't have the words to describe how my life has changed by the privilege of being your Chief. This has been the best and toughest year of my career. We made it through by standing together, united in a common goal and supporting one another through the difficult times.
We, as a Department, have gone through many changes this past year, always mindful that change, although difficult and challenging, leads to positive personal and professional growth.
I leave here knowing the Department will continue to thrive because of the fine people whose daily commitment to service excellence and professionalism is the hallmark of this fine organization. Always remember that the citizens we serve appreciate and value your service.
I can think of no better way to end my career than the same way I began it; full of hope for the future, endless possibilities ahead of me, and the desire to positively impact lives through a genuine commitment to public service.
Lastly, but probably most important, is that while I may be leaving, I will cherish the memories of my second family and know in my heart that I will never receive a greater honor than serving as your Chief.
Take care of yourselves and each other. Stay safe and healthy.