CHESTERFIELD, Mo. – Students in elementary school are usually encouraged to color on paper, but kindergarten teachers at Chesterfield Elementary recently made an exception.
The teachers had their students create artwork on their dresses. The three teachers – Jennifer Cochran, Allie Greene and Maureen Martin – bought the dresses online and purchased fabric markers.
Martin said when she presented the idea to her students they loved it.
"I told them to draw something that made them feel happy and they came up with so many fun things - Spiderman, rainbows, Ninja Turtles, the chicks we hatched in our class and so much more," Martin said.
Cochran explained, "We have a kindergarten promotion each year and thought it would be really fun to wear it to the ceremony. The students and their parents loved seeing their creations come to life on the dress. After the ceremony, each of the children proudly pointed to where they wrote their name and told their parents what picture they drew."
Chesterfield Elementary teachers wear dresses featuring student artwork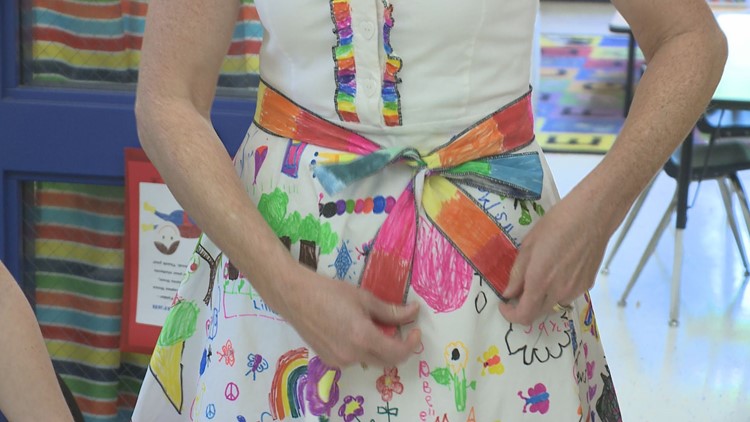 "We were beyond happy with the turnout," said Greene. "So many times we are so busy trying to get in all of the academics, that we do not always get to enjoy casually talking with our children. My favorite part of making this dress was hearing about the students' creations and stories that went along with them. It was so much fun to see their faces light up as they walked down the halls and saw their creations come to life."
Cochran said they plan on wearing the dresses either at kindergarten orientation or the first day of school next year.