CLAYTON, Mo. — St. Louis County Executive Sam Page's Chief of Staff has resigned citing family reasons.
The departure follows an investigation into the release of a video showing Calvin Harris engaged in a sex act inside his government office.
St. Louis County Councilman Mark Harder filed a police report one week ago alleging that a video that a "source" sent him an email containing "a disturbing video of a sexual nature" involving a "high-level member" of Page's staff, according to a statement Harder wrote. Harder did not name Harris.
5 On Your Side reviewed the video that shows Harris engaged in a sex act with a woman. The video was obtained after a Sunshine request.
An unknown woman can be seen in the video engaging in a sex act with Harris, who was wearing a St. Louis County government ID badge identifying himself. Harris' face is seen in the video.
The woman's attorney, Grant Boyd, said she did not know she was being recorded, did not consent to the recording, and did not consent to the distribution of the video.
In Missouri, it is illegal to take or distribute photographs or videos of someone involved in a sex act without their consent.
The video was first sent to Shamed Dogan, a Republican state representative and candidate for St. Louis County Executive.
The video was emailed from an email address titled stlconcernedcitizen@proton.me with the subject line of "Tax Dollars GROSSLY Misused at County Executive Office."
The email read, "To Whom It May Concern: A video from the county office has captured that Sam Page doesn't have control over his staff. While he is a practicing physician, his chief of staff is practicing inappropriate behavior in the office while being in charge. New leadership is needed."
"This is an effort to get to the bottom of a potential crime in addition to obviously being a huge violation of ethics to be doing something like that in a county government building," Dogan said. "Any taxpayer in the county should be concerned about that kind of activity going on."
Harder reported the video to Clayton police after Dogan sent it to him. Clayton police then referred the matter to the Missouri Highway Patrol.
The Missouri State Highway Patrol provided sent a statement, which read: "At the request of the Clayton Police Chief, the Missouri State Highway Patrol's Division of Drug and Crime Control is investigating an allegation of possible criminal conduct by a county employee in a St. Louis County government building in Clayton, Missouri. The investigation is ongoing and further details can not be released at this time."
Harris' attorney, Travis Noble, said his client is "extremely embarrassed," but added "no crime was committed."
He said the victim knew she was being recorded, his client didn't disseminate the video and doesn't know how it got into the hands of the Republican lawmaker.
"We're hoping state police are able to find out how someone may have gotten into his phone in order to obtain that," Noble said. "He certainly would not have shared that with anyone."
Noble said the incident did not take place on the county dime. He said his client is cooperating fully with highway patrol investigators, giving them the personal cellphone he used to make the recording.
He also added that his client's resignation letter reflected his real reason for stepping down.
Page's spokesman, Doug Moore, sent a 5 On Your Side a copy of Harris' resignation email, which was sent at 1:45 p.m. Wednesday.
It read: "I am resigning from my post in the Page administration effective immediately. I want to thank my beloved colleagues for their dedication and tireless effort to St. Louis County, as well as Dr. Page for entrusting me with this responsibility. Public service is an honorable profession, but it is impossible to pour from an empty cup. Given the recent death of a close relative and upcoming family relocation, it is in the best interest of the County for me to step down from my duties and focus on my family and mental health."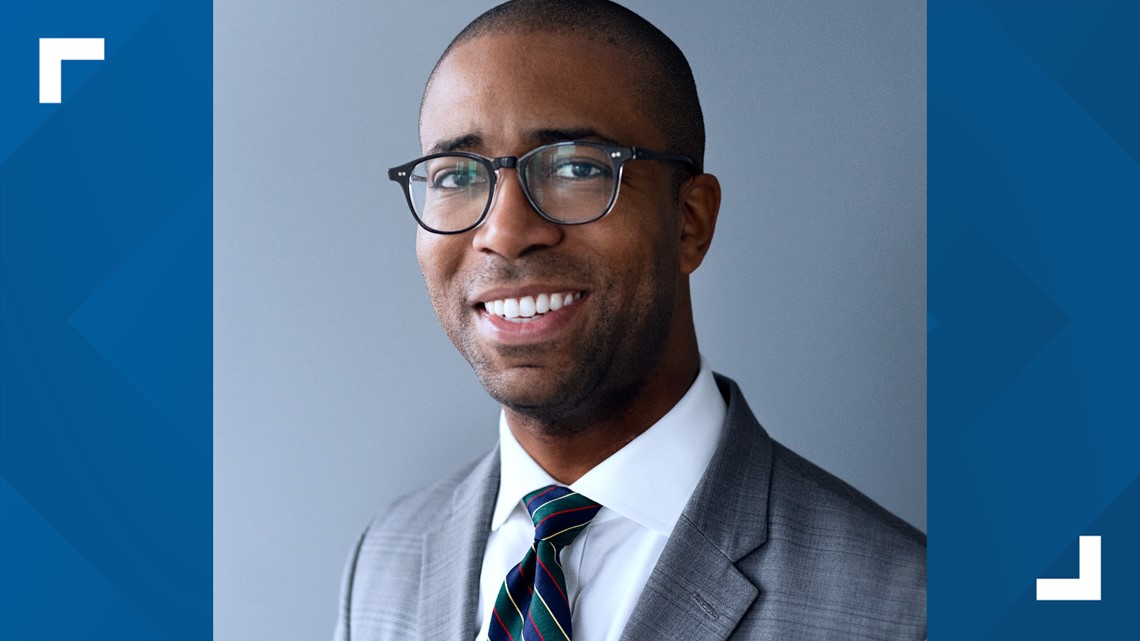 Moore also shared a statement on the video: "It is reprehensible that a video was taken and circulated without the woman's consent. And it's reprehensible that it was passed hand-to-hand among politicians. The Highway Patrol is investigating to determine what crimes occurred. Our office first learned of this on Wednesday."
Dogan said it was "reprehensible" that a member of Page's staff would engage in such conduct. He said he shared the video with Harder out of concern that the woman could have been a county employee and a victim of what he called "Greiten's law."
Former Gov. Eric Greitens was charged with invasion of privacy after allegedly taking a compromising photo of his mistress without her consent and sharing the image. He was never convicted.
Dogan said he was part of the legislature that created the offense of "nonconsensual dissemination of private sexual images," in which it is a felony to share, or threaten to share, private sexual images of a person with the intent to harass, threaten or coerce that person.
It's a Class D felony and is punishable up to seven years in prison and a $10,000 fine.
If the person who distributes the sexual images got them "under circumstances in which a reasonable person would know or understand that the image was to remain private; and knows or should have known that the person in the image did not consent to the dissemination," that's a Class E felony.
Harder said he also believes the woman in the video could be the victim of a crime, that's why he went to the police.
In his statement, Harder wrote, "It is unknown to me how or why the male participant distributed this video."
Harder refused to answer any other questions about the situation, citing an ongoing investigation, saying he was releasing limited information "for the purposes of transparency."
County Council Chairwoman Rita Heard Days told 5 On Your Side's Brent Solomon: "If what has been circulating in the media is true, I find his actions reprehensible and unprofessional. No woman deserves this, which is why we have Greiten's law. I pray for his family. Interestingly enough, no one is concerned about how this will affect the woman involved. Beyond that, there is nothing more that needs to be said. It is a sad day in St. Louis County."
5 On Your Side's Political Analyst Anita Manion said there are still unknowns.
"We don't know sort of what the motivation or intent or even who distributed this video," she adds.
She's curious if there will be some sort of response by the state legislature or county council to add any kind of legislation around what can happen in government buildings.